DIY Thanksgiving crochet coasters
Pumpkin Pie:
Materials: 
. orange
. brown
. tan
Yarn needle
scissors
stitch markers
For this free pattern, we'll be using medium (4) worsted weight yarn. You can easily substitute with other brands and colors as long as the ounces per gram are similar. I've used the following for this project:
Red Heart Super Saver, Medium 4, 7 oz / 198 g, in the color Pumpkin 
Yarn Bee Yarn ID, Medium 4, 5 oz / 252 yd in the color Oats (tan)
For the pie crust, I think Red Heart Super Saver in the color Buff would be a good substitute. I also think using a darker, burnt orange would be really cute!
"Stitch patterns": 
This pattern is written in US crochet terminology.
Chain
SC – Single Crochet
HDC – Half Double Crochet
DC – Double Crochet
DEC – Single Crochet Decrease
Slip Stitch
This is a wonderful project for beginners because it is easy and quick to make. The finished size is 4 x 6 inches.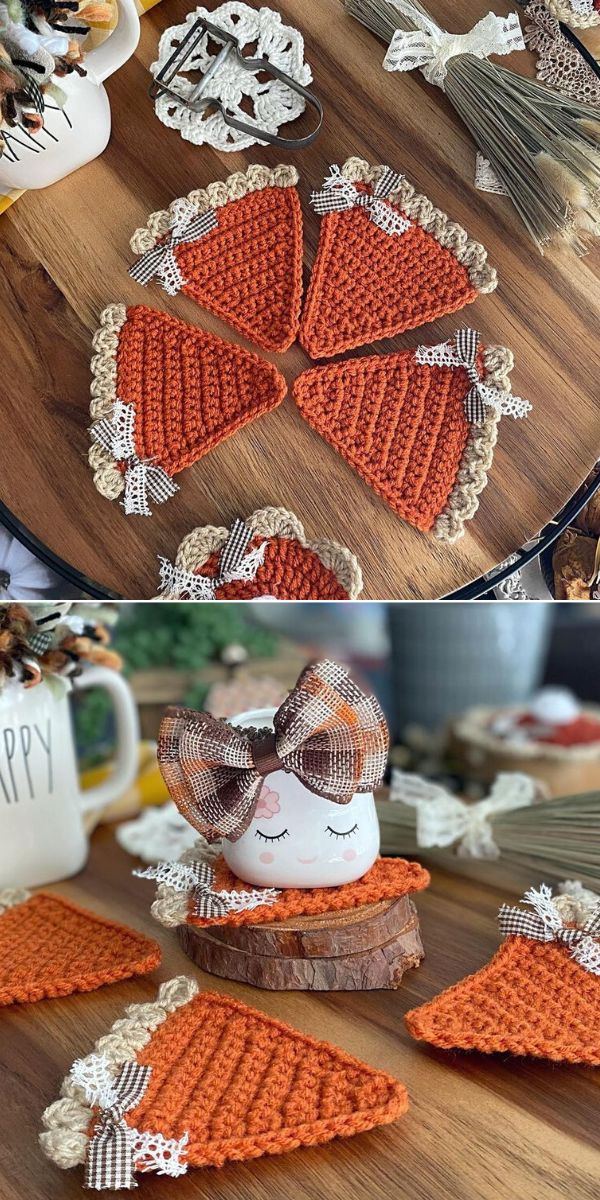 Instructions:
Pumpkin pie slice base
With Orange Yarn, Chain 17
Row 1: SC in each stitch, chain 1 (16 stitches)
Row 2: DEC, SC in the next 14, chain 1 (15 stitches)
Row 3: DEC, SC in the next 13, chain 1 (14 stitches)
Row 4: DEC, SC in the next 12, chain 1 (13 stitches)
Row 5: DEC, SC in the next 11, chain 1 (12 stitches)
Row 6: DEC, SC in the next 10, chain 1 (11 stitches)
Row 7: DEC, SC in the next 9, chain 1 (10 stitches)
Row 8: DEC, SC in the next 8, chain 1 (9 stitches)
Row 9: DEC, SC in the next 7, chain 1 (8 stitches)
Row 10: DEC, SC in the next 6, chain 1 (7 stitches)
Row 11: DEC, SC in the next 5, chain 1 (6 stitches)
Row 12: DEC, SC in the next 4, chain 1 (5 stitches)
Row 13: DEC, SC in the next 3, chain 1 (4 stitches)
Row 14: DEC, SC in the next 2, chain 1 (3 stitches)
Row 15: DEC, SC in the next stitch, chain 1 (2 stitches)
Row 16: DEC, chain
Add a SC Border: Continue up the left side (chain 1 in the corner), top, and right side (chain 1 in the corner); when you've reached the bottom again, chain 1 and tie off pulling through that chain stitch to secure and weave in the ends.
Pumpkin pie crust:
With cream, join to the top right of the pie slice.
In the same stitch: HDC, DC, DC, HDC

Slip stitch in the next stitch
Repeat this series of stitches all the way across the top; this creates 8 little ridges of crust!
Chain 1 and tie off, pulling through the chain stitch to secure.
Weave in your ends and trim any excess yarn.
Assembly:
If you're using your pie slices as coasters, you're done! For garland, using a tapestry needle and jute, string your finished pumpkin pie slices into a garland by running the jute through two points on the back top of the pies.