Frankenstein rice krispie treats
These take about 20 minutes to make.
They serve 20 Frankenstein Rice Krispies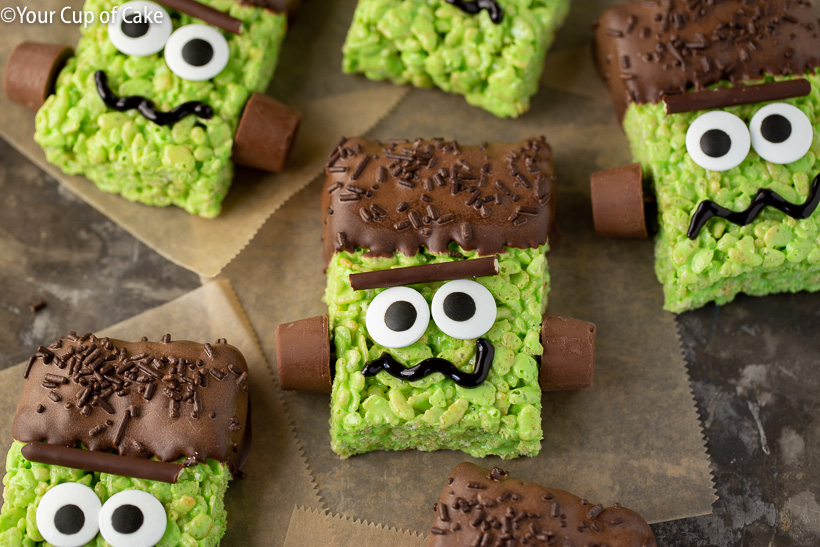 Ingredients:
3/4

cup

butter

unsalted

2 10-

oz

bags

mini marshmallows

1/2

tsp.

vanilla extract

green food dye

9-10

cups

rice krispies

1/2

cup

melted chocolate

[HAIR]

chocolate sprinkles

optional

candy eyes

Pocky sticks

 [EYEBROWS]

black food gel

see photo above 

rolos or mini peanut butter cups
Instructions:
Prepare a large casserole dish by greasing it and/or lining it with parchment paper.

Place butter and marshmallows in a large microwave proof bowl and microwave for 1 minute. Continue to microwave until marshmallows have expanded to double their size. Remove and stir. Microwave longer if needed and continue to stir until smooth.

Add vanilla extract and as much green dye as needed to get the color your want for your Frankensteins.

Add rice krispies and stir. Pour into prepared pan and press flat using a buttered piece of parchment or your hands. Let cool.

Cut into small rectangles.

Dip the tops into melted chocolate (you can use candy Melts for this for chocolate chips with a little oithen palce on a piece of parchment to set. You can put them in the fridge to speed up the cooling. Add chocolate sprinkles if you want!

Place on candy eyes (I used some melted chocolate as "glue" for everything), Pocky stick unibrows and rolos! Last, draw on mouths using your black food gel.
Notes for making:
You can melt your butter and marshmallows over the stove OR in the microwave