Red Queen by Victoria Aveyard
The book follows a girl named Mare as she discovers that despite her Red blood and impoverished status, she possess a superpower, reserved only for the Silver rulers of the world. The King and Queen decide the only way to protect themselves is to marry Mare off to their youngest son, Maven.
The story of Mare Barrow, a 17 year old girl who lives in a world where status depends on the colour of your blood. Those with red blood are commoners yet those with silver are royals who possess special powers. Mare is a Red living in the Stilts with her younger sister, mother and father whilst her brothers are off fighting for the Silvers in the ongoing war. With her best friend Kilorn, Mare spends her days in the Stilts waiting for the day she too must join the war at age 18.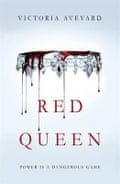 One day she is whisked away to serve for the King. Whilst working Mare discovers that despite her red blood she possesses a Silver ability of her own. The King, who fears her potential, hides her in plain view of everyone betrothing her to his youngest son Maven, however her heart belongs elsewhere with his older brother Cal. Trapped amongst Silvers hiding secrets Mare must use her new position and person to bring down the regime from the inside.
After finishing the book I knew that the women behind the counter had been telling the truth. It was an amazing book and definitely included aspects from both The Hunger Games with its corrupt ruling 'government' and rebellious groups as well as Game of Thrones due to having similar characters such as Queen Elara who had the same coldness as Cersei Lannister.
Trigger Warnings:
Betrayal
Discrimination
Murder
War