By Chris DeWeese
Senior Editorial Writer
Good Morning. While we've been dealing with Idalia here in the U.S., one of the South China Sea's strongest typhoons on record is nearing a strike on land.

Typhoon Saola generated sustained wind speeds of 155 mph yesterday, making it the equivalent of a Category 4 hurricane (and just 2 mph under Category 5 standards). Saola's intensity should decrease today, but it will still hit Hong Kong later this morning (U.S. eastern time) with what is likely to be the island's strongest strike in at least five years. Learn more about this system here.
Weather In Focus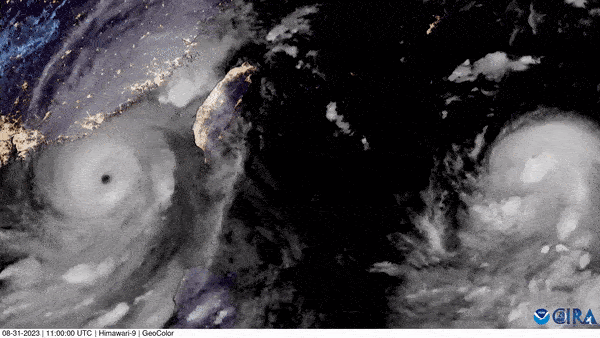 (CIRA/CSU)
This satellite imagery captured yesterday shows Typhoon Saola churning in the Western Pacific as it moved toward Hong Kong. To the right, you can also see Typhoon Haikui, which is forecast to hit Taiwan this weekend.
What We're Tracking
TODAY'S TRIVIA
The U.S. September monthly high temperature record was set on this date in 1950 when the mercury hit 126 degrees Fahrenheit in what state?
Arizona
California
Oklahoma
Texas
See the answer at the end of this newsletter.
This Caught My Eye
Our September temperature outlook
Is September A Summer Or Fall Month?
We had a couple of mornings with lows in the 40s this week here in Wisconsin. It left me thinking about that rake gathering dust in the corner of the garage.
Fall officially arrives on Sept. 23, but weather nerds consider September the first month of "meteorological fall." However, there's nothing "fall-like" about the weather ahead. A major heat wave will build into the nation's midsection and spread into the Northeast over the holiday weekend.
Minneapolis could flirt with 100 degrees, something that has happened there in September only once before, 92 years ago. In much of the country, this heat looks to have staying power through at least mid-month, and could set the tone for the rest of the month. If you can't let go of summer, this upcoming pattern is for you.
Weather Words
'Saffir-Simpson Hurricane Wind Scale'
The Saffir-Simpson Hurricane Wind Scale. (National Hurricane Center)
On Wednesday, Idalia made landfall in Florida as a Category 3 hurricane. But what does that number mean? Well, it's a wind measurement based on the Saffir-Simpson Hurricane Wind Scale, a method developed in the early 1970s to classify hurricanes based on their maximum sustained winds.

The Saffir-Simpson scale goes from Category 1 to 5, with 5 being the highest. It's really important to remember that the scale doesn't take into account a hurricane's size or its potential to produce flooding rainfall. The size of a storm can influence not only how large its wind field is, but also its potential to produce storm surge flooding when striking land. That's why even if a hurricane's category decreases, it can still have devastating impacts. It's always important to heed local warnings and alerts, regardless of a storm's wind rating.
IDALIA: HOW TO HELP
A storm-damaged gas station in Perry, Florida. (Sean Rayford/Getty Images)
Wondering how you can best help those impacted by Hurricane Idalia? Here are some ways to donate via trusted, reputable organizations, compiled by my colleague Jan Wesner Childs. Always be sure to understand who is receiving your money, as charity scams unfortunately abound after natural disasters. If you're unsure about a group, you can try looking them up at the Better Business Bureau's Wise Giving Alliance, Charity Navigator, Charity Watch or GuideStar.
The Florida Disaster Fund

Money from this state-run fund is distributed to nonprofit community groups that directly serve affected areas to help in rebuilding and recovery efforts. Click here for more information on how to donate.

The American Red Cross

The American Red Cross helps with food, shelter, relief supplies, emotional support and other assistance, as well as providing volunteers. The Red Cross donation page includes a dropdown menu that lets donors specify if they want their money to go directly toward Idalia relief, disasters in general or other causes. Click here for more information.

GoFundMe

In addition to connecting people with individuals in need, GoFundMe has a general donation page for 2023 hurricanes. Idalia is the first this year to cause damage in the U.S. Find out more about GoFundMe's hurricane fundraiser here.
#OTD
1869: Abbe Ushers In Modern Era of Meteorology
Cleveland Abbe, circa 1880 (Photo by FPG/Hulton Archive/Getty Images)
One-hundred-fifty-four years ago today, Cleveland Abbe launched the first modern weather bulletin. It utilized telegraph operators in various parts of the country. Abbe trained them to become weather observers, teaching them how to report wind direction and force, type of clouds, sky color, rain amounts, temperature and barometer readings each day.

Rather than forecasts, Abbe called his reports "probabilities." Because of that, he was given the nickname "Old Probabilities" or "Old Prob." His innovation in basing weather reports on scientific principles would make him the first chief scientist of the Weather Bureau, now called the National Weather Service.

ANSWER TO TODAY'S TRIVIA
B. California
The record temperature was recorded at Mesa, California.