By Chris DeWeese
Senior Editorial Writer
Good Morning. Idalia swept ashore as a high-end Category 3 hurricane yesterday morning, its 125 mph winds, flooding rain and storm surge battering homes along Florida's Big Bend. Idalia then moved inland, clobbering small towns in its path before dumping up to 10 inches of flooding rain on southern Georgia as it moved east. Power outages followed the storm's path like a long, dim shadow, leaving hundreds of thousands in a dark, humid aftermath.

By nightfall, Idalia had become a tropical storm with 60 mph winds. It spun up reported tornadoes in South Carolina and created a powerful storm surge that combined with king tides to spew seawater into Charleston's quaint streets.

Today, Idalia will brush across eastern North Carolina and southeast Virginia before heading out into the Atlantic, putting an end to most of its impacts in the Southeast. However, for many who experienced this storm's wrath, the long road to recovery is only beginning. Though the worst of the hurricane didn't hit major cities, tracking away from Tampa Bay and other more populated areas, the people who were hit by it were hit hard. Please consider taking a moment to help those hit worst by this devastating storm.
Weather In Focus
(AP Photo/Rebecca Blackwell)
Jewell Baggett stands beside a Christmas decoration she recovered from the wreckage of her mother's home in Horseshoe Beach, Florida, after the passage of Hurricane Idalia.
What We're Tracking
TODAY'S TRIVIA
Idalia was the eighth major hurricane to make landfall on the Gulf Coast since 2017.
Weather Words
'Coriolis Effect'
(NOAA)
The Earth is always spinning, and that spinning impacts climate, weather and oceans through the Coriolis Effect. Named after French mathematician Gaspard Gustave de Coriolis, the Coriolis Effect refers to the way the Earth's rotation on its axis deflects the atmosphere toward the right in the Northern Hemisphere and toward the left in the Southern Hemisphere, resulting in curved paths that objects moving on Earth's surface appear to follow.

The Coriolis Effect is why hurricanes in the Northern Hemisphere spin counterclockwise. That rotational direction, in turn, is why the right side of a hurricane is usually the most dangerous in terms of storm surge, winds and tornadoes. In the Southern Hemisphere, this is reversed, with cyclones spinning clockwise and their left side being the most dangerous.
After The Storm
A home on Keaton Beach, Florida, after being destroyed by Hurricane Idalia. (Brian Emfinger / LSM)
Hurricane Idalia's impact on the rural communities of Florida's Big Bend area will be long-lasting. To learn about the challenges these communities face in rebuilding after a major hurricane, I spoke with Dr. Eren Erman Ozguven, the director of the Resilient Infrastructure and Disaster Response center at Florida State University. Here's our conversation, edited for brevity.
What are some of the challenges that rural communities like those in Florida's Big Bend around the area where Hurricane Idalia made landfall will face over the coming days/weeks/months?
This was both a water and wind event! There was catastrophic flooding and storm surge, but it also brought monstrous winds that the area hasn't seen before. People are going to be without power for days, if not for weeks. Access will be very limited given the area's few roadways. Houses are not built with the latest standards like South Florida, so that will be a huge problem.
This is an area with pine farms, timber industry. This is an area with fishing being one of the top occupations. Fewer tourists and very rural areas. We saw what Michael had done to our pine farms! Winds cut the pines like you would cut a toothpick into half. Flooding and storm surge destroyed the local fishing industry. This will be the same. These working groups will be impacted disproportionately, and it will take years for them to get back to where they were.
Idalia is the 8th major hurricane to make landfall on Florida's Gulf Coast since 2017. Have you seen improved hurricane readiness in the area over the past several years?
We are in a region with limited infrastructure and resources compared to its urban counterparts in South Florida. There is a reason this area is called the Forgotten Coast. People living in this region didn't have a major hurricane for decades until Hurricane Michael. It was the first one in many years in the Panama City/Mexico Beach area.
Idalia will be similar; it is the first one that will have made a landfall in the Apalachicola Bay. A very rural county with limited roadways and other infrastructure such as power lines, very different socioeconomically and infrastructure-wise than South Florida. The region has started to get state and federal support to improve hurricane planning after Michael, but we are still far from executing them. And now this monster hurricane. More support is needed, and it should be provided very fast.
#OTD
1954: Hurricane Carol Slams New England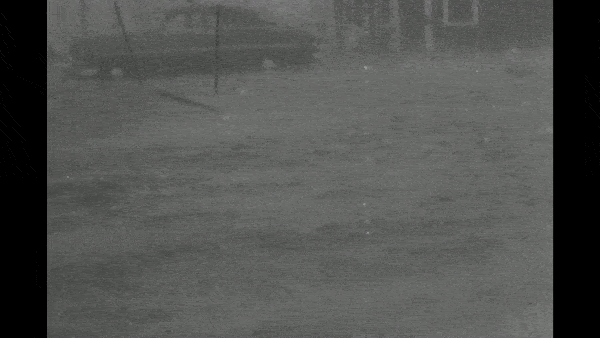 This newsreel footage shows flooding from Hurricane Carol. (Grinberg, Paramount, Pathe Newsreels via Getty Images)
Hurricane Carol hit the Northeast as a Category 3 storm on this date 69 years ago, making landfall on eastern Long Island, New York, with sustained winds estimated at 110 mph.

As the storm moved north into New England, a wind gust of 86 mph toppled the bell tower of the historic Old North Church in Boston, while gusts as high as 135 mph were registered on Block Island, Rhode Island. In all, the storm is considered one of the most destructive and deadly hurricanes in the modern record to strike New England, causing 65 deaths and $435 million (in 1954 dollars) worth of damage.