Good Morning. Hurricane Idalia has rapidly intensified into a Category 4 hurricane over the Gulf of Mexico, and its catastrophic, life-threatening storm surge, hurricane-force winds and flooding rain are nearing Florida's Big Bend region. If you are in or near the path of this extremely dangerous storm, please heed all evacuation orders given by local authorities.

Current forecasts expect Idalia's center to reach Florida's Big Bend coast this morning. At 5 a.m. EDT, the hurricane was located about 50 miles from the Big Bend area, and was moving north-northeast near 18 mph. Idalia's strength and speed mean that it will likely still be a hurricane as it moves across southern Georgia and possibly when it reaches South Carolina later today. Everyone near this storm's path needs to track it closely and be prepared.

As we move through the day, follow our live updates for the latest information on this storm, and keep tabs on our Idalia tracker for the latest radar, satellite, projected path and other maps. If you're in Florida, Georgia or the Carolinas, all of which face serious dangers from Idalia, our thoughts are with you. Please stay safe from the wrath of this powerful storm.
Weather In Focus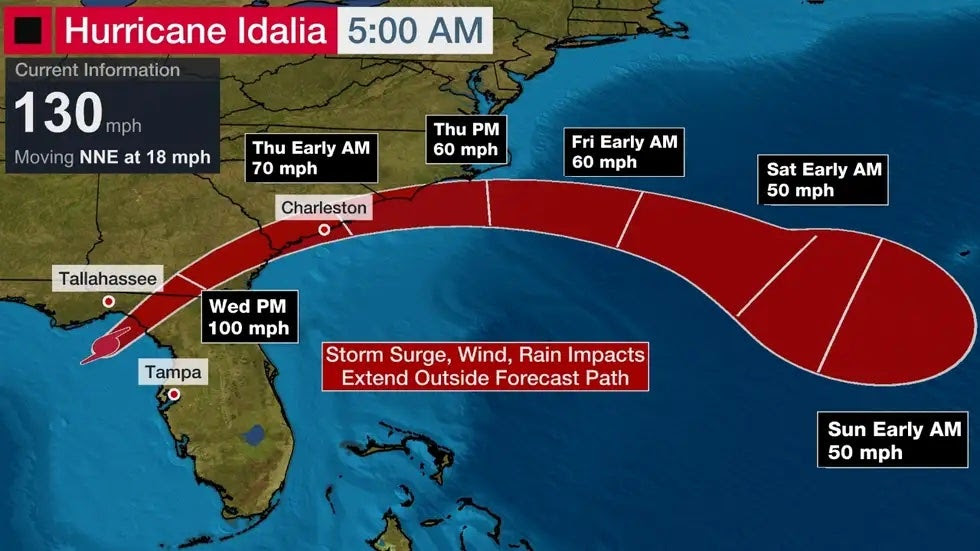 This map shows Hurricane Idalia's path and current status as of 5 a.m. EDT. The red-shaded area denotes the potential path of the center of the tropical cyclone. It's important to note that impacts (particularly heavy rain, high surf, coastal flooding, winds) with any tropical cyclone usually spread beyond its forecast path.
What We're Tracking
TODAY'S TRIVIA
For hundreds of years, many hurricanes in the West Indies were given names after the particular saint's day during which they occurred, such as Hurricane Santa Ana, which hit Puerto Rico on July 26, 1825.
Weather Words
'Storm Surge'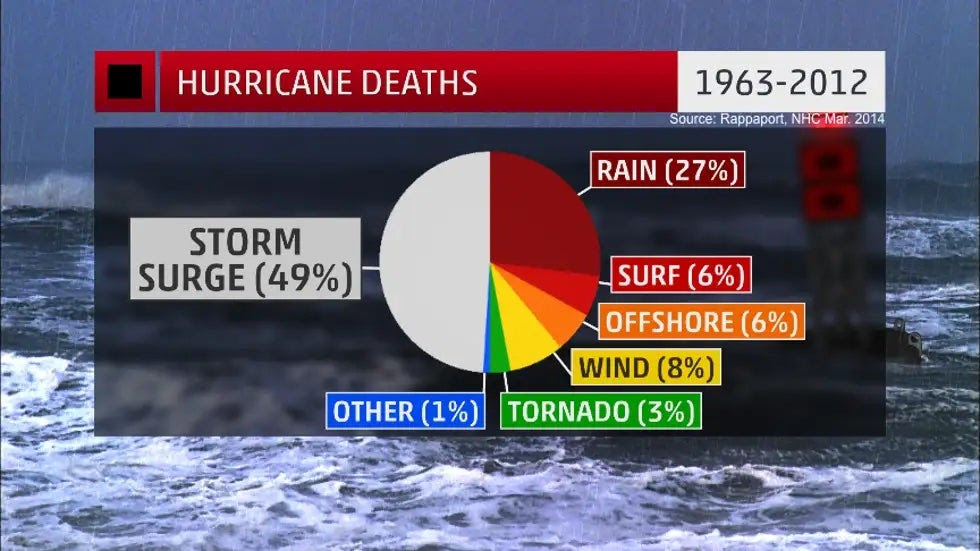 Percent of U.S. tropical cyclone fatalities by cause from 1963 through 2012. (Data: Rappaport, 2014)
It's not wind that kills nearly most often in U.S. tropical cyclones. It's water. In fact, seven of eight fatalities from tropical cyclones in the U.S. from 1963 through 2012 were from either storm surge, rainfall flooding or high surf, or occurred offshore within 50 nautical miles of the coast, according to a study from the National Hurricane Center. In coastal areas, storm surge is often the deadliest threat to human life and property from a hurricane, but it can be hard to understand how it works. Here's what you need to know.

As weather.com meteorologist Ari Sarsalari explains, "Storm surge has everything to do with the wind direction and speed. This isn't flooding that comes from rain. When the wind direction is coming directly onshore, what happens is the wind will actually just blow the ocean up onto the shoreline, so parts of the shore literally become part of the ocean. And it's not a calm ocean, either, when the wind is blowing that hard."

In the Northern Hemisphere, the storm surge is typically highest immediately to the right of the path of the center of the storm as it is making landfall. If the storm surge coincides with normal high tide, it can result in storm tides that reach up to 20 feet or more.
Not All Hurricane-Related Deaths Or Injuries Occur From The Storm Itself
Downed power lines in Louisiana following Hurricane Laura in 2020. (STRINGER/AFP via Getty Images)
While storm surge, rain and wind are the biggest risks during hurricanes and tropical storms, it's important to keep in mind that not all hurricane-related deaths or injuries occur from the storm itself. Here are two underappreciated hazards to keep in mind.
Vehicle Accidents
One of the leading causes of indirect hurricane deaths (i.e. those not caused by wind or water) are vehicle accidents. According to meteorologist Jonathan Belles, "These occur most often in the frenzy that occurs before and just after a hurricane landfall." Bad visibility, windy and rainy conditions and slick roads are all factors that heighten the risk for dangerous crashes.
Drive after the storm only if it's absolutely necessary. Avoid flooded roads and bridges, and watch out for debris, loose or dangling power lines and out-of-service traffic lights.
Carbon Monoxide Poisoning
When it's still extremely hot and the power goes out, carbon monoxide poisoning can be a real threat. "People are still putting their generators in or near their homes, or running their cars in their garages for a moment of cooler air," Belles says. "Both of these pump deadly gasses into their homes."
This kind of indirect hurricane death is very preventable. "Move the generators outside and away from any air intake spots. And you can also get a carbon monoxide detector that runs on batteries," Belles advises.
#OTD
2008: Hurricane Gustav Sets Atlantic Surface Wind Gust Record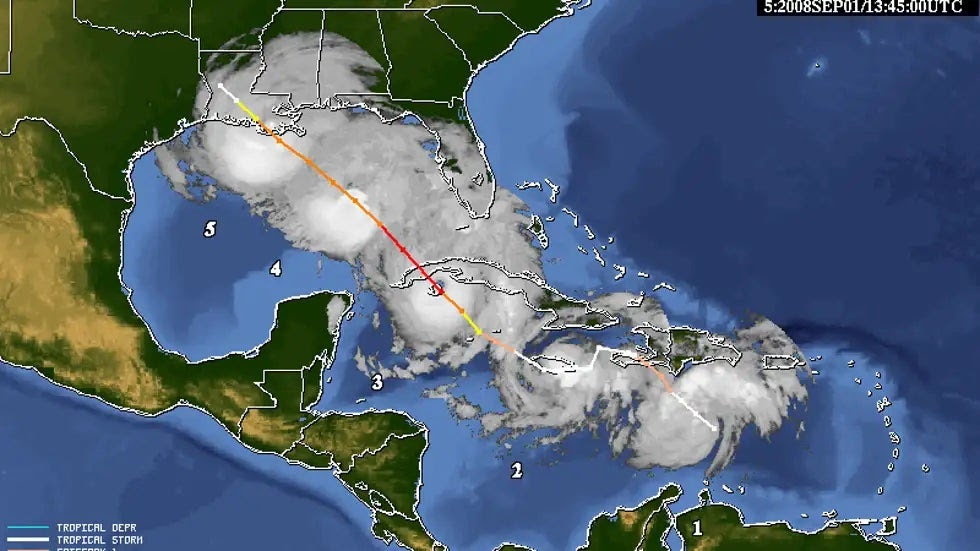 Composite track and satellite montage of Hurricane Gustav from Aug. 25 to Sep. 1, 2008. (UW-CIMSS/NOAA)
The strongest surface wind gust on record for any Atlantic hurricane was recorded during Hurricane Gustav on Aug. 30, 2008. A peak wind gust of 211.7 mph was clocked in Paso Real de San Diego, Cuba. This followed a period of rapid intensification in which Gustav strengthened from a Category 2 to a Category 4 hurricane.

After an investigation by the World Meteorological Organization, this was accepted as a world record for a tropical cyclone surface wind gust. However, less than two years later, the WMO ruled that 1996's Tropical Cyclone Olivia holds the overall record with a gust of 253 mph in Barrow Island, Australia.