By Chris DeWeese
Senior Editorial Writer
Good Morning. Idalia has strengthened into a hurricane and is expected to intensify into what the National Hurricane Center called an "extremely dangerous major hurricane" before making landfall on Florida's Gulf Coast on Wednesday.

At 5 a.m. EST, Hurricane Idalia was located about 370 miles south southwest of Tampa, Florida, moving north at 14 mph. The storm had maximum sustained winds of 75 mph. Plenty of warm water and increasingly favorable upper-level winds will make rapid intensification possible as Idalia moves through the Gulf of Mexico. Life-threatening storm surge, damaging winds and flooding rain are all expected along portions of the west coast of Florida and the Florida Panhandle beginning later Tuesday, then peaking on Wednesday. Parts of south Georgia and the Carolinas will also see significant impacts from Idalia by Wednesday.

If you live in an area prone to storm surge, be sure to follow the advice of local officials if evacuations are ordered. The latest on evacuations for Idalia can be found here, our live updates are here and you can keep track of all the latest tracking information, models and satellite imagery here.
Weather In Focus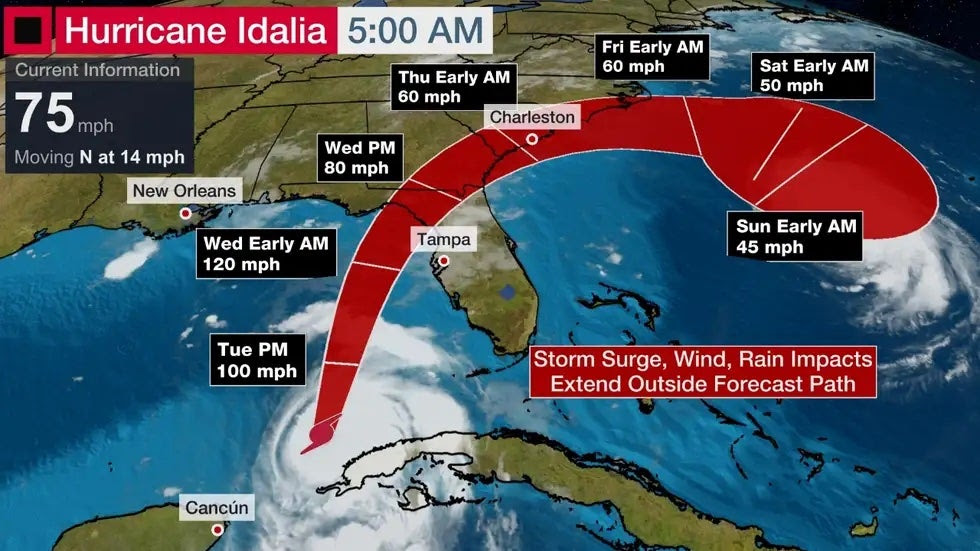 This morning's forecast cone for Hurricane Idalia has shifted slightly to the west, but it's important to note that major impacts from Idalia will extend outside the forecast path shown above, including the Tampa Bay area.
What We're Tracking
TODAY'S TRIVIA
Hurricane Ida made landfall as a Category 4 storm in Louisiana on this date in what year?
2018
2019
2020
2021
See the answer at the end of this newsletter.
Weather Words
'Cone Of Uncertainty'
The cone of uncertainty refers to the projected path map you frequently see on the internet or television for a given storm. The cone is made up of circles that get bigger and bigger as the forecast goes from hours to days. The reason for this is because any forecast's uncertainty increases the farther in the future it is.

After a series of forecast circles are created, they are then enclosed via their outer edges to create the forecast cone. The circles are built around the exact predicted future positions of a tropical cyclone's center as forecast by the National Hurricane Center. Each circle's size is set so that two-thirds of historical official forecast errors over the last five years would fall within it.

It's important to keep in mind that the cone of uncertainty represents the probable track of the center of a tropical cyclone and does not represent where impacts like surge, wind, flooding or tornadoes will occur.
TRAVELDAY
10 Incredible Phenomena You Have To See In Fall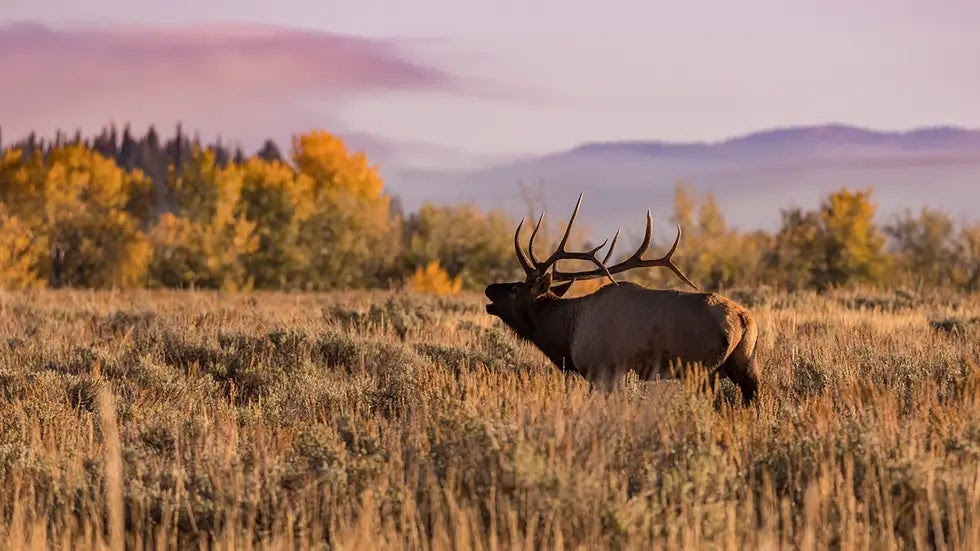 A bull elk bugles during the fall rut. (Getty Images)
With meteorological fall just around the corner, here are a few highlights from our list of 10 incredible "fall-nomena." You can check out the whole list here.
Shadow Of The Bear, Cashiers, North Carolina

(Jerry Jaynes/BMUSA/Getty Images)

Each fall, the side of U.S. Highway 64 near Cashiers in southwestern North Carolina becomes a location for one of the most unique autumn experiences in the country – the Shadow of the Bear. This naturally occurring phenomenon makes an appearance for just 30 minutes on sunny days around 5:30 p.m. mid-October through early November.

The Fall Monarch Butterfly Migration, Mexico And California

(Luis Acosta/AFP/Getty Images)

Unable to handle cold winters, the now-endangered monarch butterflies migrate south and west every fall, generally around October, to spend their winters in Mexico and Southern California. According to the U.S. Department of Agriculture's Forest Service, some butterflies migrate as far as 3,000 miles to reach their winter home, traveling by day and roosting in pine, fir and cedar trees by night.
Read the rest of this article here.
#OTD
2005: Hurricane Katrina Hits Louisiana and Mississippi
A man was rescued from his house as floodwaters rose in New Orleans after Hurricane Katrina. (James Nielsen /AFP / Getty Images)
Eighteen years ago today, Hurricane Katrina made landfall over southeast Louisiana and Mississippi. The storm, which had intensified to a Category 5 in the Gulf of Mexico before weakening to a strong Category 3 at landfall, was quite large, with hurricane-force winds extending up to 230 miles from its center at landfall.

Katrina took more than 1,800 lives and caused widespread damage, especially in New Orleans, where levee failures inundated 80% of the city. The people of New Orleans showed amazing grit and resilience as they built their city back from the devastation, and now their city is better prepared for the next big storm.

ANSWER TO TODAY'S TRIVIA
D. 2021
Hurricane Ida made landfall two years ago on this date.