By Chris DeWeese
Senior Editorial Writer
Good Morning. In the Eastern Pacific, Hurricane Hilary is now peaking as a Category 4 hurricane. It will weaken as it moves north over cooler water parallel to the Baja Peninsula, but its remnants could still bring significant impacts to parts of the Southwest, including California, where the National Weather Service has issued a rare high risk of excessive rain Sunday-Sunday night for a small slice in the southern part of the state. Check out our deep dive forecast here to learn more.

With so much going on in the world of weather, make sure you never miss an update. Get breaking news delivered straight to your desktop or mobile phone by signing up for alerts.
Weather In Focus
Hilary Forecast Path, Current Status
This is our current forecast map for Hurricane Hilary. The red-shaded area denotes the potential path of the center of the tropical cyclone. Impacts (particularly heavy rain, high surf, coastal flooding, winds) with any tropical cyclone usually spread beyond its forecast path. Remember: Hilary is forecast to weaken substantially by the time it or its remnant tracks over parts of Southern California.
What We're Tracking
TODAY'S TRIVIA
Twenty-seven tornadoes hit Wisconsin on this date in
1909
1945
1989
2005
See the answer at the end of this newsletter.
This Caught My Eye
NOAA's excessive rainfall outlook for Sunday, issued on Friday.
Hilary's Unusually High Flood Risk
The National Hurricane Center warned of "significant and rare" flood impacts possible in Southern California and the Desert Southwest this weekend into Monday in their early Friday morning advisory for Hilary. And this morning, NOAA's Weather Prediction Center issued a rare "high risk" in their excessive rainfall outlook for Sunday over parts of Southern California, due to Hilary.
According to NOAA, these "high risk" days only happen about 4% of days each year. But these high risk days account for 39% of all flood deaths and 83% of all flood damage in the U.S. each year.
A recently published study found rainfall flooding was the biggest killer from U.S. tropical cyclones over the past 10 years, accounting for 57% of deaths from 2013-2022.
This is a serious danger. Never drive into flood water. If you live near a mountain or burn area, be ready to evacuate at a moment's notice in case of flooding or debris flows.
Weather Words
'Rapid Intensification'
This satellite footage shows Typhoon Hinnamnor rapidly intensifying on Aug. 28, 2022. (NOAA)
You may have heard some meteorologists talking about how Hilary underwent rapid intensification between Wednesday and Thursday. If you wondered what exactly that means, here we go!

In meteorology, rapid intensification is defined by the National Hurricane Center as a situation in which a tropical cyclone intensifies dramatically in a short amount of time. The NHC quantifies it as an increase in the maximum sustained winds of a tropical cyclone of at least 30 knots (35 mph) in a 24-hour period. The rapid intensification that Hilary experienced changed it from being dubbed a tropical storm to being called a hurricane.
FINALLY FRIDAY
QUIZ TIME!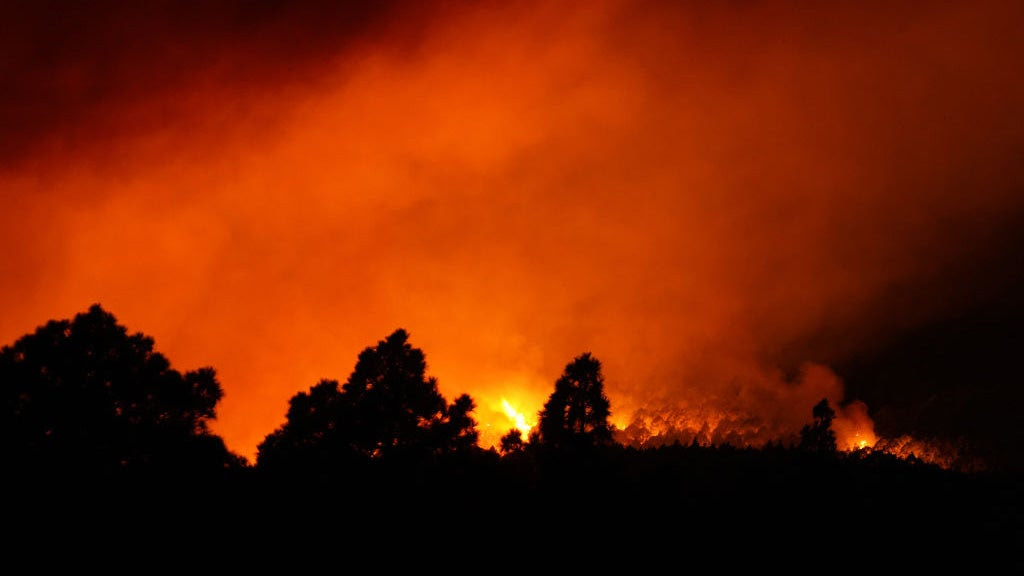 (NurPhoto via Getty Images)
It's the time … of the season … for quizzing. Let's see how closely you followed this week in weather. You can find all the answers at the end of today's newsletter.
1. The photo above shows a wildfire that broke out on Wednesday on the island of ______.

2. An Eastern Pacific tropical storm named _____ formed Wednesday and then strengthened into a hurricane yesterday.

3. The entire city of ______, Canada, was under an evacuation notice as wildfires moved near.

4. According to a new study _______ of the world is facing an "unprecedented" water crisis.

5. Eighty-eight percent of the Atlantic hurricane season's average activity takes place after what date?
#OTD
2019: Funeral For A Glacier
(NASA Earth Observatory)
On today's date in 2019, a memorial was held to mark the death of Iceland's Okjökull glacier. The once-iconic glacier, which was estimated to be 15 square miles in 1901, had melted through the 20th century, finally being declared dead in 2014.

Scientists made a film about the glacier's demise called "Not OK" and installed a plaque to memorialize Okjökull. Entitled "A Letter To The Future," the plaque reads, in part, "This monument is to acknowledge that we know what is happening and what needs to be done. Only you know if we did it."

ANSWER TO TODAY'S TRIVIA
D. 2005
It was a record number of tornadoes for the state.

ANSWERS TO THE WEEKLY QUIZ:

1. Tenerife

2. Hilary

3. Yellowknife

4. 25%

5. Aug. 15