By Tim Harris
Staff Writer
Good Morning. It seems like "Heat and Storms" is becoming the song of the summer. Across the country, people are facing dangerous conditions. The persistence of severe weather and extreme heat is a great reminder of just how important it is for you to stay connected to local alerts.

Smartphones can be a lifesaver. If enabled, The Weather Channel app will send you tailored alerts based on your precise location if you should become threatened by severe weather. It's also a good idea to make sure you have government alerts enabled on your smartphone as well — that way, authorized government alerting authorities like the National Weather Service, Federal Emergency Management Agency and the Department of Homeland Security can reach you to share important information.
Weather In Focus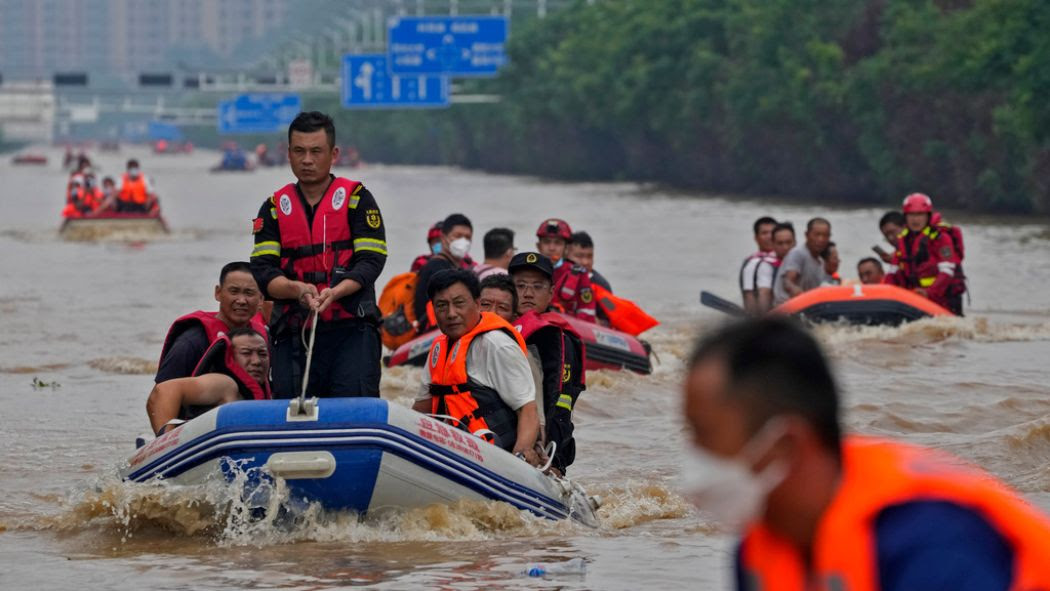 (Associated Press/Andy Wong)
Over the past few days, China's capital city of Beijing has recorded the highest rainfall total of the last 140 years due to remnants of Typhoon Doksuri. The city picked up nearly 30 inches of rain between Saturday and Wednesday morning. Heavy rain has resulted in severe flooding, and more than 20 people have died.
What We're Tracking
TODAY'S TRIVIA
What percentage of wildfires in the U.S. are caused by lightning strikes?
2%
85%
15%
Nearly all fires are caused by lightning strikes
See the answer at the end of this newsletter.
This Caught My Eye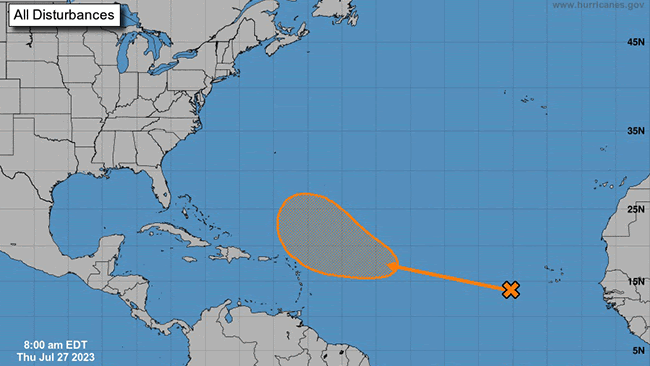 This loop shows a succession of tropical weather outlooks issued by the National Hurricane Center each day at 8 a.m. EDT from last Thursday through Wednesday morning. (NOAA/NHC)
Striking Out
In baseball, it's often said, "Nobody bats a thousand," meaning no baseball player gets a hit every time. The same holds true in hurricane season. Over the past week, we had been tracking an area of low pressure between Africa and the Lesser Antilles, dubbed Invest 96L. Its persistence eventually prompted the National Hurricane Center to assign a high chance of development in its tropical weather outlook.
Its northward curl into the central Atlantic happened as expected, but this disturbance never developed. That was despite some computer models last week suggesting it would become at least Tropical Storm Emily.
Invest 96L was a classic illustration that ocean water temperatures, despite being the warmest in at least 40 years, aren't the be-all and end-all for development. You also need a cooperative atmosphere. Dry air, then wind shear — nemeses of tropical cyclones common early in the hurricane season — refused to allow this disturbance to maintain concentrated, persistent thunderstorms needed to form a tropical depression.
This is something we'll watch this season. El Niño hasn't yet flexed its muscles on the tropical Atlantic weather pattern. But stronger El Niños usually produce stronger wind shear and sinking, dry air near the Caribbean Sea. So while we're headed into the hurricane season's busiest time of year, don't be surprised if a few other systems like this swing and miss.
Weather Words
'Cloud Flash'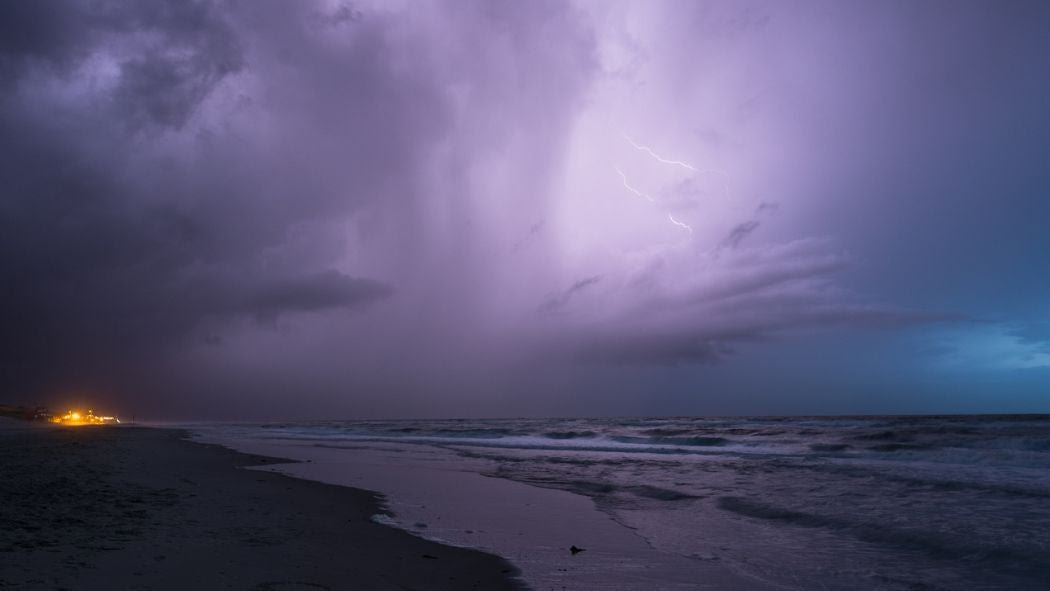 (Getty/Meindert van der Haven)
If lightning strikes, but you can't see the bolt because all the action is going on within the cloud, is it still lightning? Yes, it is, and it's called a "cloud flash." A cloud flash happens when a discharge takes place between a positively charged and negatively charged region within the clouds.

Because the lightning happens within the clouds, the flash is softened and appears more as a glow rather than a harsh lightning bolt. The widespread glow is called "sheet lightning." Though less recognizable, cloud flashes outnumber cloud-to-ground lightning flashes in most cases.
THURSDAY THINK
Your Home, Your Neighborhood And Your Heart
(Getty Images/Tony Anderson)
You've probably heard the saying, "Home is where the heart is." Well, experts say your home and your heart have a lot more in common than just that adage.

Where your home is located has a lot to do with how healthy your heart is. Dr. Boback Ziaeian, an assistant cardiology professor at the University of California, Los Angeles, told the American Heart Association, "Your ZIP code is far more predictive of cardiovascular risk than any type of genetic predisposition." Why does your neighborhood have so much to do with heart health? A number of factors come into play: distance to a doctor's office, exposure to violence, availability of fitness opportunities, pollution, educational opportunities and economic opportunities.

A study published in Scientific Reports earlier this year revealed that as one's socioeconomic status rose, the risk of cardiovascular disease dropped. Authors of that study say their findings are evidence that public health policy should focus on alleviating issues that plague vulnerable groups of the population.
#OTD
1958: USS Nautilus Reaches North Pole
(U.S. Department of Defense)
Near midnight on this night 65 years ago, the USS Nautilus crossed beneath the ice of the geographic North Pole — the first ship to do so.

Nautilus Cmd. W.R. Anderson addressed a handwritten letter to first lady Mamie Eisenhower, who had christened the sub at its launch in 1954, saying, "It is my hope that Nautilus will always serve as a tribute to our country and to you. I shall feel that you were very near to us when I sign this letter within seconds after passing under the North Pole."

The highly secret military operation dubbed "Operation Sunshine" began Aug. 1 when Nautilus submerged in the Barrow Sea. The crew did not surface until Aug. 7 having transited the geographic North Pole beneath the polar ice pack, nearly reaching Greenland. A government fact sheet remarked that when the submarine was at the North Pole, more people were gathered there than ever before in history — 116 in total. Nautilus was the world's first nuclear-powered submarine, which allowed for longer periods of submersion.