Happy Thursday Morning Brewers!
Good morning. A new AP-NORC poll found that about 70% of Americans believe in angels, while only 56% believe in the devil. 100% believe it's not butter.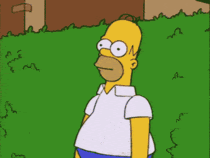 The Simpsons/20th Television via Giphy
By now, we're all about as desensitized to recession talk as to the prophecies of a doomsday cult. And we may be right: Yesterday, Bank of America's economists became the first at a major Wall Street Bank to reverse their earlier prediction, saying the US won't have a recession in the next year.
Less than a year ago, just about everyone was forecasting an imminent recession. The Bloomberg Economics probability model suggested there was a 100% chance the US would be plunged into a recession in the next year. And back in June 2022, JPMorgan CEO Jamie Dimon told investors to brace for an impending economic "hurricane."
But times have changed: BofA pointed to solid consumer spending and inflation cooling to 3% last month. And its economists noted that, despite the Fed's string of interest rate hikes, the labor market has remained strong, with unemployment rates staying low (just 3.6% in June) and companies slowly hiring.
It's not just BofA seeing clear skies ahead
Even as it raised interest rates again last week, the Federal Reserve said that it expects a recession-free 2023. And Goldman Sachs cut its estimation of the odds of a recession in the next year from 25% to 20%.
CEOs in Q2 earnings calls were also feeling hopeful. The phrase "soft landing," the term for the Fed managing to tackle inflation without tanking the economy, has been mentioned during earnings calls 97% more this cycle than in the last one.
Execs' comments ranged from PNC CEO Bill Demchak's "I think the soft landing feels right" to Tesla CEO Elon Musk's "I don't know what the hell was going on."
Even JPMorgan's Dimon refrained from natural disaster metaphors and instead said the US consumer was currently in good shape.
Not everyone feels the same. The rosier predictions have made the timing of rating agency Fitch's decision to downgrade the US' credit rating this week over political polarization awkward (Dimon called it "ridiculous"). But, even so, the New York Times pointed out that economists also made high-profile soft landing predictions right before recessions in 1990, 2000, and 2008.