By Nicole Bonaccorso
Senior Editor
Good Morning. The Northeast, where I live, is finally experiencing some more comfortable weather after a bout of intense heat. It's no longer too hot to even go for a swim, and my family and I are busy enjoying some of our favorite summer activities, such as lounging on the beach, going for hikes and enjoying dinner outdoors.

However, not everyone in the U.S. is experiencing relief this week. Several parts of the country had their hottest month on record in July, with Phoenix clinching the hottest single month for any U.S. city on record. And while some areas are done with the hottest time of the year, early August tends to pack the most heat for parts of the South, with South Texas typically not reaching peak temperatures until the middle of the month.

At least it's the last full month of summer, so the end may be in sight.
Weather In Focus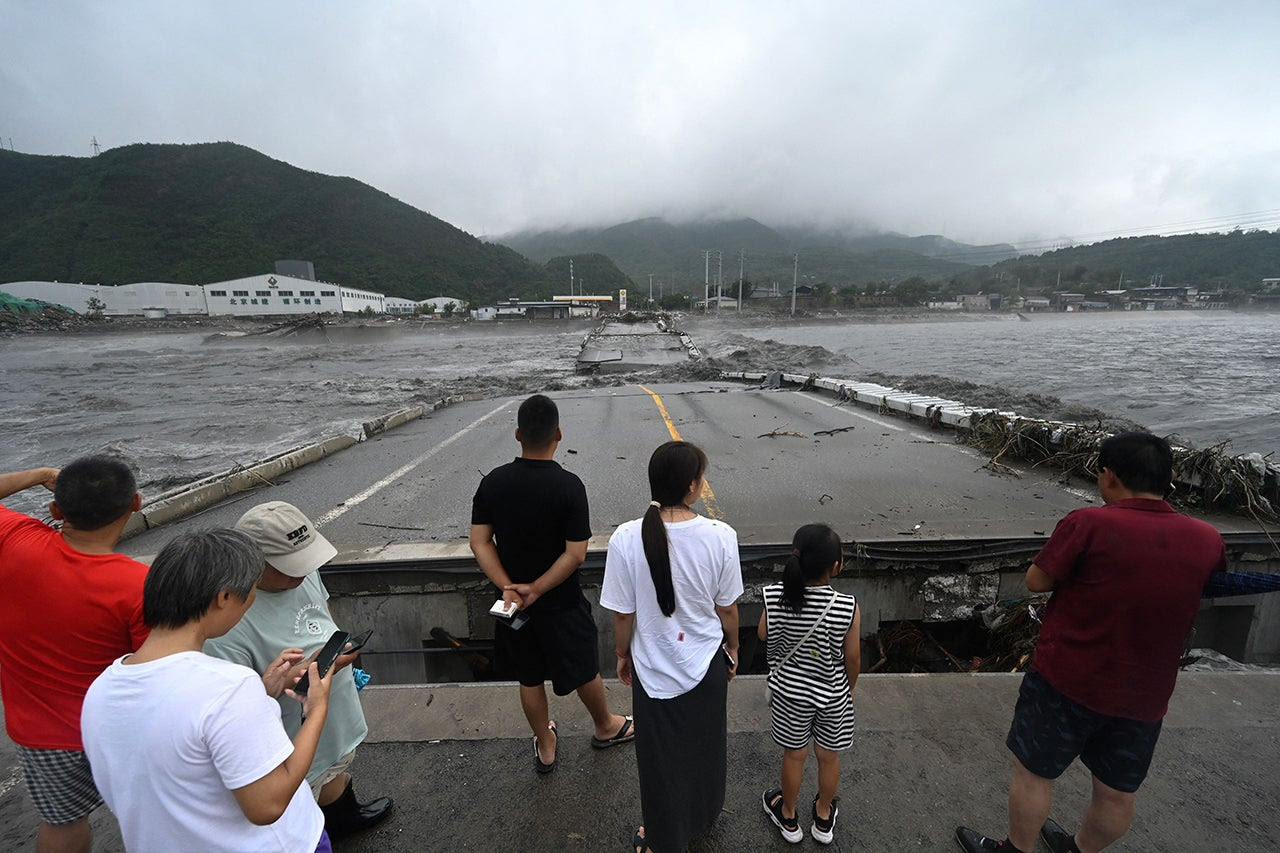 People watch a collapsed bridge on the Dashihe River after heavy rains in Fangshan district in Beijing, China, on Aug. 1, 2023.

The remnants of Typhoon Doksuri brought flash flooding in and around the city, washing away cars, forcing evacuations and closing roads and sparking dramatic rescues, like this one.
What We're Tracking
TODAY'S TRIVIA
What is the fastest speed that a raindrop can fall in still air?
55 mph
30 mph
23 mph
14 mph
See the answer at the end of this newsletter.
This Caught My Eye
Thunderstorms are the most common sight on Doppler radar in summer, but there's another phenomenon that appears regularly in the morning that isn't weather related.

Around sunrise, radar often displays multiple rings appearing to move outward from a single point over parts of the U.S., most often east of the Rockies. These are called "roost rings" and they are masses of birds taking flight in all directions away from where they were resting overnight.

Above is an example from Tuesday morning near Interstate 75 about 50 miles south of Atlanta. The expanding green donut of radar echoes shows the birds gaining altitude and moving farther away from where they originated near the ground.

Bodies of water such as lakes are where we often see them taking flight, which in this case was High Falls Lake in High Falls State Park.

Some bird species will roost by the thousands at nighttime. At sunrise, they take off en masse to seek food.
Weather Words
'Lenticular Cloud'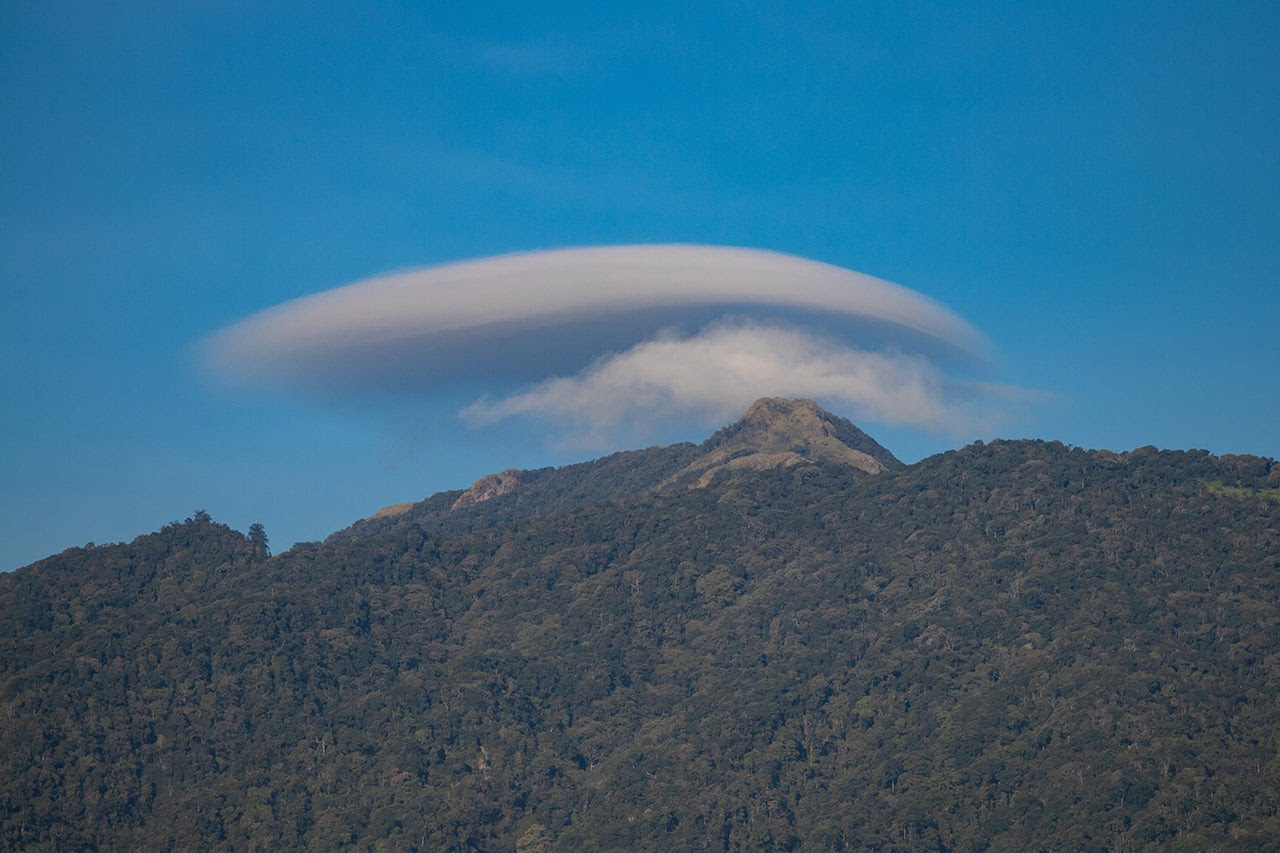 A lenticular cloud appeared over Mount Ungaran in Central Java province, Indonesia, on Aug. 1, 2023. (W.F. Sihardian/NurPhoto via Getty Images)
Don't worry, that's not a UFO (or a UAP, a term many of us learned last week). It's just a lenticular cloud!

These clouds form when winds blow perpendicular to mountains. Moist, stable air flowing over the mountains can cause a series of waves to form on the leeward side. If the temperature at the crest of the wave equals the dew point, the air's moisture condenses, forming a lenticular cloud.

They are often stationary and have a saucerlike shape, and are sometimes suggested as an explanation for some UFO sightings.

Certain conditions may create a long series of lenticular clouds near the crest of each successive wave, creating what is called a "wave cloud."
WELL WEDNESDAY
New Study: Everyday Activities Can Cut Cancer Risk
(Getty Images)
A new study out of Australia found that just 4.5 minutes of vigorous activity during daily life could reduce the risk of some cancers by 32%.

Activities such as robust housework, rough-housing with the kids or a brisk walk down the street all count as vigorous intermittent lifestyle physical activities, and could make a big impact in the reduction of stomach, bladder, kidney and lung cancers.

The study looked at more than 22,000 people who didn't exercise regularly. As many middle-aged people do not have regular exercise as a part of their daily routine, scientists wanted to look at the impact of brief, intense activities that are often not considered traditional exercise.
Learn more here.
#OTD
1995: First Hurricane Landfall Since Andrew
A Miami Beach store owner tapes his store windows in preparation for the arrival of Hurricane Erin on the east coast of Florida. (Roberto Schmidt/AFP via Getty Images)
Hurricane Erin made landfall on Aug. 2, 1995, in Vero Beach, Florida, the first hurricane to make landfall in the contiguous U.S. since Hurricane Andrew's devastating strike in 1992.

The storm knocked out power to more than 1 million people throughout the state and damaged more than 2,000 homes and buildings, mostly in the Florida Panhandle during its second landfall the next day.

Erin weakened over central Florida after its first landfall but then reintensified into a hurricane over the Gulf of Mexico before making its final landfall at Pensacola Beach, Florida, on Aug. 3.

The storm was blamed for six deaths and caused $1.7 billion in damage (adjusted for 2023 dollars) throughout the U.S., most of which occurred in Florida.

ANSWER TO TODAY'S TRIVIA
C. 23 mph
While not every raindrop falls to the ground (upward wind can inhibit that), the largest drops can fall at a maximum speed of about 23 miles per hour, according to NASA. However, their average speed is 14 mph, and the smallest raindrops can take 7 minutes to fall.