These Southern Deviled Eggs are the best ever! Made with sweet relish and jalapeños, they come together quickly and easily and make a perfect appetizer to feed a crowd.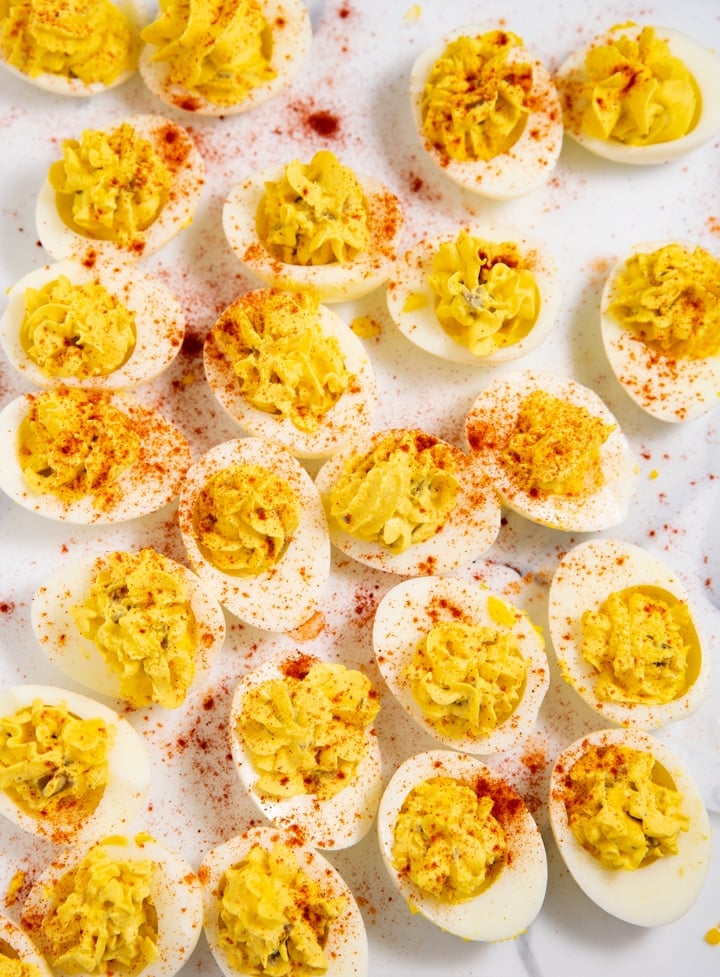 When it comes to hosting, deviled eggs are always a crowd pleaser. These beauties can be made ahead of time and the flavors are out this world! They come together so quickly, and this, for sure, is a great recipe to have in your arsenal!
My classic deviled eggs recipe not only tastes delicious but is really easy to make too. Once the eggs are hard boiled, the filling takes only minutes to whip up.
This is the best deviled eggs recipe as I like to make my deviled eggs with jalapeño and relish, rather than vinegar. The thing that sets these Southern deviled eggs apart is the addition of jalapeno and relish. It gives them a wonderful zingy tang that cuts through the creamy yolks.
When I entertain, I love serving these easy deviled eggs alongside other quick and easy appetizers like my Honey and Mustard Chicken Wings and Macaroni and Cheese Balls.
Ingredients
Large eggs – These are the size I always have on hand. These will be boiled, then separated for the recipe.
Filling – Mayonnaise, sweet relish, Jalapeños, yellow mustard, kosher salt, and black pepper are added to the cooked egg yolks to make a creamy, tangy filling.
Smoked paprika – for garnish and a bit of smokey flavor.
How To Make Southern Deviled Eggs
Hard boil your eggs in an electric pressure cooker by placing eggs in a steamer basket.
Place 1 cup of water in the pressure cooker and place the steamer basket inside.
Cover and pressure cook on low pressure for 8 minutes.
Once pressure cooking time is up, quick release the pressure, open the lid, and remove the eggs.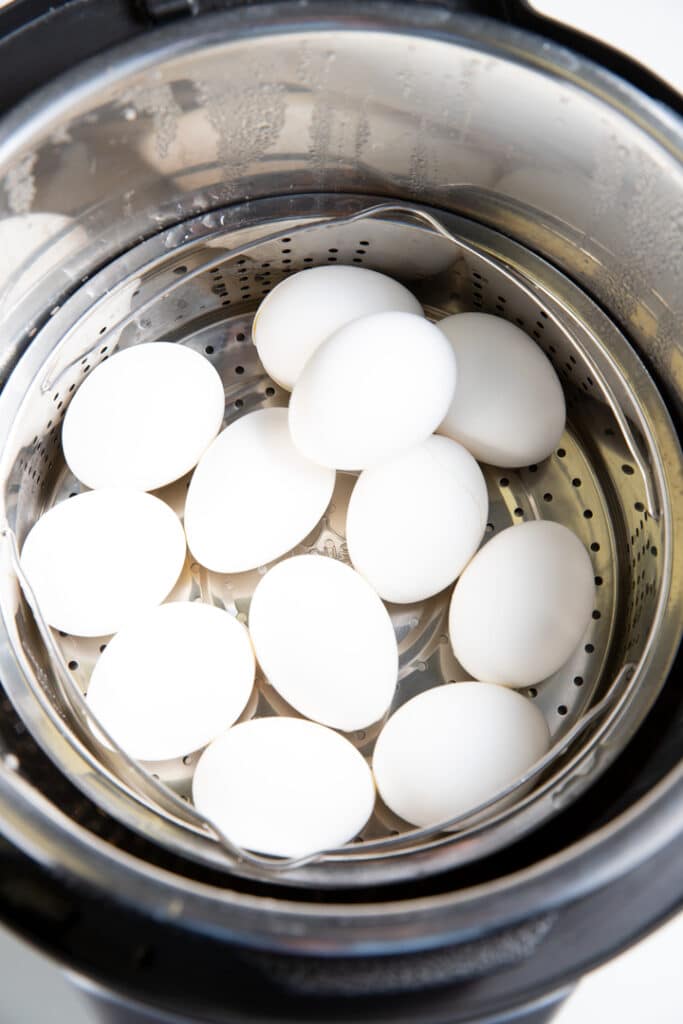 Use tongs to remove eggs from the pressure cooker and place the eggs in a bowl of cold water for 5 minutes.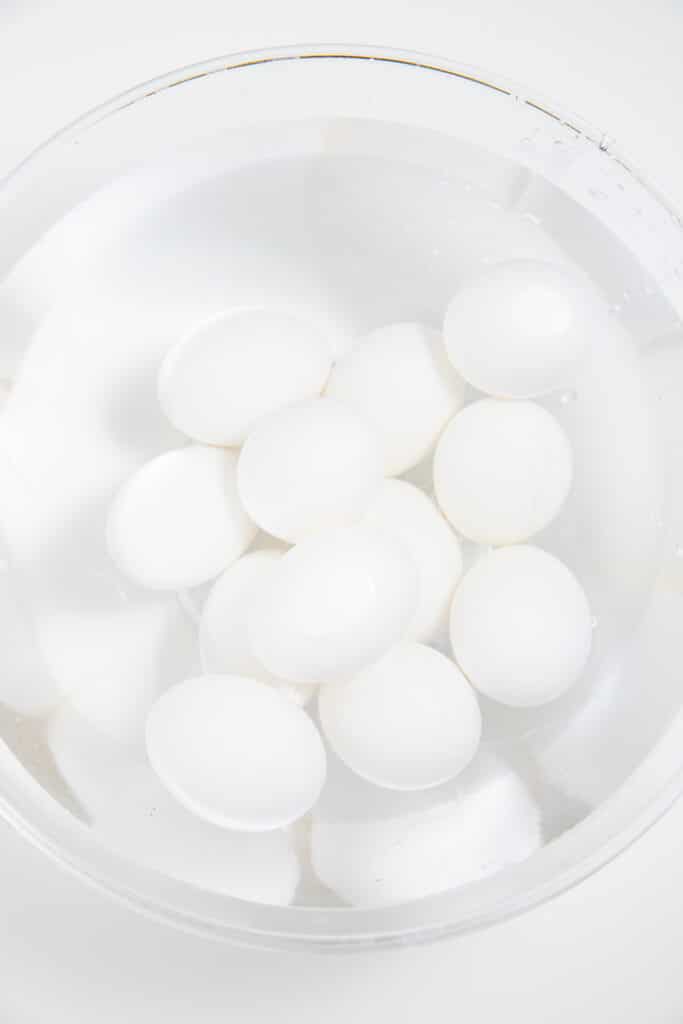 Peel the eggs and cut in half.
Remove the cooked yolk from the egg whites and place the yolks in a bowl.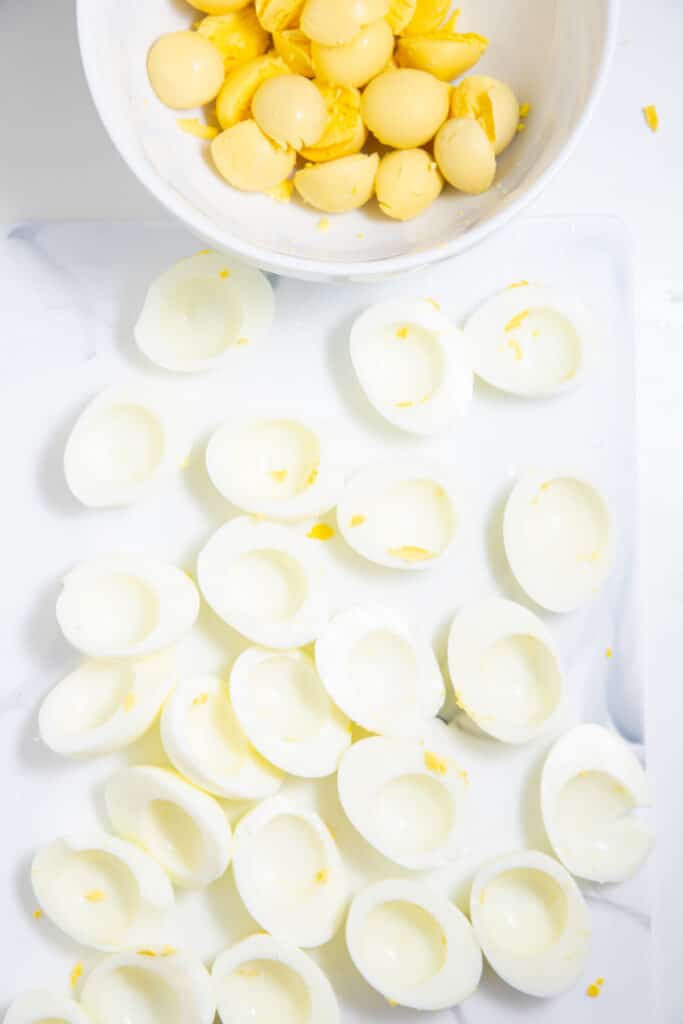 Use a fork and mash the egg yolks until broken apart.
Add mayonnaise, diced jalapeños, relish, salt and pepper and stir until combined and creamy.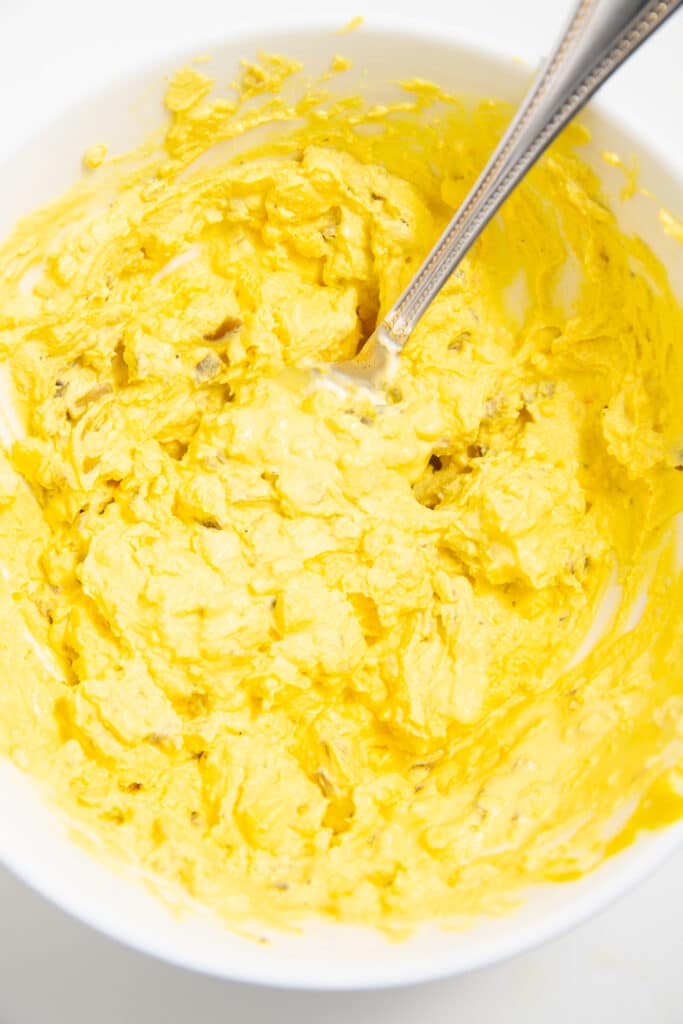 Spoon the egg mixture into a piping bag.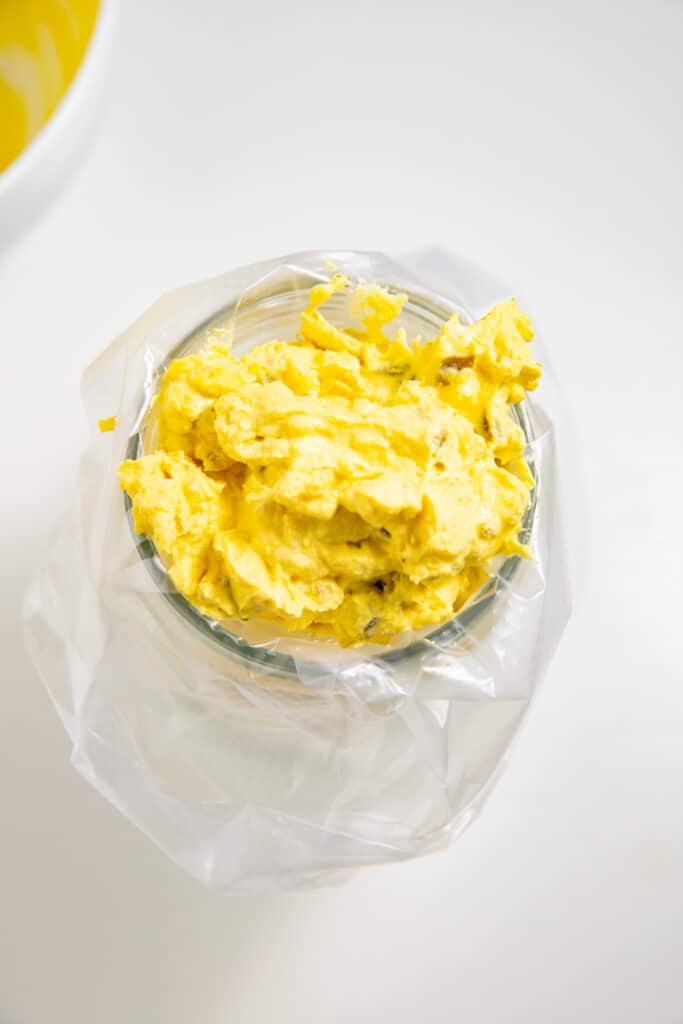 Use the piping bag to place the yolk mixture inside of the egg whites.
Sprinkle with smoked paprika. Enjoy!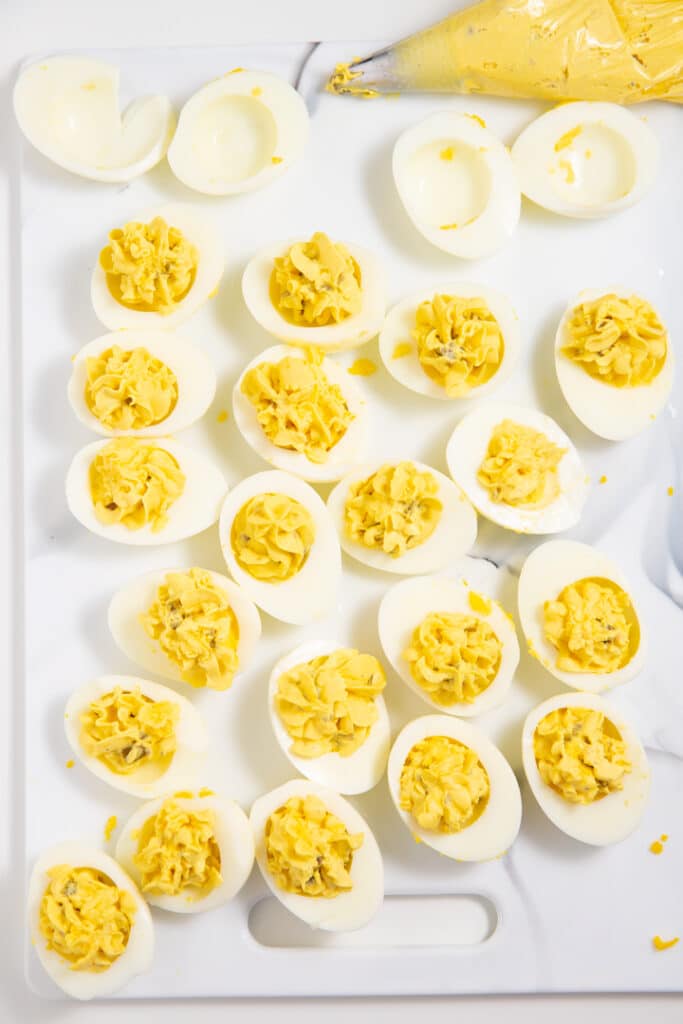 Which ways can I boil the eggs for deviled eggs?
There are a variety of ways to hard boil an egg. You can use an electric pressure cooker to hard boil the eggs, as I have done here. However, you can also use the air fryer to 'boil' your eggs or you can boil the eggs in a saucepan of water on the stovetop.
Can I make deviled eggs in advance?
These Southern deviled eggs are perfect for entertaining as you can make them up to 24 hours in advance of serving. Place them on a large plate and loosely cover them with plastic wrap or place in an airtight container in a single layer and keep them in the fridge.
If you really want to get ahead of things, you can store the cooked eggs for up to a week in the fridge and the filling can be made up to two days in advance and kept covered in the fridge separately. Then all you have to do is build them.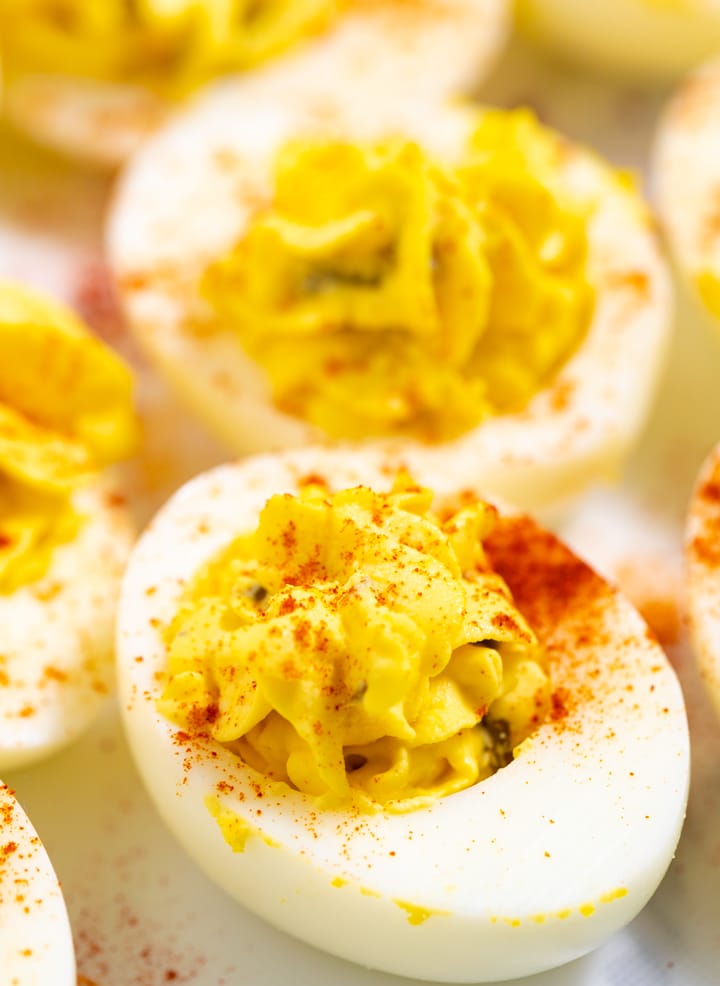 Tips To Make Southern Deviled Eggs
Using a piping bag makes it easier to fill the eggs, but you can use a spoon if you don't have one.
Ensure that the egg yolks are cooked all the way through. If they are soft boiled the filling will be too runny.
Make sure you cool your eggs before you peel them. When the eggs are still warm the whites can be delicate and tear.