By Tim Harris
Staff Writer
Good Morning. Yesterday, the United Nations' World Meteorological Organization confirmed that July is set to be the hottest month on record as a result of heat waves on multiple continents and record warm ocean temperatures. UN Secretary-General António Guterres wrote, "We don't have to wait for the end of the month to know this. Short of a mini-Ice Age over the next days, July 2023 will shatter records across the board."

Those of us who live in major cities may be especially vulnerable thanks to the urban heat island effect. In New York City, people living in certain neighborhoods can feel over 10 degrees more heat, according to data from Climate Central. If you're facing the heat, you might be feeling physically or mentally challenged.
Weather In Focus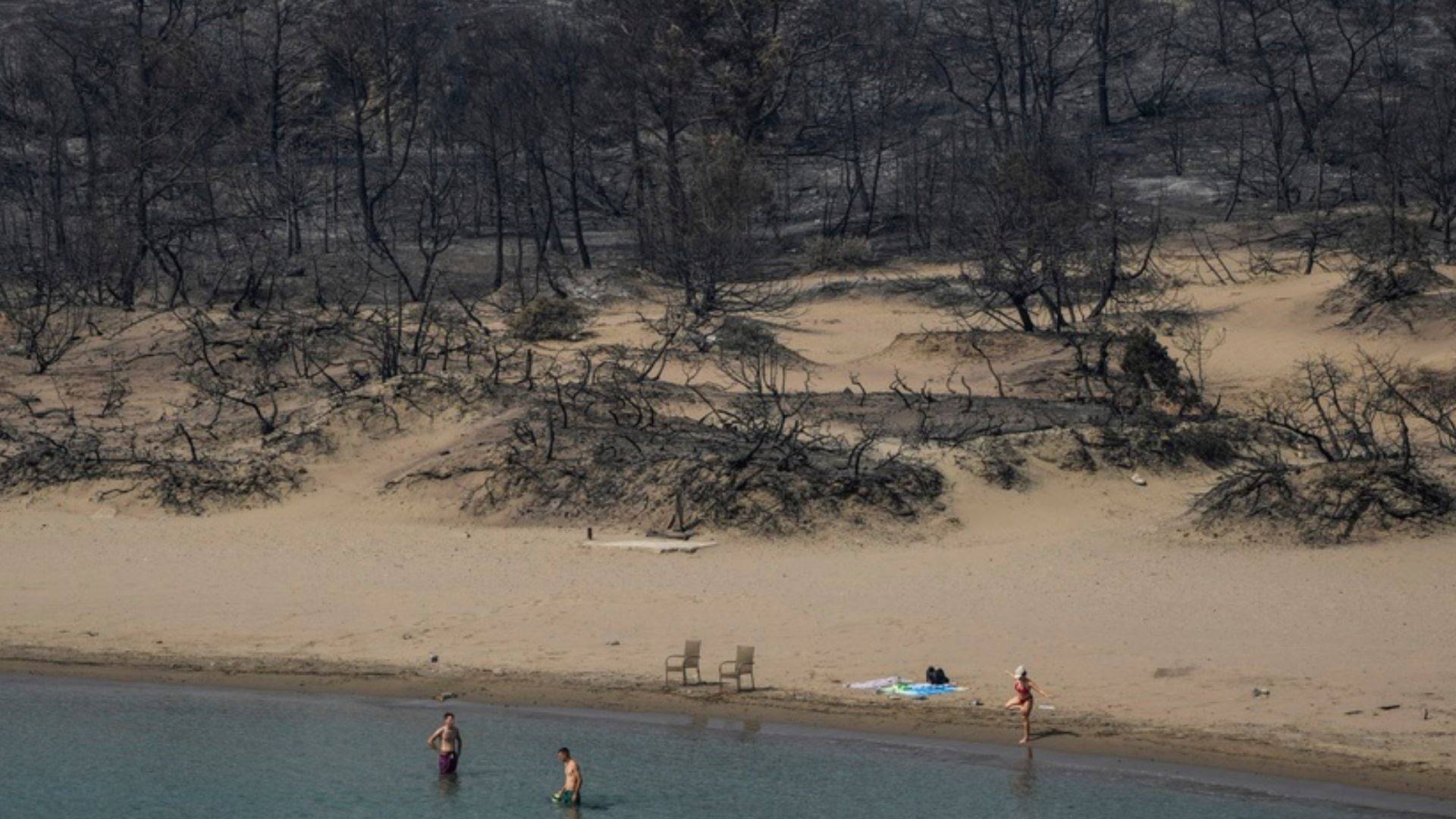 (Associated Press/Petros Giannakouris)
Multiple, successive European heat waves and less-than-ideal weather conditions have fueled raging wildfires across parts of Greece. On the island of Rhodes, firefighters have battled the blazes for 10 days. More than 20,000 people have been evacuated, including many tourists. At least five people have died, including two firefighting pilots who died in a water-dropping plane crash. At the peak of the wildfires, parts of Greece were under the country's highest level of fire risk category, Category 5. Now, it's down to Category 4, but much of the country is still at a very high risk of fire. Greece's fire service has asked the public to be mindful when doing risky activities such as smoking or working with power tools.
What We're Tracking
TODAY'S TRIVIA
Which of these U.S. cities has never reached 100 degrees, according to modern records?
Honolulu, HI
Providence, RI
Green Bay, WI
Spokane, WA
See the answer at the end of this newsletter.
This Caught My Eye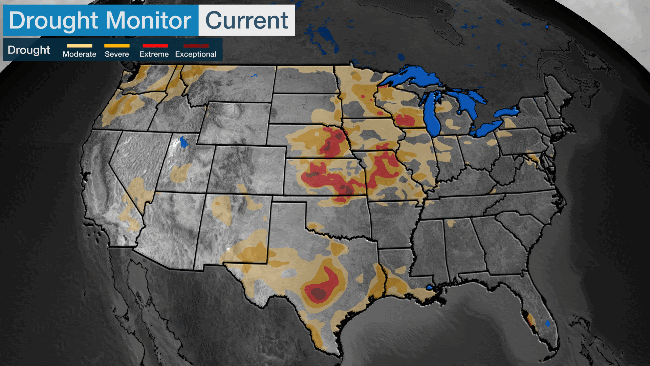 This animation shows the latest Drought Monitor analysis as of July 25, 2023, and that from almost one year ago. (Data: NOAA/USDA/NDMC)
Drastic Drought Difference
Firmly in the "dog days," it's interesting that we're in a different place regarding national drought this summer, as the animation above, and this drought change map, vividly illustrate.
Most eye catching is the vast improvement in much of the West. While the multi-decadal 21st-century megadrought is still a major challenge, a prolifically wet winter and spring erased short-term drought in the Great Basin and Southwest.
While Texas has trended hotter and drier recently, the drought status from Texas northward into the High Plains is also much improved after a very wet spring, compared to last summer.
New England sweltered through a dry summer last year, but recent prolific rain, including the massive flash flooding in Vermont, has taken drought off the table this summer.
But there are also areas much drier right now.
The upper Midwest quickly plunged into drought by late spring, and that has worsened in the summer. That drought has reached its highest level in parts of eastern Nebraska and Kansas, and the second-highest level in parts of Iowa, Minnesota, Missouri and Wisconsin.
This change has been particularly abrupt in Wisconsin. After its wettest winter (December through February) in 128 years, the state had its top-five driest May and June. My now largely brown front lawn in southeast Wisconsin can attest to this.
NOAA's latest seasonal drought outlook suggests improvement is possible from the Plains to much of the upper Midwest. That offers hope for farmers and those resorting to more frequent than usual watering of their gardens and lawns.
But NOAA also expects drought will persist or develop in southern Louisiana, parts of Texas, the Southwest and Northwest.
That could lead to deteriorating crops, water restrictions and an increasing threat of wildfires in some of those areas the rest of this summer into fall.
Weather Words
'Intertropical Convergence Zone'
(NASA/GOES Project Science Office)
When winds from the Southern Hemisphere ram into winds from the Northern Hemisphere, they meet in an area called the Intertropical Convergence Zone, or ITCZ. The ITCZ encircles the Earth near the equator. Connecting winds often form a band of storm clouds, making the zone visible via satellite. These storms fueled by the convergence of tradewinds are further supported by warm, tropical water underneath.

The ITCZ is dynamic. Based on movement, the convergence can produce heavy rain, sometimes producing rainfall amounts exceeding 1 inch per hour. But ITCZ movement also creates notable disparities in average rainfall for some near-equator cities. Kanos and Lagos in Nigeria are two cities that exemplify this. In the month of June, northerly Kanos receives just 4.6 inches of rain on average, while Lagos, closer to the equator, receives over 16 inches of rain on average.
FINALLY FRIDAY
Using Sound To Bring A Dark, Snowy World To Life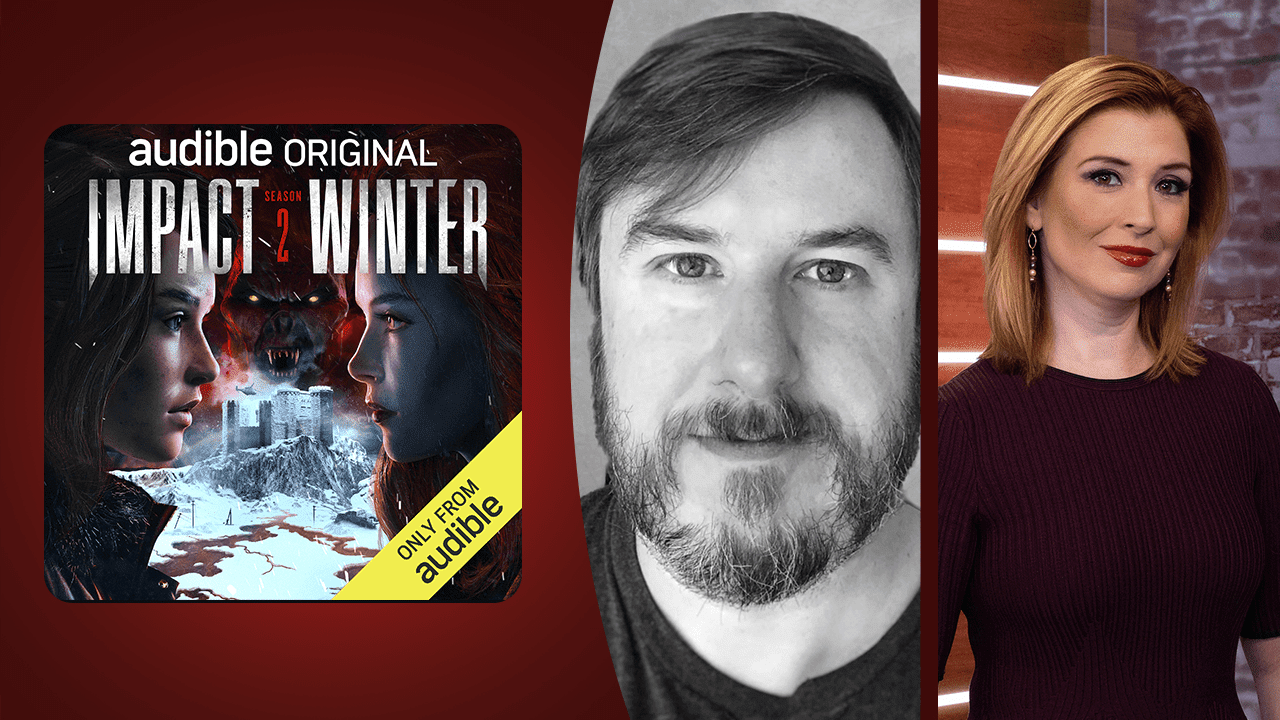 The world of the Audible Original podcast "Impact Winter" is a bleak one: Following a comet strike, the sun has been blotted out, leading to a dark and unforgiving world that makes the perfect home for a foe that thrives in the darkness: vampires. Here's Travis Beacham, the creator of "Impact Winter" and its sequel, out this month, on the role weather played in the series.
Since "Impact Winter" is an audio production, we obviously can't see the snow or bleak landscape you might have had in mind while writing it. How did you bring the sounds of the weather to life?
I thought quite a lot about it. The weather is not only integral to the premise, but it informs the immersion. It was always important to me that none of it sounded booth-y and clean but was bristling with life and ambiance. And actually, the funny thing about a show called Impact Winter is that it's not always snowy in this world.
The way I pictured it was that there'd still be seasons, to some muted extent. Yes, it's always overcast and always cooler than it would normally be, but the axial tilt of the globe would still contribute to some fluctuation over the course of a year, and so even under the blanket of a reduced overall temperature, one end of the calendar would still be relatively warmer than the other. So if you listen, you'll notice that the ambient weather and textures underfoot reflect the stated in-story date of any given episode. So you'll definitely hear more crunchy snow and ice in the colder months and more mud and grit and rain in the warmer months. And whether you consciously clock it or not, I do think that attention to detail is part of what makes it feel real to the listener.
You can read the whole conversation, as well as our meteorologist Danielle Banks's thoughts about it, here.
As a special offer, Audible is offering our audience a 2-month free trial so that you can check out Impact Winter. Terms apply. Find out more here.
#OTD
1976: The Great Tangshan Earthquake
(Universal History Archive/Universal Images Group via Getty Images)
In the early morning hours of July 28, 1976, a powerful magnitude 7.8 earthquake struck the industrial town of Tangshan, China. It is known as one of the largest natural disasters in recorded history. The earthquake nearly razed the entire city, killing at least 240,000 people, though some estimates suggest many more were killed. A modern day memorial wall honoring victims of the disaster contained engravings of over 246,000 names as of 2019. At least 700,000 people were injured. Over a million people called the city home at the time the quake struck.

The main quake and subsequent aftershocks occurred along a fault line that was unknown at the time but is now called the Tangshan Fault. More than 85% of the city's unreinforced buildings were damaged or destroyed. Rail lines, bridges and agricultural infrastructure all took a massive blow. By the 1980s, buildings had been rebuilt with earthquake resistance in mind. Land along fault lines was made into parks.