By Chris DeWeese
Senior Editorial Writer
Good Morning. The heat is on. While the Southwest has been dealing with eye popping temperatures for weeks, the heat is spreading, creeping up the map toward the Northeast. If you're one of the millions looking at a big temperature bump over the upcoming days, make sure you're ready to keep your loved ones, pets and plants safe. Check out our heat safety page for a cornucopia of information to help you through the coming days.

I'll be away from the newsletter traveling for the next week and a half, but I'm leaving you in the excellent hands of our writing team. Stay cool, and I'll see you all soon.
Weather In Focus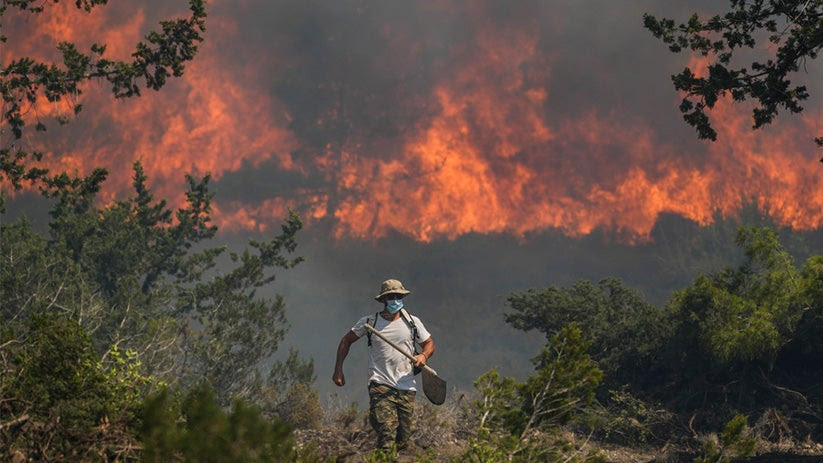 (AP Photo/Petros Giannakouris)
On the island of Rhodes in southeastern Greece, wildfires continue to rage out of control, and evacuations continue. This photo was taken near Vati village yesterday.
What We're Tracking
TODAY'S TRIVIA
Glenn Frey's performance of "The Heat Is On" was featured on what movie's soundtrack?
"Back To The Future"
"Beverly Hills Cop"
"The Breakfast Club"
"Top Gun"
See the answer at the end of this newsletter.
This Caught My Eye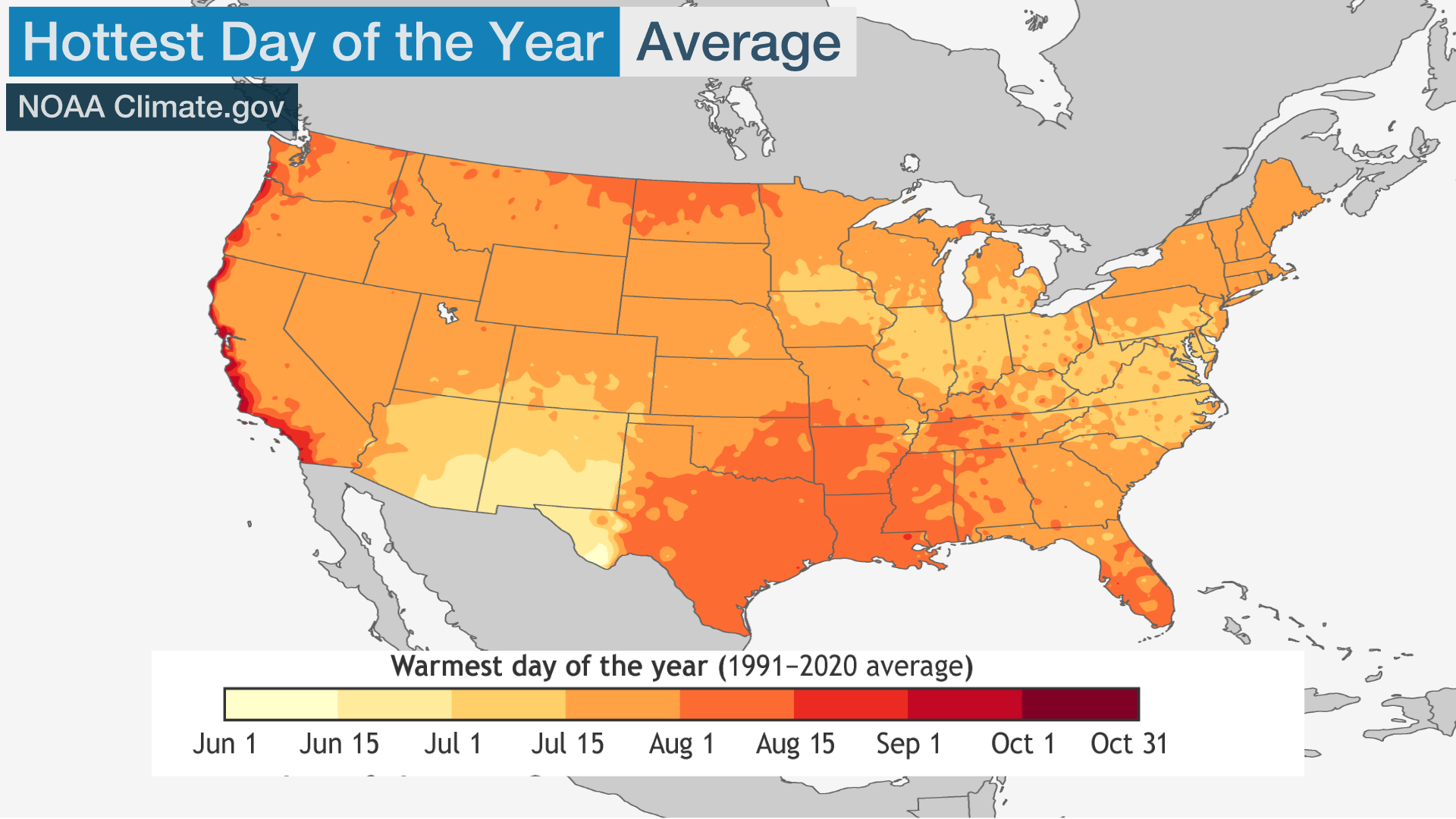 This graphic shows the typical hottest time of year, according to 1991-2020 average data. (Credit: NOAA)
It's All Downhill From Here
That sounds rather dim, but if you're feeling heat fatigue, it's a sliver of good news.
As we watch a heat wave expand out of the South into the Midwest and Northeast this week, we've reached what is typically the hottest time of year in most of the U.S. That means daily average temperatures (highs and lows) reach their peaks from late July into early August in much of the country.
For example, Kansas City's hottest daily average high temperature is this week, before their average temperatures start tumbling into fall, then winter.
In the mid-Atlantic and Great Lakes, that hottest time of year was in mid-July. Parts of the Deep South reach that annual peak in early August.
The sun is highest in the sky over the Northern Hemisphere on the first day of summer, around June 21. The reason the hottest time of year lags the summer solstice is it takes time for the sun to heat the land and any nearby water, then the air above it.
There's nothing magical about these daily average temperatures. They are just averages. If a particularly strong heat dome of high pressure sets up, a city could have its hottest day of the year in, say, late June or mid-August.
There's plenty of heat left in the summer, of course. But as sunrises tick a bit later and sunsets a bit earlier each day, it's a reminder that a change of seasons isn't as far off as you might think.
Weather Words
'Skirl'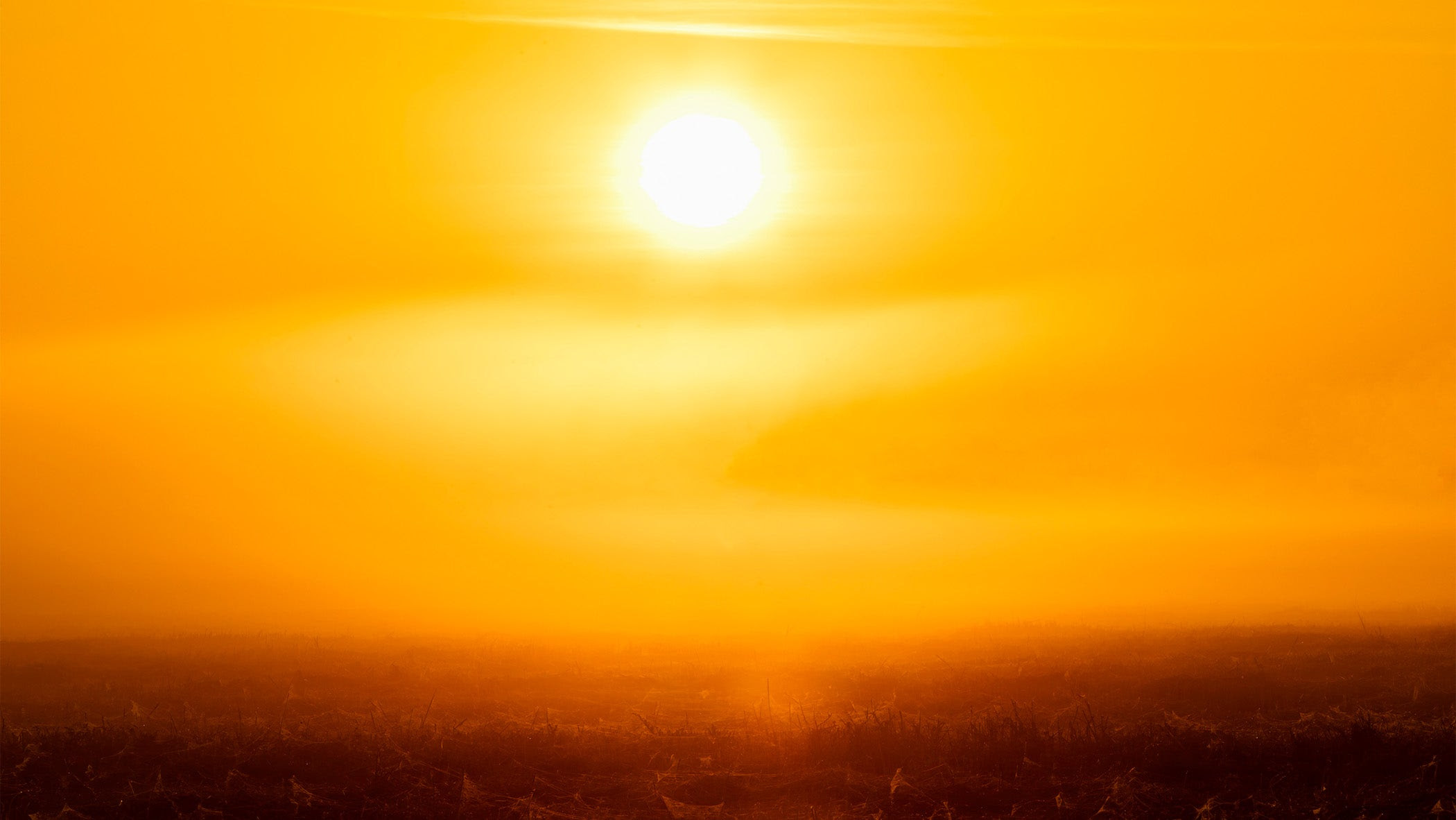 (chuchart duangdaw via Getty Images)
As we continue through the hottest part of the year, here's a word you can use to express how unpleasant the heat is making you feel: skirl. It's an old verb from England that means "to shrivel up from excessive heat" like a piece of parchment placed too close to a fire. So if the heat is making you so uncomfortable that you feel like you're starting to shrivel up, you might say "I can feel myself starting to skirl" (hopefully you'll also seek a cooler place, and hydrate).

Interestingly enough, "skirl" is most often used these days to describe the um, bracing sound of bagpipes. According to Merriam-Webster, this derives from an earlier meaning of the word, "to shriek." I guess that means the next time it's unpleasantly hot outside, I'll be reaching for the bagpipes in order to adequately express the way I feel.

WELLDAY

New Study: Risk Of Fatal Heart Attack May Double In Extreme Heat With Air Pollution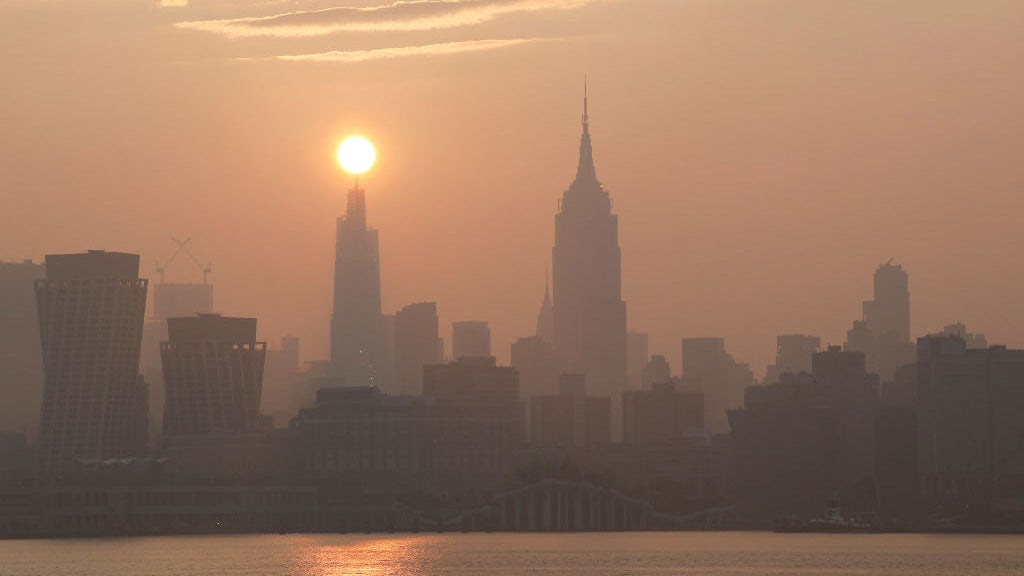 A hazy morning in New York City. (Gary Hershorn/Getty Images)
A new study warns that extreme heat and fine particulate matter in the air could double your risk of heart attack death.

Researchers from the School of Public Health at Sun Yat-sen University in Guangzhou, China, studied over 200,000 heart attack deaths that occurred between 2015 and 2020 in Jiangsu, a Chinese province that has four distinct seasons and experiences a range of temperatures and pollution levels.

They found that on days with extreme heat, extreme cold or high levels of fine particulate matter air pollution, there was a "significantly associated" risk of death from heart attack. The greatest risks occurred when extreme heat was combined with high pollution levels.

"Extreme temperature events are becoming more frequent, longer and more intense, and their adverse health effects have drawn growing concern," senior author Dr. Yuewei Liu said in a news release. "Another environmental issue worldwide is the presence of fine particulate matter in the air, which may interact synergistically with extreme temperatures to adversely affect cardiovascular health."
#OTD
2022: Historic Flooding In St. Louis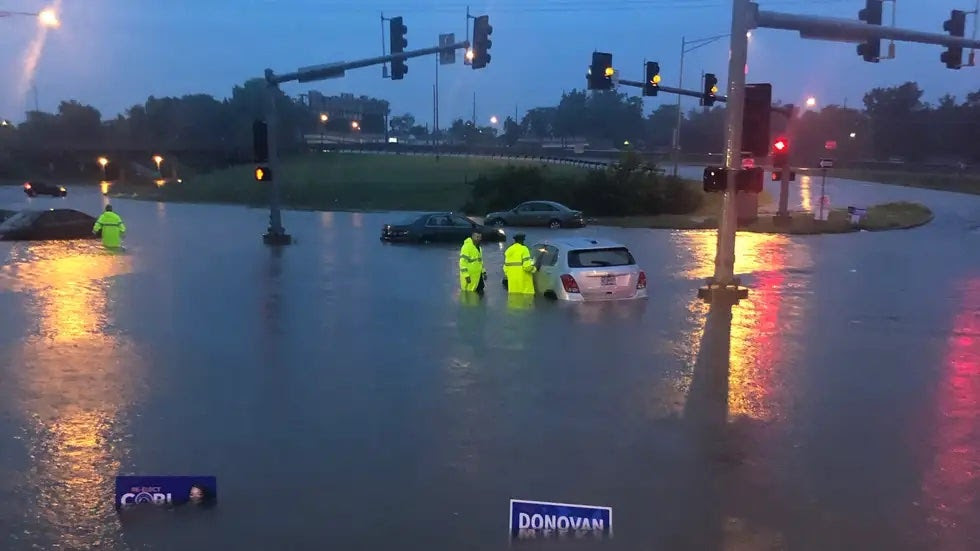 Police officers rescue a motorist from floodwaters in St. Louis on July 26, 2022. (Twitter/St. Louis County PD)
One year ago today, a complex of training thunderstorms set up over the St. Louis area, deluging it with several rounds of heavy thunderstorms. Rainfall rates in excess of 2 inches an hour were observed, and 7.68 inches of rain fell in a six-hour period. At least one person died when their car was submerged in raging floodwaters.

To put the staggering amount of rain St. Louis received into perspective, consider this: In just a six-hour period, the city received more rain than it usually gets, on average, during the entire months of July and August. NOAA experts said the rainfall rate during that period had only a 0.1 percent chance of happening in any year in St. Louis, according to historical data.

ANSWER TO TODAY'S TRIVIA
B. "Beverly Hills Cop"
You can listen to the song here.