By Chris DeWeese
Senior Editorial Writer
Good Morning. Two weeks ago, I asked how our readers beat the heat this time of year. The most popular answer? Ice cream. I guess that's why July is National Ice Cream Month.

Extreme heat this week has been dangerous around the world, and it's important to note that ice cream alone won't solve everything (it doesn't even make the list of things to do to stay safe in extreme heat conditions, sadly). But just for fun, I'm curious about your opinion: What is the best flavor of ice cream to eat in very hot weather, and what's the worst? Let me know, and I'll feature some of your answers in a future Brief.
Weather In Focus
(Kyodo News via AP)
I know it's not hot everywhere in the Northern Hemisphere, but it certainly felt like it this week. These penguins gathered around a block of ice at Asahiyama Zoo in northern Japan yesterday to cool off.
What We're Tracking
TODAY'S TRIVIA
The Cole Porter classic "Too Darn Hot" comes from which musical?
"Bye Bye Birdie"
"Kiss Me, Kate"
"Oh, Captain!"
"Wonderful Town"
See the answer at the end of this newsletter.
This Caught My Eye
This animation shows forecast high temperatures in the South Friday through Sunday. (These forecasts were as of Thursday afternoon, for purposes of illustration. Check weather.com for the latest forecast.)
How Do You Spell Southern Heat Relief In July?
We've been covering record-breaking heat for weeks in parts of the South and Southwest. Unless you love extreme heat and humidity, you're probably craving a nice 75-degree day with low humidity. But that almost never happens in the South this time of year, the hottest time of summer.
That's because cold fronts don't have the oomph needed in the heart of summer to sweep through the South and clear that stagnant air out. The jet stream that drives those fronts south is usually over the far northern U.S. or Canada in July.
We do have a little good news, though. The dome of high pressure responsible for the persistent heat will retreat out of the Southeast the next few days. That will allow a weak cold front to drop into the Southeast before it loses steam and washes out. And that will provide just a little relief.
For example, highs from Oklahoma into the Tennessee Valley and Piedmont of the Carolinas will be in the 80s, instead of 90s. Morning lows in these areas this weekend may "plunge" into the 60s rather than the usual 70s. In parts of the Deep South, highs may be near 90, instead of pushing toward 100 degrees. And in some places, dew points should tick down a few degrees, making it feel just a bit less humid.
Unfortunately, central and south Texas won't see any relief, and Florida's searing peninsula may only trend down a tad closer to mid-summer average highs. That's about as good as it can get this time of year in the South. Enjoy this break, such as it is. The heat will ramp back up first in the Southern Plains, then in the Southeast next week.
Weather Words
'Fujiwhara Effect'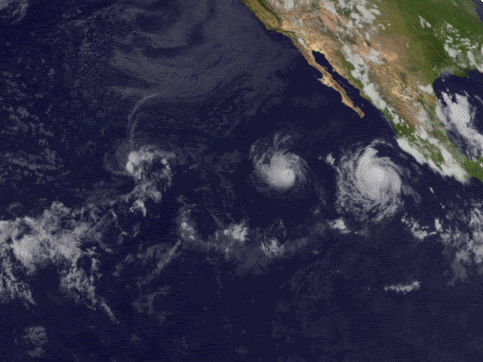 GOES-16 satellite imagery over the eastern Pacific Ocean from July 25 to August 1, 2017, shows Hurricane Irwin on the left colliding with Hurricane Hilary on the right. The two merged before fading out over the ocean. (NOAA)
The Fujiwhara effect is a term for a kind of meteorological dance that occurs when two weather systems (usually hurricanes or other tropical lows) spinning in the same direction pass a little too close to one another.

If one of the systems is much stronger than the other, the smaller system will orbit it and then eventually come crashing into its vortex as the larger system absorbs it. If the two storms are close in strength, however, they can either gravitate toward each other until they reach a common point and merge, or simply spin each other around before veering off on their own paths. The effect gets its name from Japanese meteorologist Sakuhei Fujiwhara, who initially described it in a 1921 paper.
FINALLY FRIDAY
QUIZ TIME!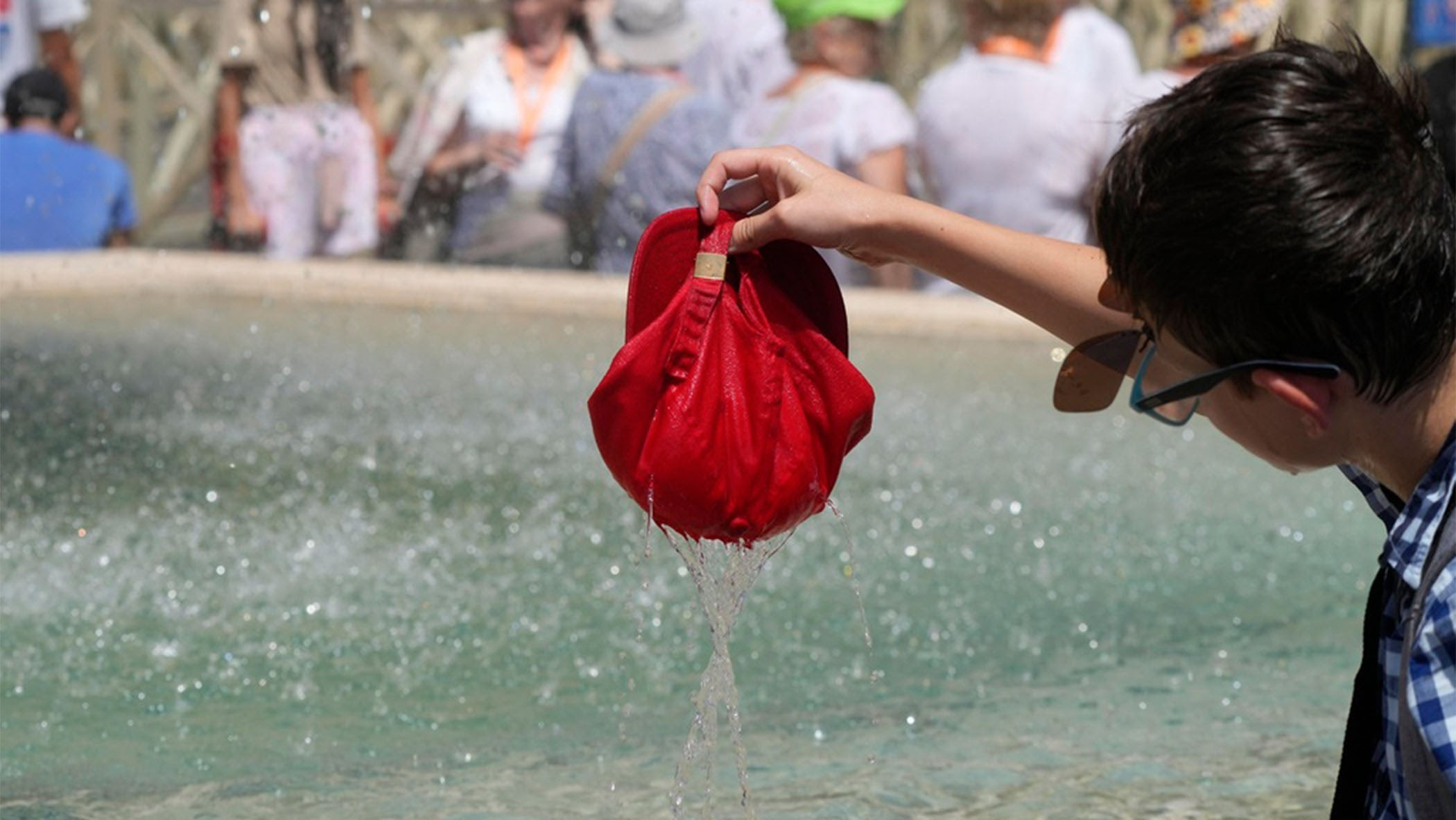 A child plunged his hat into a fountain as he waited for the start of Pope Francis' Angelus prayer at the Vatican on Sunday. (AP Photo/Gregorio Borgia)
How well have you been paying attention to the weather this week? Here are five questions that will test your knowledge of the latest weather happenings. You can find the answers at the bottom of today's newsletter.
1. A powerful tornado in which state damaged a Pfizer facility on Wednesday?

2. According to our latest temperature outlook, the _______ is likely to see the hottest U.S. temperatures relative to average between August and October.

3. Tropical Storm Calvin drenched the state of ______ this week.

4. What's the name of the scorching heat wave that's been hitting southern Europe this week?

5. On Tuesday, the young crescent moon could be seen closest to which planet?
#OTD
1987: Teton Wilderness Tornado Sets Records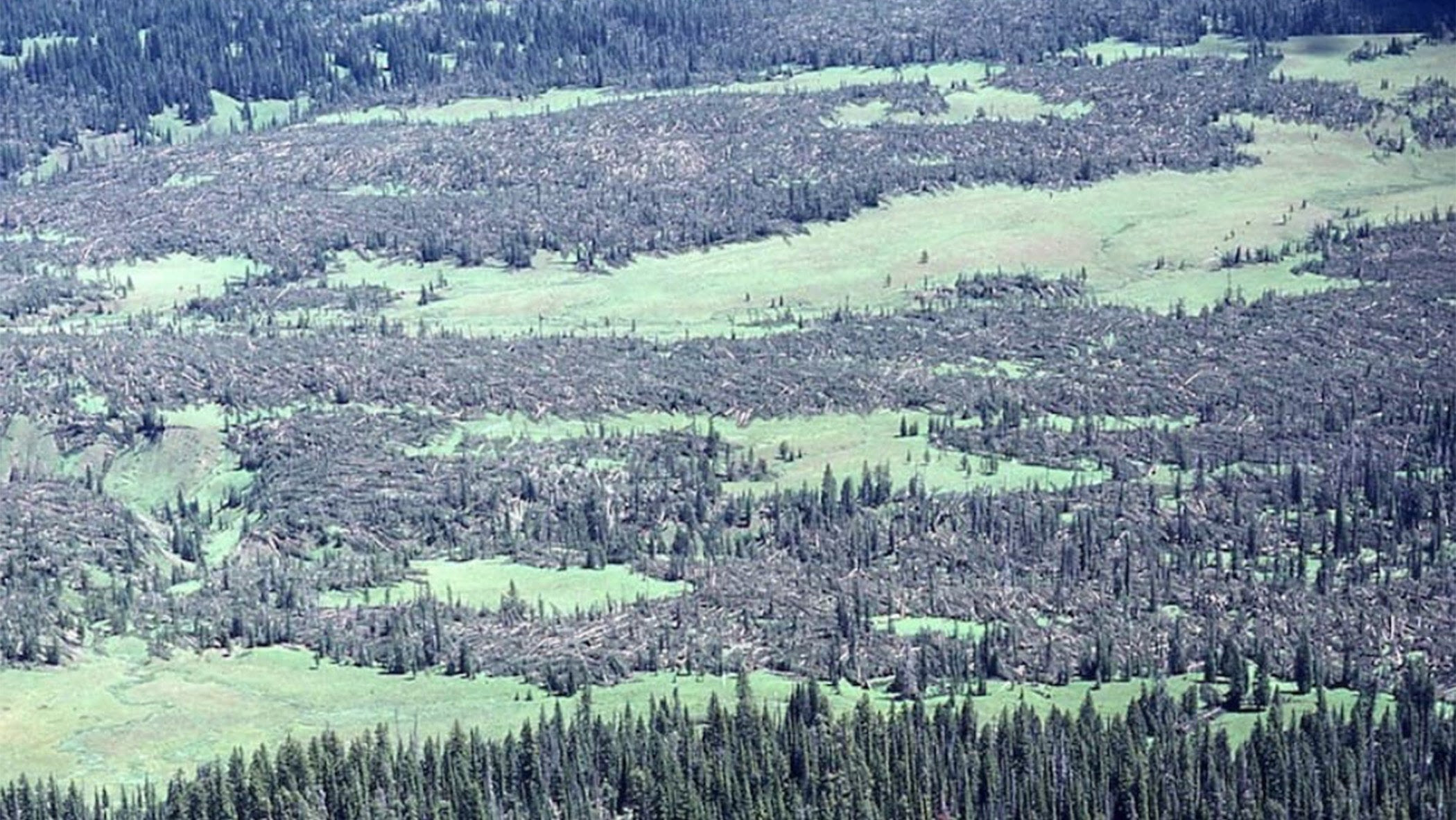 Trees blown down in the Bridger-Teton National Forest. (US Forest Service)
On this date 36 years ago, a powerful mile-wide F4 rated tornado traveled 24 miles across the Teton Wilderness of northwest Wyoming, from the edge of Grand Teton National Park to the edge of Yellowstone National Park. According to extreme weather historian Christopher Burt, this tornado was by far the strongest on record west of the Rocky Mountain front range.

The tornado downed an incredible number of trees, approximately 1 million. It also crossed the Continental Divide at over 10,000 feet, the highest elevation that a violent (F4 or F5) tornado has ever occurred at on record.

ANSWER TO TODAY'S TRIVIA

B. "Kiss Me, Kate"

Watch and listen to the song here.

ANSWERS TO THE WEEKLY QUIZ:

1. North Carolina

2. Southwest

3. Hawaii

4. Cerberus

5. Mercury