By Chris DeWeese
Senior Editorial Writer
Good Morning. Over a million people are under a state of emergency in Hawaii as Tropical Storm Calvin begins its closest approach to the island chain. On the Big Island, which is expected to see the brunt of Calvin's impacts, over 2 inches of rain were recorded in a three-hour period along the windward coast as the storm's impacts began. Flash flooding, dangerous surf and strong winds are all possible as Calvin lumbers past the islands today.
Weather In Focus
(NOAA)
Satellite imagery taken at 8 p.m. HST last night shows the center of Tropical Storm Calvin nearing Hawaii.
What We're Tracking
TODAY'S TRIVIA
What type of event is famously evoked in the fourth movement of Beethoven's Pastoral Symphony?
Earthquake
Snowstorm
Thunderstorm
Volcanic eruption
See the answer at the end of this newsletter.
This Caught My Eye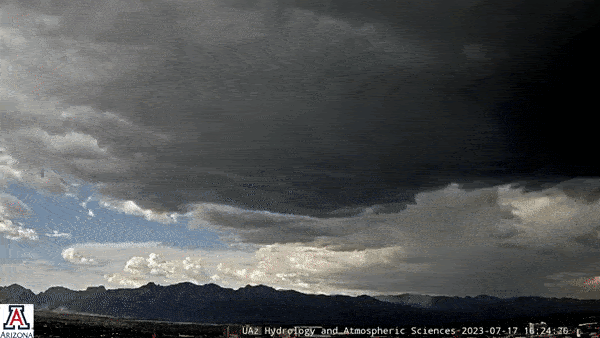 This time-lapse shows a downburst over Tucson, Arizona, on Monday, July 17, 2023. (University of Arizona Department of Hydrology and Atmospheric Sciences)
The Southwest Monsoon Is Here
We're finally seeing a typical summer weather phenomenon kick into gear in the Southwest U.S.
The North American monsoon is a seasonal shift in winds that draws more humid air into the Southwest U.S., sparking more frequent thunderstorms in parts of Arizona and adjacent states. These desert thunderstorms can whip up blinding dust storms known as haboobs, damaging winds, hail and heavy rain that quickly floods normally dry washes, arroyos and slot canyons.
Despite those dangers, the three-month summer monsoon typically provides about half of the annual precipitation for Tucson, Arizona. And while it is more humid, it can also take the top off the extreme heat usually seen before the monsoon arrives.
The coverage of thunderstorms will vary. Some days will have more, some less through August and September. But one certainty is that the lightning displays put on by these desert thunderstorms are always among the most spectacular weather photos and videos anywhere on Earth, in my opinion. And the joy of the first soaking rain of the monsoon in an area that has been searing for weeks is wonderful to see.
Weather Words
'Frigid Zone'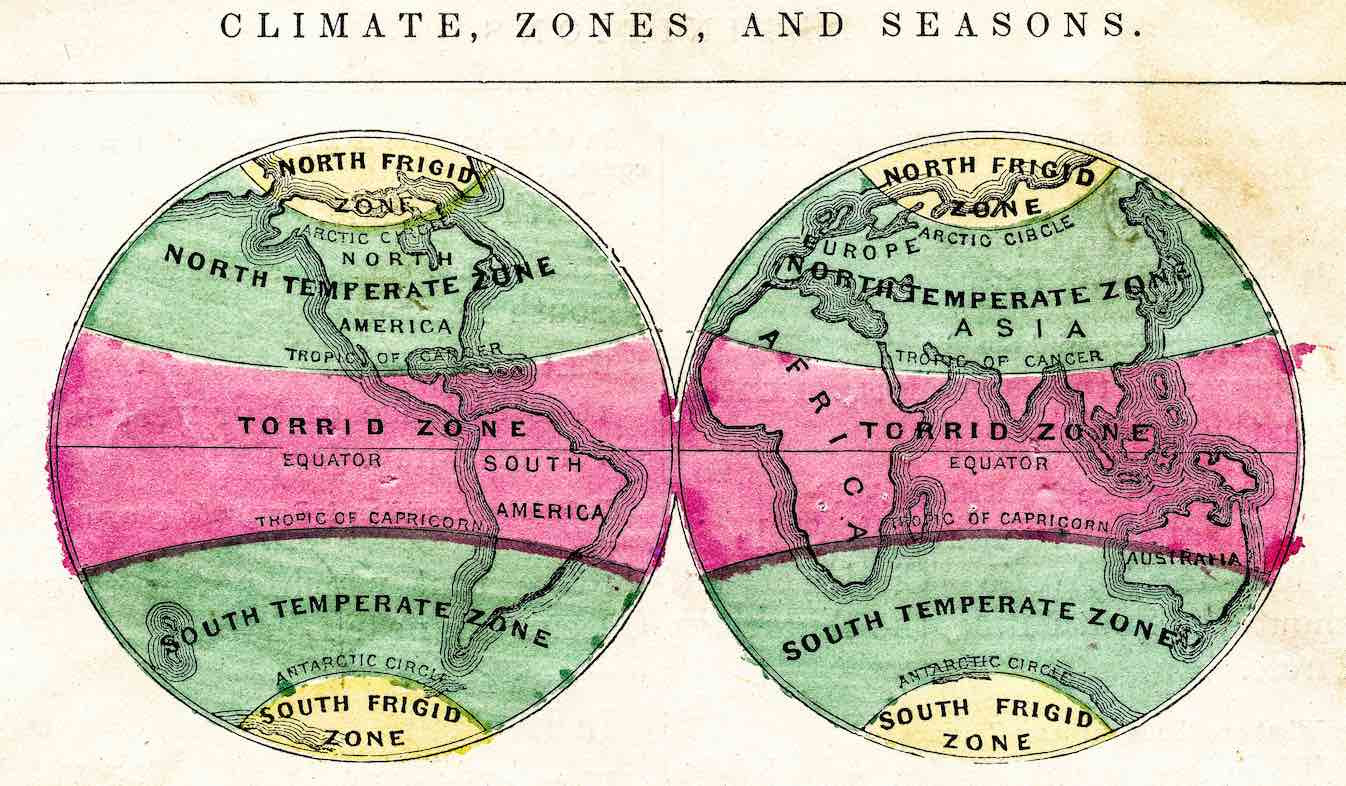 This 1871 illustration shows the climate, zones and seasons. (THEPALMER via Getty Images)
Yes, it's so hot out currently that I am spending my time looking for weather words that are very cold in nature. Today, I've chosen the Frigid Zone. As you might guess, this describes the coldest areas of the Earth, the regions between the Arctic Circle and the North Pole and between the Antarctic Circle and the South Pole.

The Frigid Zone is the colder cousin of another zone you may have heard of, the Temperate Zone. Both are subdivisions of the earliest, simplest form of climatic classification, which goes all the way back to Aristotle (Aristotle also included the Torrid Zone, which he imagined would be too hot for people to live in).
WELL WEDNESDAY
Turning 50? Here's One Of The Most Important Things You Can Do
(CFOTO/Future Publishing via Getty Images)
Dr. Jay Maddock, the director of the Center for Health and Nature at Texas A&M, recently wrote about making a list of four things to do for health and well-being when turning 50. I recently had a chance to speak with him about making his list. Here's our conversation, edited for clarity.
What inspired you to write your list?
Most importantly, I am turning 50 this year. This got me thinking about things to do to make sure I am setting myself up for a healthy future. I started thinking about how your car manual has a list of maintenance stuff to do at a certain mileage and thought this would be a good idea for people too.
When you were coming up with your list, what was the most surprising thing on it to you, and why?
The information on colorectal cancer was the most surprising. First, the recommendation to begin screening was now 45 instead of 50 so I was behind schedule. Second, the increase in the number of cases is rising rapidly among people under 55.
If you had to add a fifth thing to your list, what would you choose?
I've recently been geeked out about the healing effects of spending time in nature. There are a bunch of studies showing that spending time in natural spaces improves mood, reduces blood pressure, restores the ability to pay attention and even improves immune functioning. While this is important at any age, 50 is a good time to recalibrate and shift some of our inside time outside.
#OTD
64: Great Fire Of Rome Begins
The Conflagration of Rome, as depicted by Raphael. (pictore via Getty Images)
Between the night of July 18 and the morning of July 19 on this date 1,959 years ago, one of the most famous fires of all time began. Under the light of a full moon, Roman historian Tacitus wrote, the blaze began in the shops around the Circus Maximus, the chariot-racing stadium. Wind quickly fanned the fire, spreading it through the mostly wooden houses and shacks of the city.

By the time the great fire was over nine days later, two thirds of Rome had burned. In addition to the vast destruction wrought by the inferno, one detail that has made it stick in our historical memory is the image of Emperor Nero fiddling while the city burned, although whether that actually happened is disputed.

ANSWER TO TODAY'S TRIVIA
C. Thunderstorm
You can listen to the whole symphony here.