By Chris DeWeese
Senior Editorial Writer
Good Morning. Your challenge, if you choose to accept it, is to spot the moon tonight. But it won't be easy. Following last night's new moon, the young crescent moon will be only 1.6% lit, making it just the faintest of parentheses hiding in the sky. You'll be able to see it right after sunset.

What you'll need: Binoculars, patience and a clear view of the west-northwest horizon. The young moon will appear to the right of Mercury, which itself will appear lower and to the right of the brighter Venus. Good luck!
Weather In Focus
(Henry Rothenberg via Twitter)
More wildfire smoke, this time from fires burning in western Canada, caused hazy skies and air quality alerts for over 100 million people yesterday. The photo above was taken at sunrise Monday morning in Tennessee, where low visibility had planes at Smyrna airport on a weather hold. Here's where the smoke will create air quality concerns today.
What We're Tracking
TODAY'S TRIVIA
The only known F5 or EF5 tornado to have occurred in the U.S. during the month of July caused major damage in which state?
Iowa
Mississippi
Texas
Wisconsin
See the answer at the end of this newsletter.
This Caught My Eye
July and heat go hand in hand, but for some cities, the first half of this month has been one for the record books.

More than a dozen locations – indicated by the dots on the map above – with a period of record of 80 years or more had their hottest July 1-16, according to data from the Southeast Regional Climate Center.

Most of those are in the far southern United States, including Tampa and Key West, Florida; Baton Rouge, Louisiana; Brownsville, Corpus Christi and El Paso, Texas; and Phoenix, Arizona. The lone exception to this southern story is Caribou, Maine, which also had its hottest July start since records began there in 1939.

However, the start of July hasn't been full of blistering heat for everyone. Rapid City, South Dakota, for example, had its ninth coolest July 1-16 on record.
Weather Words
'Haar'
Scotland's Queensferry Crossing rising out of a thick, misty haar. (Ken Jack/Getty Images)
It's not what you say when someone tells a dad joke. Haar is actually the name for a wet sea fog or fine drizzle that moves from the sea to the land in parts of northeastern England and eastern Scotland, usually during the summer.

Haar occurs when warm, moist air moves over cooler North Sea air, causing the moisture in the air to condense. The sea breeze then brings the haar over land, sometimes for several miles. Haar can bring with it a significant reduction in temperatures, which sounds pretty great with all the incredibly hot temperatures people around the world have been experiencing this week.
TRAVEL TUESDAY
Want To Escape The Heat? Take A Virtual Tour Of An Ice Sculpture Museum In China
(CFOTO/Future Publishing via Getty Images)
Feeling sick of the heat? Nicole Bonaccorso is here with some virtual cool, thanks to China's ice sculpture art museum. Check out all the photos here.
With temperatures climbing during the dog days of summer, it might be refreshing to take a trip to the Ice Sculpture Art Museum in Handan, China. But if you can't make it all the way to Hebei province, we have photos of the place, and just thinking about it might cool you off.
(CFOTO/Future Publishing via Getty Images)

According to China Dragon Tours, the spot is one of the top tourist attractions in Handan. Visitors will see ice carved into all types of shapes, from castles to trains to animals and more.
(CFOTO/Future Publishing via Getty Images)
People visiting the museum don coats in the exhibit even in summer, as the temperature is kept at about 6.8 degrees Fahrenheit using advanced refrigeration technology to keep all of the ice sculptures from melting. The staggering site covers more than 53,000 square feet and houses about 600 tons of ice.
#OTD
1942: Most Anomalous Rainstorm In U.S. History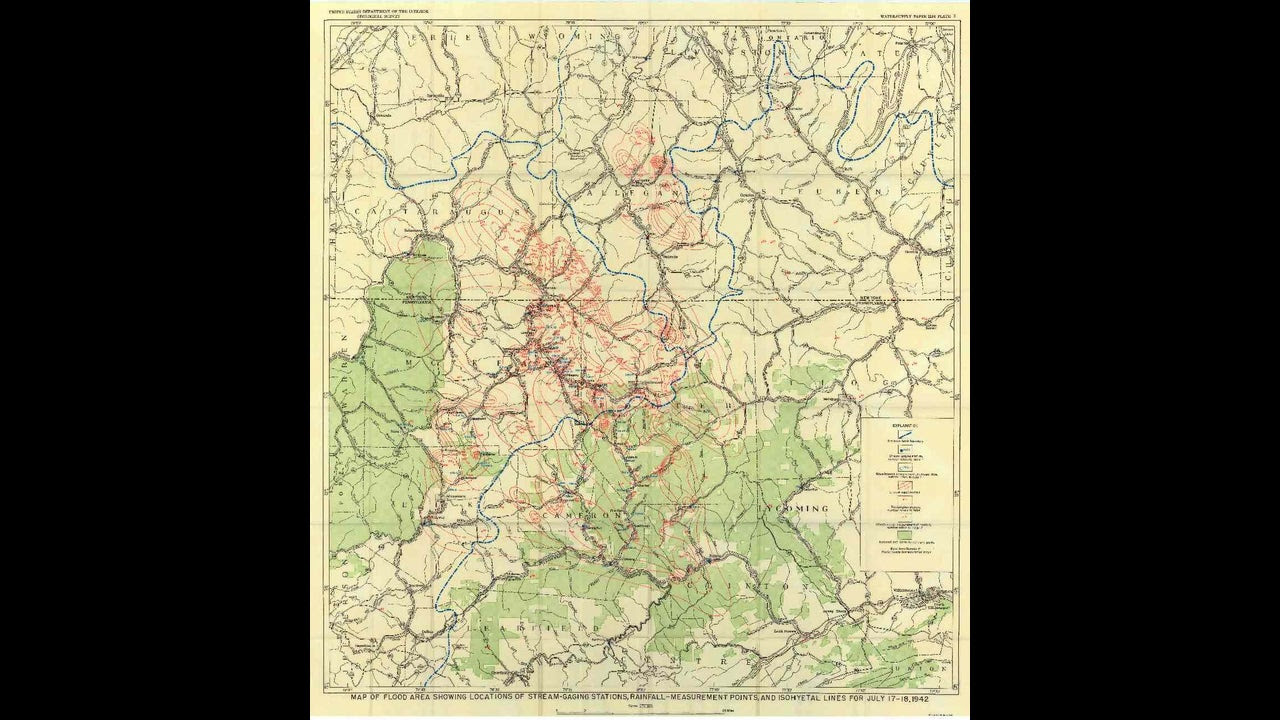 This map shows the locations of stream-gauge locations and rainfall measurement points during the 1942 storm event. (USGS)
On this date 81 years ago, a truly enormous volume of rain fell around Smethport in north-central Pennsylvania, leading to dangerous flooding that killed 15 people in Pennsylvania and New York and caused over $10 million in damage.

In fact, the deluge set a world record for three-hour rainfall, with a massive 28.5 inches falling in that amount of time. The flooding that followed so much rain falling so quickly was described by the USGS as being "of unprecedented magnitude." Dams were breached, homes pushed off their foundations and people had to be rescued from treetops.

Since 1942, the storm event has been used as a reference point when determining whether dams would withstand the maximum amount of water capable of falling in an area.

ANSWER TO TODAY'S TRIVIA
D. Wisconsin
The EF5 tornado hit the Oakfield area (Fond du Lac County) of Wisconsin on July 18, 1996, injuring 12 and causing $40.4 million in damage.