Catastrophic Flooding' Possible Today
By Chris DeWeese
Senior Editorial Writer
Good Morning. As the sun rises this morning, our thoughts are with everyone in the Northeast dealing with a major flooding event. While we won't know the extent of yesterday's damage until later today, we do know that slow-moving, heavy rainfall inundated parts of the region yesterday and continues today. At least one person died while attempting to evacuate her house in New York's Hudson Valley, where up to 8 inches of rain fell, and others have been reported missing.

Today, the National Weather Service is warning of the potential for catastrophic flooding in Vermont, and has issued a rare high risk (level 4/4) of excessive rainfall for parts of northern Vermont and the Champlain Valley. Thunderstorms and heavy rain are expected to continue through tonight in upstate New York, Vermont, New Hampshire and Maine, so if you or your loved ones live in the region, please stay safe, check for warnings, and remember to never drive through a flooded roadway.
Weather In Focus
(Norfolk CT Emergency Management Department via Twitter)
There have been about 200 reports of flash flooding over the last 24 hours in the East, from near the Canadian border in upstate New York and Vermont to North Carolina. This photo, taken in northwest Connecticut yesterday, shows the destructive power of moving water.
What We're Tracking
TODAY'S TRIVIA
Who wrote "The Girls of Summer" in 1956?
Buddy Holly
Peggy Lee
Thomas Mann
Stephen Sondheim
See the answer at the end of this newsletter.
This Caught My Eye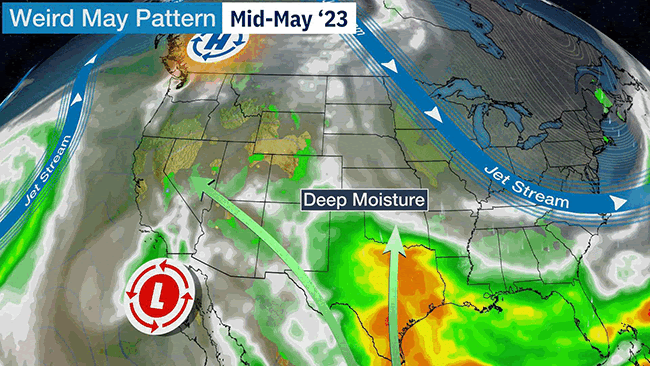 The "fake monsoon" weather pattern in May compared to the forecast pattern this week in the Southwest U.S.
The Desert Southwest Waits For Its 'Real Monsoon'
Saying "it's hot" in the Desert Southwest is like saying the sky is blue.
But the heat we're forecasting this week will be blistering, even for them. For instance, Phoenix could flirt with the 120-degree mark by next weekend. They've only reached 120 degrees three times in records dating to 1895, and last occurred on July 28, 1995.
For many other U.S. states, 120-degree heat would tie or set all-time statewide records.
It's usually hottest in the Desert Southwest right before the region's summer thunderstorm season – the North American monsoon – arrives. While it will feel more humid in southern Arizona, the heat dome parked over the area will squash most thunderstorms that otherwise would ignite over the desert this time of year. So that will delay the rainy phase of the monsoon a bit, which typically arrives in late June or July.
You might recall in May, a weird "fake monsoon" weather pattern set up to bring summerlike thunderstorms to parts of the Southwest much earlier than usual. We'll see how long it takes for the real thing to show up.
Weather Words
'El Niño'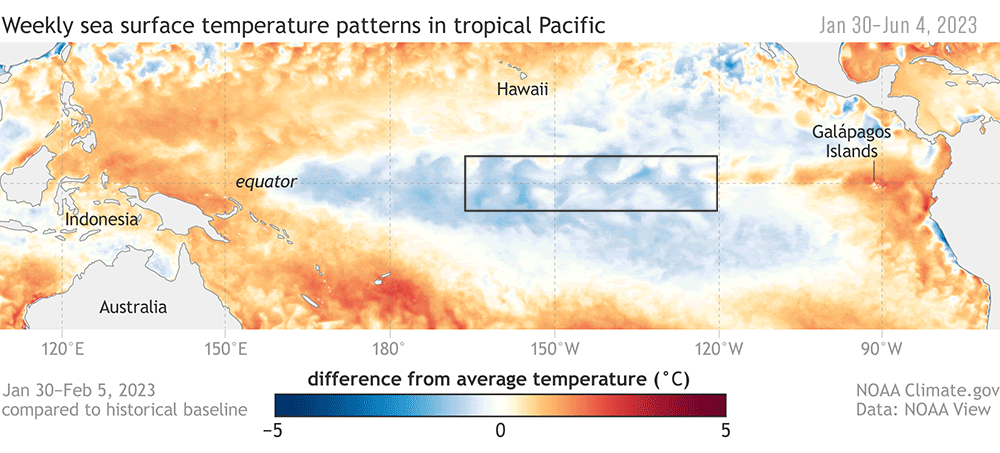 (NOAA)
Last month, we learned that El Niño conditions had developed for the first time in four years. But, you may wonder, what exactly is El Niño, and how did it get named? Here's a quick overview.

First, here's the what. A​n El Niño is a periodic warming of a strip of water straddling the equator in the Pacific Ocean. NOAA officially declares that an El Niño has developed when sea-surface temperatures in a certain region of the equatorial Pacific Ocean have reached at least 0.5 degrees Celsius (0.9 degrees Fahrenheit) above average for at least a month and are accompanied by changes in the atmosphere.

When this strip of water is persistently cooler or warmer over several months, it affects the circulation of the atmosphere, and can eventually help steer weather patterns in other parts of the world, including the tropics and the U.S. The stronger the El Niño (meaning, the higher its temperature above average), the more influence it could have.

On average, El Niño occurs every two to seven years, with episodes usually lasting between nine to 12 months. Its largest impacts usually occur during the winter. In the U.S., El Niño usually brings milder winter weather to the northern part of the country, and wetter winter weather to the South. However, El Niño can also impact summer weather and influence hurricane season.

How about the name? In Spanish, El Niño means "child," or "the Christ child." It was first used by fishermen in Ecuador and Peru to refer to the warm ocean current that usually appears around Christmastime and lasts several months. Since fish become more scarce during this time, fishermen would often take a break to spend time with their families and repair their equipment.

MMMDAY

Happy National Ice Cream Month!
A parade of paletas. (Carlos Chavez/Los Angeles Times via Getty Images)
Did you know that July is not only National Ice Cream Month, but also home to National Ice Cream Day? That falls on the third Sunday of the month, which is coming up this weekend. To get you ready, we've combed through Yelp's list of the top 100 ice cream shops in the U.S. and picked out a few trends to highlight that sound especially delicious. I'm hungry!
Paletas

Paleta is a Spanish word that means "small stick," and Mexican-style paleta popsicles are rapidly gaining popularity. La Paleta in Las Vegas features 24 flavors of paletas and is singled out by Yelp as the top paleta destination in the country. Mango & Chamoy, Coconut, and Strawberries & Cream are the restaurant's three most popular flavors.

Farm-To-Cone

Only one ice cream shop gets to be No. 1 in the nation, and Yelp picks Omaha, Nebraska's, Coneflower Creamery for the coveted top spot. Started by two pastry chefs, everything served at Coneflower is made in house, from the ice cream to the cones, sauces and sprinkles. A favorite flavor? Sour Cream Pear Pie, made with preserved Anjou and Bartlett pears from a local farm swirled in a sour cream ice cream and packed with pie crust and brown butter streusel.

Soft Serve

Gone are the days when soft serve was more fun to pour than to eat. Now, ice cream stores like Surfin' Spoon in Nags Head, North Carolina, feature delicious, complicated soft-serve flavors like Chocolate Fudgesicle Gelato and Pomegranate Raspberry Sorbet.
#OTD
1913: Official World Record Temperature Set (Maybe)
Death Valley. (Siegfried Layda via Getty Images)
OK, we're getting into a 110-year-old can of worms here, so I'm just going to cover the basics, with plenty of links for deeper digging. Here's what's certain: It was really hot in Death Valley, California, on today's date in 1913. In fact, it was the hottest day of a seven-day hot spell in the area, with the temperature officially reaching a whopping 134 degrees Fahrenheit.

However, this figure was challenged by extreme weather expert Christopher Burt in 2016. Burt says that it is possible to demonstrate that a temperature of 134°F in Death Valley on July 10, 1913, was essentially not possible from a meteorological perspective, and the measurement was likely due to observer error. Opponents of Burt's theory say that it's just an opinion, arguing that a record should be considered a record until it is officially decertified.