Finding hope after a mental health and addiction crisis
Treatment for bipolar disorder and opiate addiction helps a Kaiser Permanente member rediscover her health and happiness.
Charleen Pule is a case manager for a community mental health center in Hawaii. She helps people with serious mental health and addiction issues — 2 issues she's deeply passionate about.
Pule has her own history of addiction and mental health challenges. But she got the care she needed from Kaiser Permanente's addiction and recovery services in Honolulu, Hawaii.
Now her life is back on track, and she draws on her experiences to help others.
A history of trauma and pain
At a young age, Pule experienced trauma.
"I grew up in a tornado," Pule said. "My mom has bipolar disorder, and my father was abusive to her. And I was sexually abused when I was 8 years old."
As an adult, Pule faced physical and emotional health concerns. Like her mother, she was diagnosed with bipolar disorder. And for years she had chronic hip and back pain.
After undergoing gastric bypass surgery in 2008, she started taking liquid opiates prescribed to manage her pain. She had taken opiates for pain before. But when she took them in liquid form it was the first time she felt high from a pain reliever.
"It was a euphoric high, and I liked it," Pule said. "In addition to my pain, the opiates helped cover my psychiatric issues. They masked everything. I started using more than I should have, even when I wasn't in pain. I was hooked."
A mental health and addiction crisis
Within a few years, Pule experienced serotonin syndrome. Serotonin is a chemical messenger in the body related to mood and many other functions.
The symptoms of serotonin syndrome include restless feelings and a raised heart rate. At its most serious, it can cause twitching muscles, loss of coordination, and even hallucinations. Without treatment, it can be deadly.
Serotonin syndrome can result from taking more than one medicine that affects serotonin. Since many psychiatric drugs affect serotonin levels, Pule had to stop taking all her psychiatric medicines for a time.
That meant her bipolar disorder was left untreated.
"I was in crisis without my meds," she said. "I went into full-blown mania."
Around the same time, Pule's doctors stopped prescribing her opiates because of addiction concerns. She started using crystal meth, an illegal methamphetamine.
"It takes many disciplines working together to care for patients like Charleen. We bring together a whole team of experts with different points of view."
Jessica Morris, MD
"My life blew up," she said. "I lost my home. I lost the money I received from a settlement related to my childhood trauma. I lost everything."
Homeless and separated from her family, Pule didn't have regular access to food or water. She became dangerously thin and frail. Her teeth rotted and fell out from the crystal meth.
"Addiction is the most horrible thing I've ever had to go through," she said. "My family didn't know where I was. I fell off the map for 2 years."
Comprehensive care from a team of specialists
Eventually, Pule reunited with Rain, her sister. She also met her significant other, Seth Valdez. With their help and support, Pule got back on her feet.
She started working again in 2019 and got Kaiser Permanente health coverage through her job. And in July 2020, she met Jessica Morris, MD, a psychiatrist at Kaiser Permanente who specializes in addiction.
"Dr. Morris heard me loud and clear," Pule said. "She was the first person I trusted."
Dr. Morris often treats patients who are dealing with addiction and mental health conditions at the same time. There is a strong connection between mental illness and substance misuse. One of 4 people with a serious mental illness, such as bipolar disorder or schizophrenia, also have a substance use disorder.
Medication management is a crucial issue for these patients. It's a challenge to balance drug dosing and interactions for complex cases.
Pule started taking medication for opioid use disorder to help with withdrawal and cravings. She was also prescribed drugs to manage her bipolar disorder, chronic pain, and other health concerns.
"It takes many disciplines working together to care for patients like Charleen," Dr. Morris said. "We bring together a whole team of experts with different points of view."
Depending on the patient's needs, this team might include addiction medicine specialists, psychologists, therapists, social workers, and others.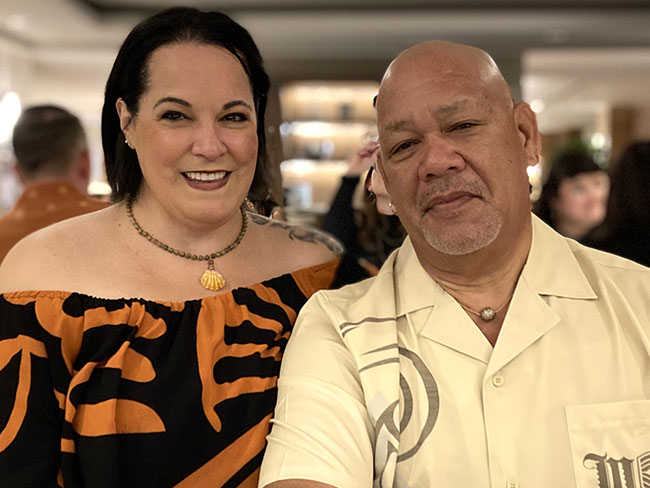 Finding hope after despair
"Charleen has gone through a beautiful transformation," Dr. Morris said. "She's in much better health — physically, mentally, and emotionally."
"If I can shed a ray of hope for others who are addicted to opiates out there, that's what I really want to do," Pule said. "If I can get through everything I did, anyone else can too."