By Chris DeWeese
Senior Editorial Writer
Good Morning. Set your alarm! Today at 4:06 p.m. EDT, Earth will reach aphelion, the point in our planet's elliptical orbit when it's farthest from the sun. At that moment, I suggest we all raise a glass (or coffee mug) and toast another trip around the sun.

I might even get a little ambitious and play a sun-related song or two. "Here Comes The Sun" by the Beatles and "Who Loves The Sun" by the Velvet Underground leap to mind. What are your favorite sun-related songs? Let us know, we'll feature some of your answers in a future Brief.
Weather In Focus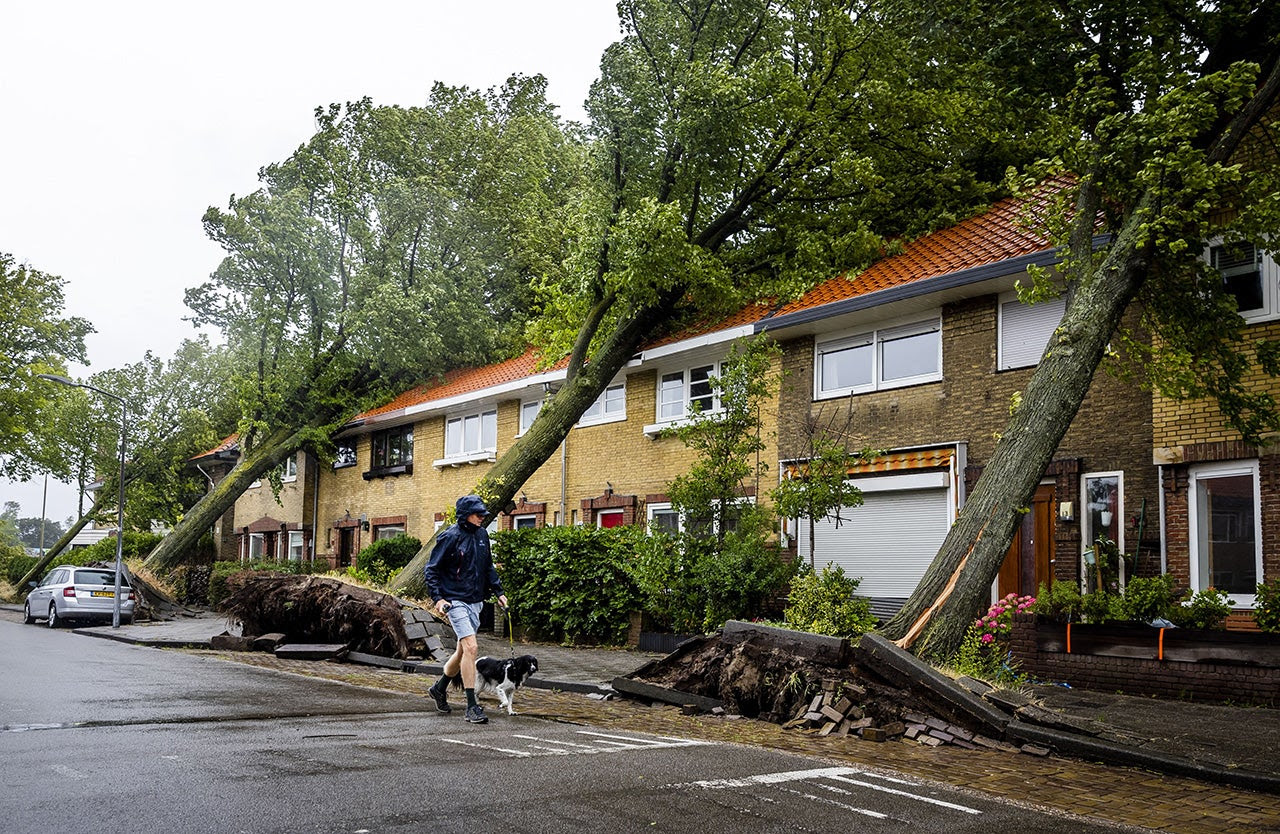 (Remko de Waal/ANP/AFP via Getty Images)
The Netherlands had its strongest summer wind storm on record yesterday, causing widespread damage and disrupting air and rail traffic. This tree is one of many that fell in Amsterdam.
What We're Tracking
Preliminary data shows that last month was the Earth's hottest June on record. Here's our deep dive.
There's a heightened risk of severe storms capable of producing large hail, damaging winds and tornadoes across the Great Plains today. Here's what to know.
Torrential rains in southwestern China have triggered deadly floods, killing at least 15 people.
TODAY'S TRIVIA
"Raindrops Keep Fallin' on My Head" was recorded for what movie's soundtrack?
"And No Birds Sing"
"Butch Cassidy & The Sundance Kid"
"Goodbye, Columbus"
"The Italian Job"
See the answer at the end of this newsletter.
This Caught My Eye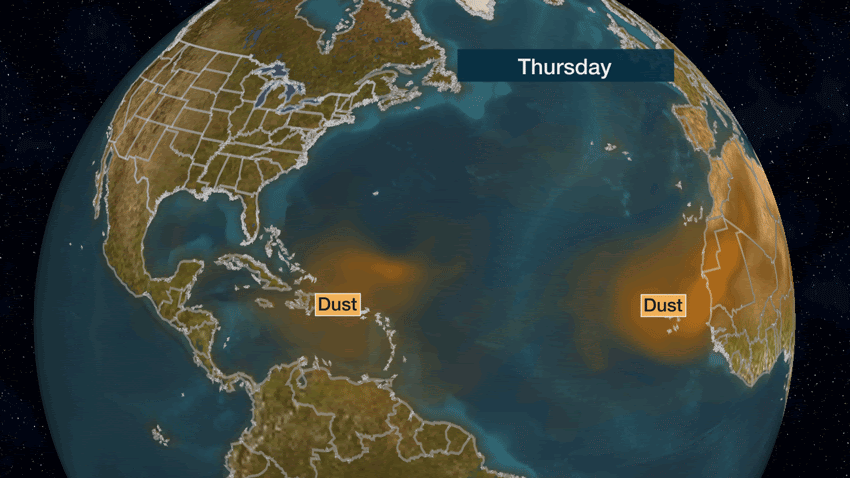 Computer model forecast showing where dust could track through this weekend.
Hurricane season got off to an unusual start in June, but now things are behaving a bit more like we would expect to see this time of year.

Significant plumes of Saharan dust are tracking across the Atlantic and Caribbean this week, which is a common sight for early in hurricane season. The dust was largely absent last month, which helped fuel the record-warm waters that played a role in the strange-for-June formation location of tropical storms Bret and Cindy.

The dust can create hazy skies and sometimes poor air quality as it tracks across the Caribbean. Occasionally, it tracks far enough west that it brings hazy skies to Florida and other parts of the U.S. Gulf Coast.

There's a chance we might see an example of this in the coming days because models track some of the dust that's in the Caribbean right now toward South Florida by this weekend.
Weather Words
'Aphelion'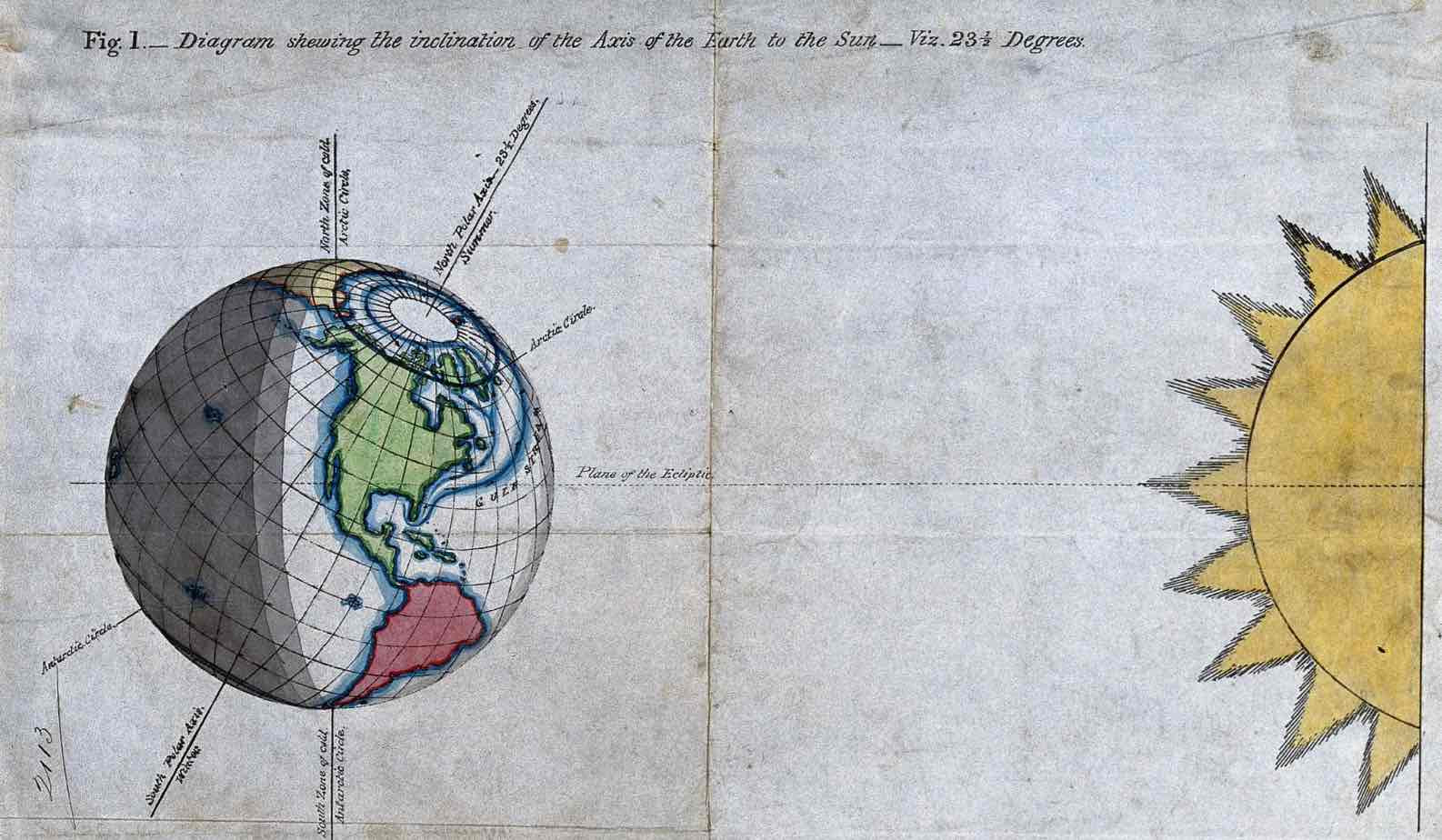 This undated colored lithograph shows the Earth and sun during summer in the Northern Hemisphere. (Wellcome Collection)
Aphelion is a word that describes the point in the Earth's orbit when it is the farthest away from the sun. It comes from the Greek words "apo," which means away, and "helios," which means sun.

This year, Earth will reach aphelion at 4:06 p.m. EDT today. At that moment, the center of the Earth will be 1.5% farther away from the sun than average.

It may at first seem surprising that aphelion occurs when we in the Northern Hemisphere are in the midst of the hottest part of our year. After all, why would the weather be hotter when we are farther away from the sun? It's actually because our seasons aren't actually dependent on our distance from the sun; rather, they occur due to the 23 degree tilt of the Earth's spin axis, which tips the North Pole toward or away from the sun over the course of the year, causing longer and brighter or shorter and dimmer days.
THURSDAY THINK
Climate Change Risk To Global Crops Underestimated, Study Says
A farmer shows a damaged crop at his paddy field where 50% of the cultivation was ruined due to unseasonal rains on Oct. 11, 2022, in Noida, India. (Sunil Ghosh/Hindustan Times via Getty Images)
It sounds like the plot of a dystopian novel: Crop failures occur simultaneously in multiple major food-producing areas around the world, leading to price spikes, food shortages and even civil unrest. But the authors of a new study published this week are warning that our current prediction models underestimate the possibility that such an event could occur.

In their study, published in Nature Communications, researchers note extreme weather events such as heat waves, droughts and extreme precipitation can adversely impact crops, and global warming is increasing the frequency and intensity of weather extremes.

They warn that simultaneous crop failures in multiple regions could be caused by a "strongly meandering" jet stream. Between 1960 and 2014, summers with strongly meandering jet streams have resulted in harvest reductions of up to 7%. However, the study authors say that while current climate models effectively simulate atmospheric patterns related to the jet stream, they also underestimate surface weather anomalies and negative effects on crop responses associated with it.

"We need to be prepared for these types of complex climate risks in the future and the models at the moment seem not to capture this," lead author Karl Kornhuber said, adding that the study should be "a wake-up call in terms of our uncertainties" of the impacts of climate change on the food sector.
#OTD
2018: Deadly Flooding In Japan
This photo from July 7, 2018, shows a road that collapsed due to heavy rain near Hiroshima, Japan. (STR/AFP via Getty Images)
Over a million people were forced to evacuate as torrential rains caused deadly flooding and landslides in Japan five years ago today during the fourth day of a six-day storm officially referred to as Heisei san-jū-nen shichi-gatsu gōu, ("Heavy Rain Of July, Heisei 30").

The deadly weather event ended up being Japan's worst flooding disaster in 37 years. During the week of flooding, 200 people died, with most of the fatalities occurring in and around Hiroshima.

ANSWER TO TODAY'S TRIVIA
B. "Butch Cassidy & The Sundance Kid"
Have a listen here.