By Chris DeWeese
Senior Editorial Writer
Good Morning. The Dog Days of summer, which started on Monday, come after the globe experienced what appears to have been its hottest June on record. As many of us look toward the hottest part of the year, I'm wondering what your best tried-and-true things to do to beat the heat are. Let us know, and we'll feature some of your answers in a future Brief.
Weather In Focus
(Michael Diamond via Twitter)
This seems like a pretty incredible way to start the day, doesn't it? These three women were photographed at sunrise late last week by a passing photographer at Aberdeen Beach in Scotland.
What We're Tracking
A refreshing temperature change is hitting the Plains and upper Midwest while much of the rest of the country stays hot. Here's a quick temperature forecast for the rest of the week.
Scattered storms are likely from the central High Plains to the western Great Lakes today, and they have the potential to bring some severe weather with them. Here's where to watch.
The Netherlands has been slammed by its strongest summer wind storm on record today, which is being called Storm Poly. Here's what to know.
TODAY'S TRIVIA
In 1756, Voltaire published a widely read poem about an earthquake in what city?
Lisbon
London
Paris
Stockholm
See the answer at the end of this newsletter.
This Caught My Eye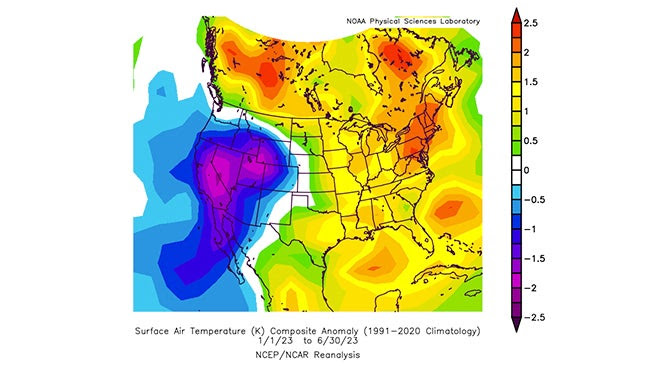 January through June 2023 temperature anomalies, in degrees Celsius. Areas in green, yellow and orange contours were warmer than average, while those in blue and purple contours were cooler than average. (NOAA/PSL)
2023's Midterm Report Card
I'm not a teacher, but in early July I like to assess the nation's weather like a midterm exam.
Halfway through 2023, you can see in the map above, much of the U.S. has been warmer than average.
According to data compiled by the Southeast Regional Climate Center, 14 cities either tied or set records for their warmest first six months of any year on record. Nine of those were in Florida, including Daytona Beach, Miami and Pensacola.
But parts of California, the Great Basin and northern Rockies have been cooler than average in 2023 Casper, Wyoming, had its coolest January-June since 1975.
As far as precipitation goes, the six-month notables were more wet than dry. Marquette, Michigan, had by far its wettest first six months of any year. Denver; Flagstaff, Arizona; and Reno, Nevada, have each had among their four wettest starts to any year.
We'll see how the rest of 2023 works out, especially since a potentially strong El Niño could exert its influence this winter.
Weather Words
'Matinal'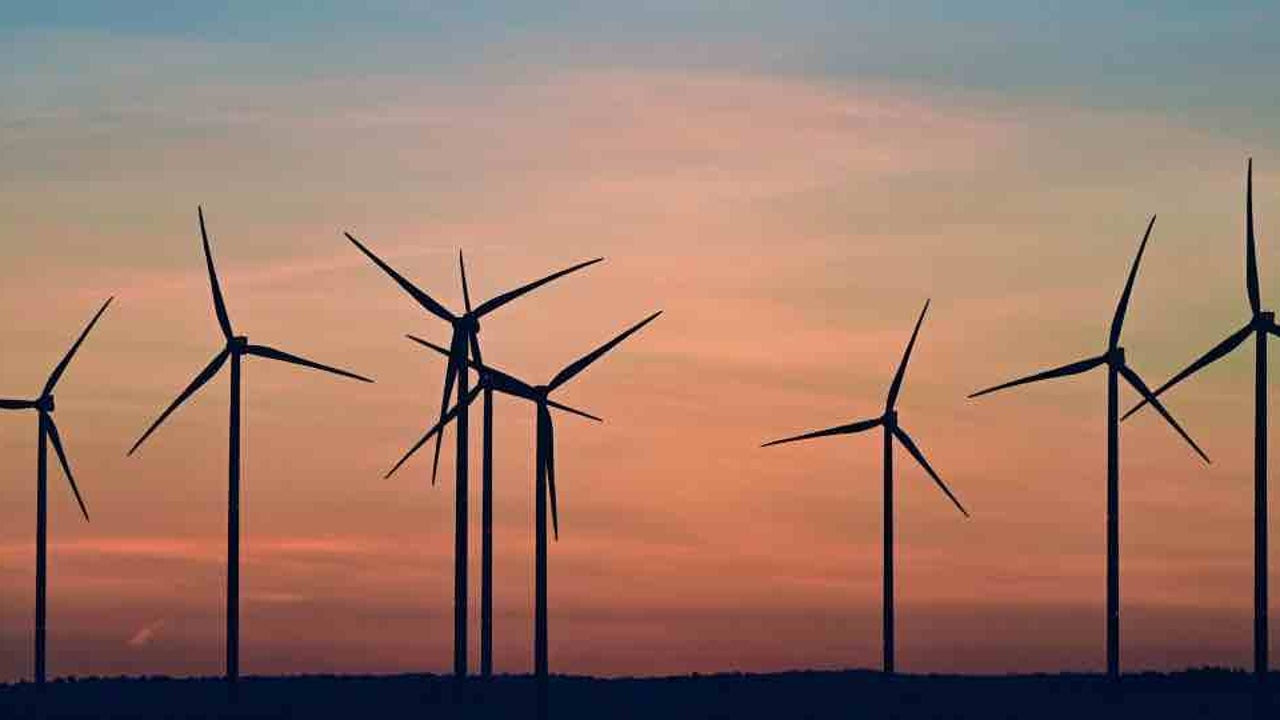 Wind turbines at sunrise. (Patrick Pleul/picture alliance via Getty Images)
"Matinal" literally means "relating to morning." In meteorology, it is a name for the "morning wind" (i.e. wind blowing from the east, where the sun comes up). In central France, the matinal brings pleasant, cool air down from the Alps in the summer.
WELL WEDNESDAY
What To Know About Rip Currents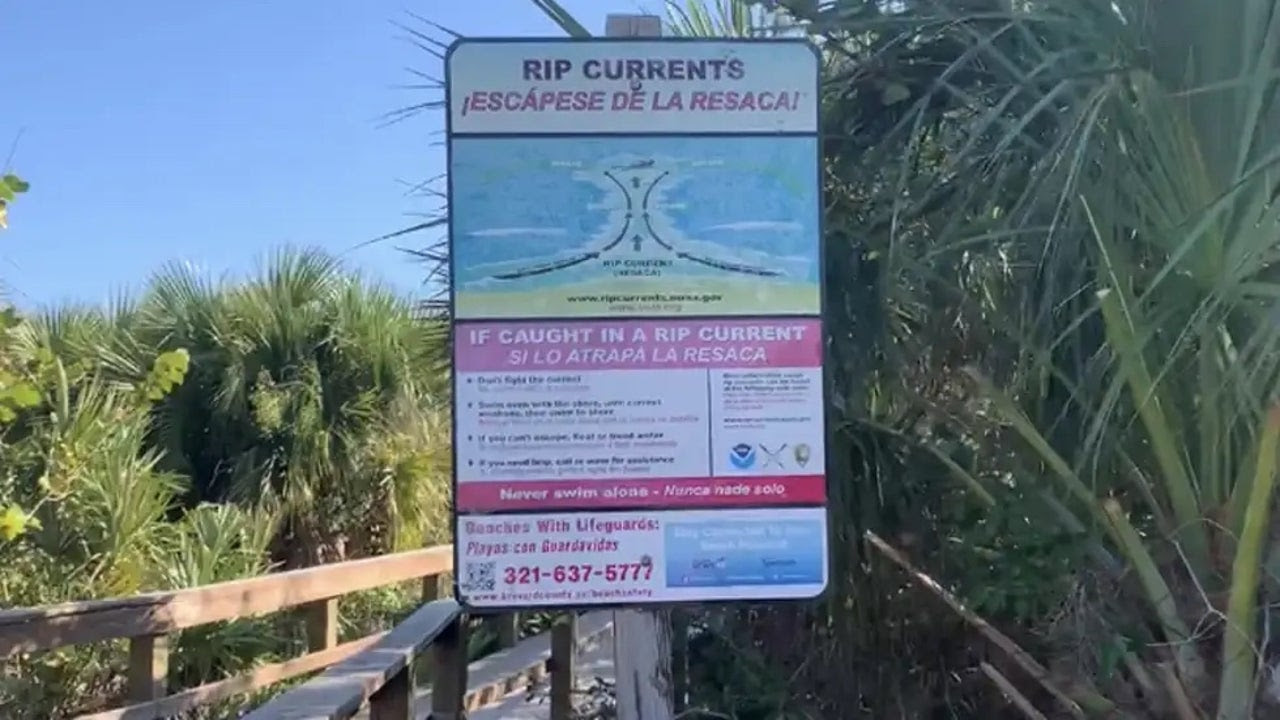 Signs like this one in Cocoa Beach, Florida, warn of rip current risks at the state's beaches. (Jan Childs/weather.com)
Dangerous rip currents left at least 10 people dead in Florida last month, and hundreds of rip current rescues were reported on coastal beaches in the Carolinas just this past weekend, highlighting the need for vacationers to understand rip current safety. Here are a few things to keep in mind if you're heading to the beach this summer, courtesy of weather.com's Jan Wesner Childs. Read our full article here.
1. A rip current is a narrow, fast-moving channel of water that flows away from shore. See videos of what a rip current looks like here.

2. They usually dissipate within about 80 feet of shore, but there have been instances where people have been carried farther out into the open water by rip currents, which can move at speeds up to 5 mph.

3. ​Because rip currents are typically not very wide, it's recommended that people either swim parallel to the shoreline to escape, or let the current carry them out of the flow. Yell or signal for help if possible. People who panic or fight are more likely to drown.

4. Rip currents are, on average, the third deadliest weather-related event in the U.S. and have claimed more than 50 lives so far this year.

5. ​It's not just an ocean concern. A 71-year-old man died in a rip current on June 15 on the Indiana shoreline of Lake Michigan.
#OTD
1643: 'Sudden Gust' Hits Massachusetts
An engraving of John Winthrop. (THEPALMER via Getty Images)
John Winthrop, the first governor of the Massachusetts Bay Colony, was quite a weather enthusiast. On his voyage to the New World in 1629, he began keeping a daily weather journal, which he continued for the next two decades. On today's date 380 years ago, he described a "sudden gust" that many historians believe is the first recorded tornado in the U.S.

In Winthrop's words, "There arose a sudden gust at N.W. so violent for half an hour as it blew down multitudes of trees. It lifted up their meeting house at Newbury, the people being in it. It darkened the air with dust."

Since Winthrop doesn't specifically mention a funnel or whirlwind in his journal, we will never be able to conclusively say that he was describing a tornado. His words could be describing something more like a derecho, or some other type of wind phenomena. Whatever it was, Winthrop's description of it is an important moment in the recorded history of extreme weather in this country.

ANSWER TO TODAY'S TRIVIA
A. Lisbon
It was called "Poem on the Lisbon Disaster." You can read it here.