Good Morning. The Fourth Of July and all its attendant fireworks won't happen until tomorrow, but there's already something pretty wonderful to see in the sky. That's because July's full moon (known variously as the buck moon, the thunder moon or the hay moon) occurs today, and it happens to be the year's first supermoon. A supermoon is one of the four full moons to orbit closest to the Earth in a calendar year, meaning they tend to be larger and brighter than most full moons. Enjoy!
Weather In Focus
(Gary Hershorn/Getty Images)
Speaking of the supermoon, here's what it looked like last night as it rose behind the Statue of Liberty in New York City. The redness you see in this image is due to haze and smoke from Canadian wildfires, a phenomenon called Rayleigh scattering.
What We're Tracking
Our July temperature outlook is here, and forecasts blistering heat in the Southwest, while three spots across the country could see a cooler-than-average month. Here's our deep dive.
Storms could interrupt your Fourth of July plans in the central and eastern parts of the country today and tomorrow. Read our holiday forecast here.
The three big temperature changes we're watching this week include a midsummer cold front. Find out all the details here.
Weather Words
'Dog Days'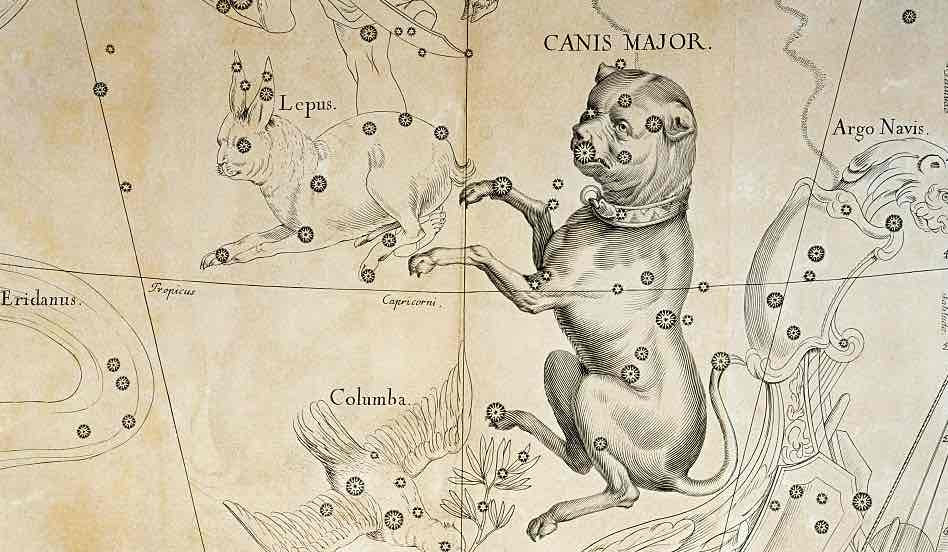 Canis Major, the constellation in which Sirius forms the dog's nose. Illustration taken from Johann Hevelius's (1611-1687) star atlas. (DeAgostini/Getty Images)
Today marks the beginning of "the dog days of summer," a 40-day period running from July 3 to Aug. 11. And while the name may make you think of dogs splooting in the heat, it actually comes from the stars.

The "dog days" were invented by the ancient Greeks, who noticed that the most intense heat of the summer happened during the period when Sirius, the sky's brightest star, rose and set with the sun. In fact, they attributed the seasonal heat to the star's presence in the daytime sky, figuring that it was adding its own heat to that of the sun.

Since Sirius was known as the dog star (belonging to the hunter Orion), the Romans who came after the Greeks referred to the hot period of the summer during which the sun and Sirius converged as "dies caniculares," or days of the dog star. As early as the 16th century, the English-speaking world adopted the concept, calling the same sweltering summer period the "dog days."

SUMMER SAFETY

When Thunderstorms Threaten Your Outdoor Plans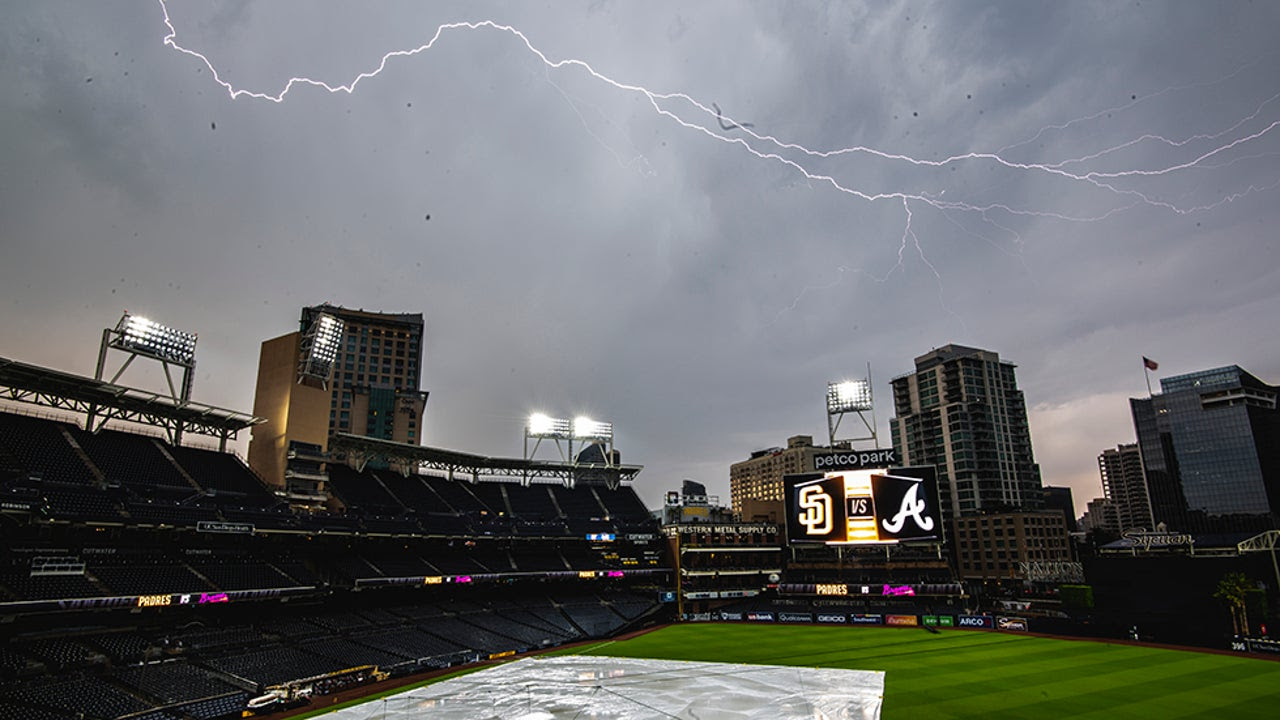 Lightning strikes over the ballpark before the San Diego Padres face the Atlanta Braves on September 24, 2021, at Petco Park in San Diego, California. (Matt Thomas/San Diego Padres/Getty Images)
Many of you are looking forward to spending time outdoors over the holiday, whether it's camping, watching fireworks or attending an outdoor concert. But thunderstorms are a reality in much of the country this time of year.

In light of recent events such as the hailstorm at Colorado's Red Rocks Amphitheatre, there are things you can do to stay aware and safe the next time you're enjoying the outdoors.
1. First, check your forecast before you leave that day. If the "chance of thunderstorms" is higher, consider either canceling your plans or, if possible, moving your plans to another part of the day when the threat is lower.

2. If you have a weather app, turn on alerts. In The Weather Channel app ( Apple | Google Play ), tap your icon in the upper right corner, then tap "My Alerts" (or "Alerts"), then "Manage." You can turn on alerts for lightning strikes nearby, real-time rain, government issued alerts (watches and warnings from the National Weather Service), or you can create your own custom alert.

3. When you arrive at your destination, figure out where you'll go if you need to seek shelter quickly from lightning. That could be a covered concourse at a stadium, another building like a visitor's center at a park or your vehicle if there are no other buildings around. If severe thunderstorms are forecast for your area, you'll need to get to a substantial building fast when warnings are issued.

4. If you see skies darkening while outside, pull up the radar on your weather app to see if thunderstorms are near. The Weather Channel app has a play button on the radar to see how the rain and thunderstorms are moving. It also has a future radar that can show when storms may arrive or develop near you.

5. If you notice thunderstorms on radar are moving your way, see lightning, hear thunder or receive an alert on your app, move to your shelter immediately. Do not depend on others, including event venue or park staff, to give you an official warning in time.

6. Stay in your shelter until the storms have passed and you no longer hear thunder or see lightning for at least 30 minutes. You can check the radar on your weather app to see if any other storms are approaching while you're in the shelter.

While radar detects thunderstorms and the NWS warns for severe weather, YOU are ultimately responsible for your safety outdoors when thunderstorms threaten. You don't need to be a meteorologist. Using a weather app and your own intuition should keep you safe most of the time.
#OTD
1992: Rogue Wave Hits Daytona Beach
This recent photo shows a normal day at Daytona Beach. Luckily, the 1992 rogue wave hit at night. (Paul Hennessy/SOPA Images/LightRocket via Getty Images)
An hour before midnight on this date in 1992, a giant rogue wave hit Florida's Daytona Beach, smashing hundreds of cars parked on the beach and injuring dozens of people. Thankfully, the injuries and damage were minimal compared to what they could have been if the wave had struck on a busy beach day.

Estimated at up to 18 feet high and 27 miles long, the wave seemed to come out of nowhere during a warm evening, ripping through placid seas with sudden ferocity. While many possible explanations for the wave (including a meteorite causing it) were floated, meteorologists believe that it was caused by wind gusts in front of a squall line.