By Chris DeWeese
Senior Editorial Writer
Good Morning. Smoke from Canadian wildfires blew southeast yesterday, bringing air quality alerts for over 100 million Americans. Over the last several days, Madison, Milwaukee, Chicago, Grand Rapids, Detroit, Indianapolis, Cleveland, Cincinnati, Buffalo and Pittsburgh set all-time records for particulate pollution (in records going back to 1999). In Pittsburgh, a baseball star donned a mask when he reached first base on a single yesterday after a catcher called in to a radio program to question why outdoor games were even being played in such unhealthy conditions in the first place.

While the smoke that gripped New York City and other parts of the East Coast in early June seemed like a surreal anomaly to many, this week's haze is an unpleasant reminder that we could see much more smoke this summer as long as the fires to the north keep raging. You can track the real-time air quality for your area at this link and find out where the smoke is headed next here.
Weather In Focus
The power remains out for hundreds of thousands of people in the Midwest after a derecho damaged homes, flattened crops and downed trees and power lines yesterday. The line of severe thunderstorms contained winds that gusted up to 90 mph. Here's what it looked like from space.
What We're Tracking
Storms and heat could disrupt your Fourth Of July plans. Check out our early forecast here.
Following yesterday's derecho in the Midwest, additional destructive winds, hail, a few tornadoes and some flash flooding are possible across eastern parts of the U.S. into the weekend. Learn more.
The intense heat that has gripped Texas for the past weeks has expanded to the north and east.
This Caught My Eye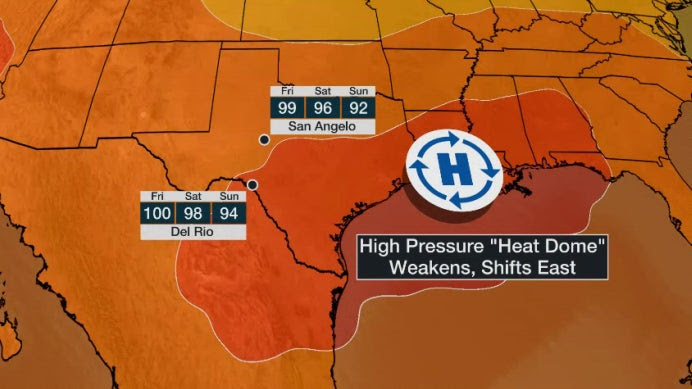 Temperatures this weekend will finally duck below the 100-degree mark in a few Texas cities for the first time in more than two weeks.

Thursday marked the 16th consecutive day of 100s in San Angelo and Del Rio. Both of those locations will see "less hot" 90s this weekend, and they could even get a thunderstorm.

These streaks of 100-degree heat are nowhere near records in those cities, but what has been historic is the enormity of the records set during this time.

On Wednesday, for example, Del Rio set a daily record high for the 11th day in a row. This stretch included an all-time record high of 115 degrees last week. A 10-day or longer streak of breaking daily record highs has only happened 11 other times in U.S. history, according to Brian Brettschneider, an Alaska-based climatologist.

San Angelo, meanwhile, tied or beat its previous all-time record of 111 degrees on five separate occasions between June 19 and 26, peaking at 114 degrees.
Weather Words
'Watergaw'
A watergaw in Arches National Park, Moab, Utah. (Jon G. Fuller/VWPics/Universal Images Group via Getty Images)
Watergaw is an old Scottish word for a piece of rainbow. It can mean half a rainbow, a broken shaft of rainbow or a patch of rainbow. It is never used, however, to describe a full rainbow arc.

The word was made famous by Hugh MacDiarmid's short poem "The Watergaw," first published in 1922. In it, the poet describes "a watergaw wi' its chitterin' licht /ayont the on-ding" (a broken shaft of a rainbow with its trembling light/ beyond the downpour of the rain). Read the whole poem here, and listen to MacDiarmid read it in both English and Scots here.
#OTD
2013: Record June Temp Set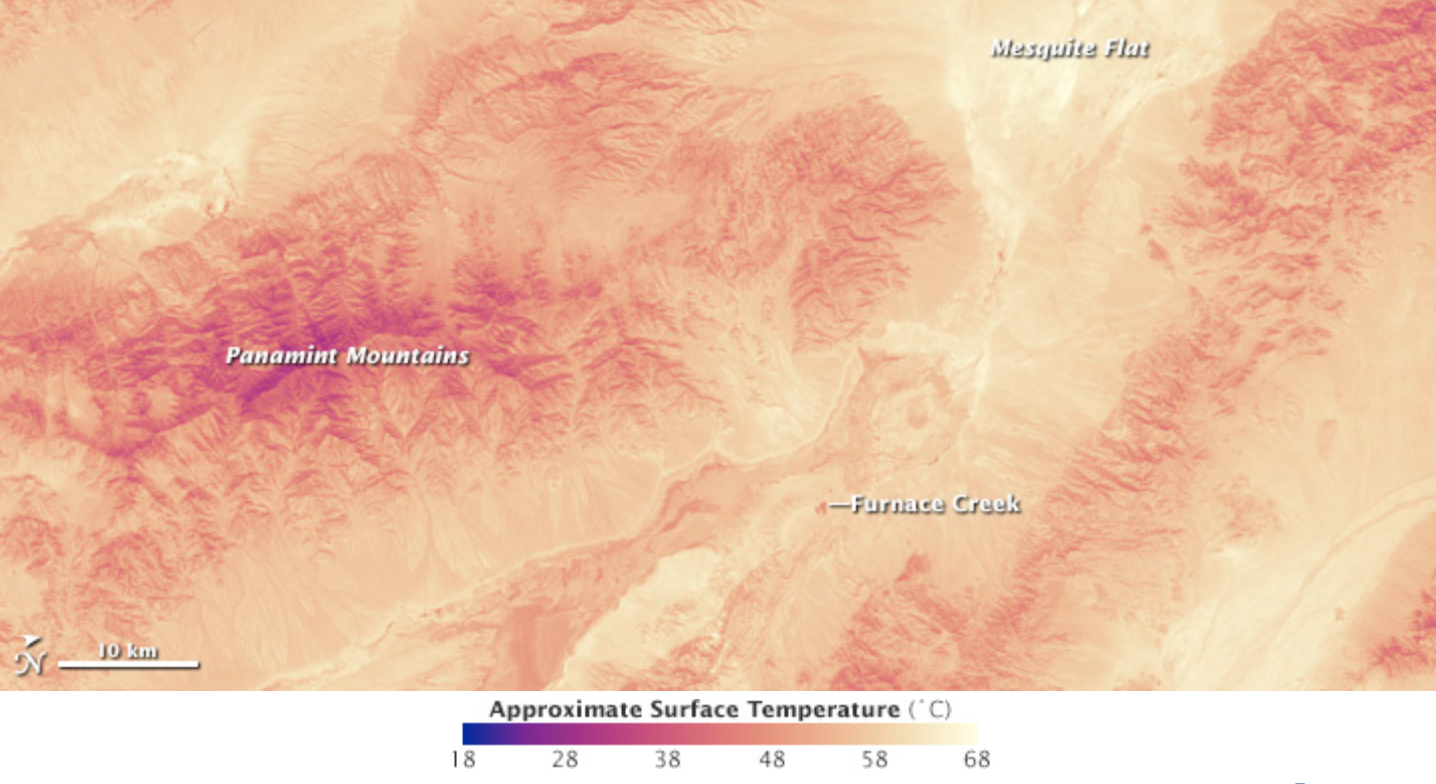 This thermal infrared imagery of Death Valley was taken by the Landsat 8 satellite on June 30, 2013. (NASA)
Exactly one decade ago today, the hottest June temperature on record in the U.S. was registered. Perhaps unsurprisingly, it happened in Death Valley, California, where the mercury spiked to a staggering 129.2 degrees at the Furnace Creek Visitor's Center.

As you can see from the surface temperature map above, Furnace Creek wasn't even the hottest spot in Death Valley. The presence of plants helped keep Furnace Creek cooler than some nearby valleys such as Mesquite Creek. However, Furnace Creek is where Death Valley's iconic thermometer is located, and where official readings for the area are conducted.