Good Morning. You might say today's Brief has a heat theme, which is appropriate considering that areas of the Deep South and Mississippi Valley have joined Texas in a dangerous heat wave. High temperatures will be stifling, and evening and morning temperatures won't provide much relief.
At the same time, another round of Canadian wildfire smoke is pouring into parts of the U.S., dropping air quality to unhealthy levels. If you are in any of the affected areas, it's important to take precautions.
Weather In Focus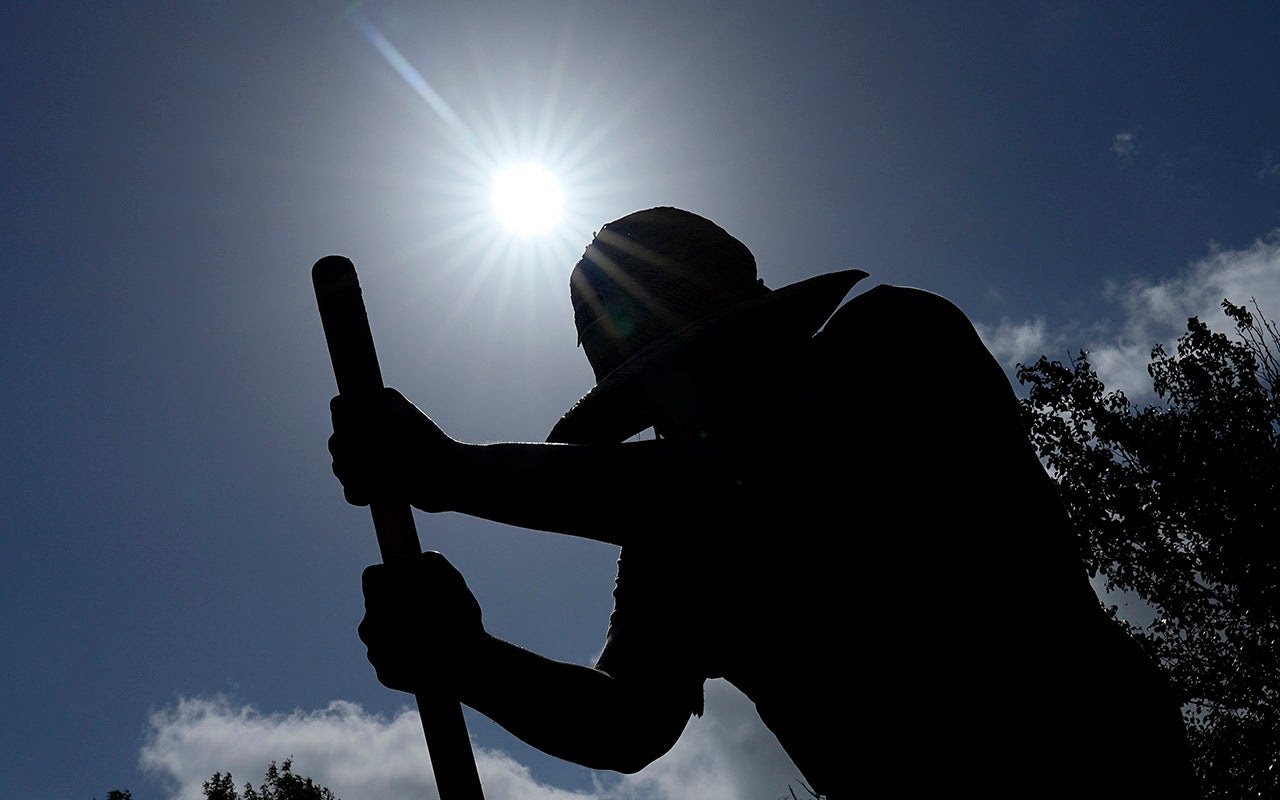 (AP Photo/David J. Phillip)
Carlos Rodriguez digs fence post holes yesterday in Houston, where the high temperature reached 99 degrees and the heat index ranged from 105 to 110 degrees. The National Weather Service warns that heat index values greater than 108 degrees are expected today.
What We're Tracking
Chicago was the major city with the worst air quality worldwide yesterday. Here's where Canadian wildfire smoke is causing unhealthy air today.
A high pressure dome causing the extreme heat is shifting. Here's who can expect to swelter next.
With three named storms, June defied expectations. What can we expect in July from the hurricane season?
This Caught My Eye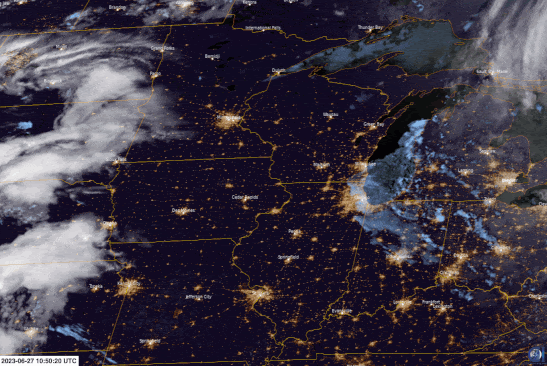 Visible satellite loop showing the smoke – in brownish hues – over parts of the western Great Lakes on the morning of June 27, 2023. (NOAA, CIRA-RAMMB)
Summer cold fronts in the northern U.S. usually bring a needed drenching, but then sweep away the heat and humidity, leaving sunny skies in their wake. I usually look forward to them. But this summer, not as much.

Almost 500 active wildfires are burning throughout Canada. Over 27,000 square miles of land have been charred so far this year, the most in 40 years, according to the Canadian Interagency Forest Fire Centre. Virtually every cold front that drops out of Canada until those fires are put out will bring smoke into parts of the U.S. Sometimes it's just lofted well above the surface, leading to pinkish sunrises and sunsets.

Other times, it reaches the ground. That happened in the Northeast about three weeks ago, leaving New York City, Philadelphia and Washington in a dense pall of smoke. And it's happening this week in the Midwest. Concentrations of wildfire smoke sent air quality indices (AQI) into the second highest category — code purple — Tuesday in parts of the western Great Lakes, including Grand Rapids, Michigan, and Milwaukee, Wisconsin. According to the EPA, these levels brought increased health risks for everyone, not just those more sensitive to pollution.

Unfortunately, more near-surface smoke is expected to invade parts of the East in the next day or so. It's not certain if it will be the magnitude of what happened earlier this month, but it will likely produce some areas of poor air quality. You can check your latest air quality index within The Weather Channel app.
Trending
 Beef hearts, soy waste and stale bread, oh my! There's a growing movement in the U.S. to inventively "upcycle" food that would normally be thrown away.
 An orphaned seal pup has apparently taken a liking to a group of San Diego surfers.
 A photographer in Puerto Rico captured rare photos of a type of lightning called red sprites as Tropical Storm Bret moved through the region.
Weather Words
'Heat Wave'
High-pressure circulation in the atmosphere acts like a dome or cap, trapping heat at the surface and favoring the formation of a heat wave. (National Ocean Service/NOAA)
Simply put, a heat wave is a period of unusually hot weather that lasts two or more days. However, the temperatures have to be hotter than the historical averages for a given area.

They are generally caused when a high-pressure system in the upper atmosphere causes air to sink toward the ground. This heat dome compresses the air and makes it even warmer. If the air doesn't rise, there's no rain to prevent the hot air from getting hotter.

With much of the South experiencing dangerous heat this week, it's important to understand the signs of heatstroke.
#OTD
1994: Southwest Heat Wave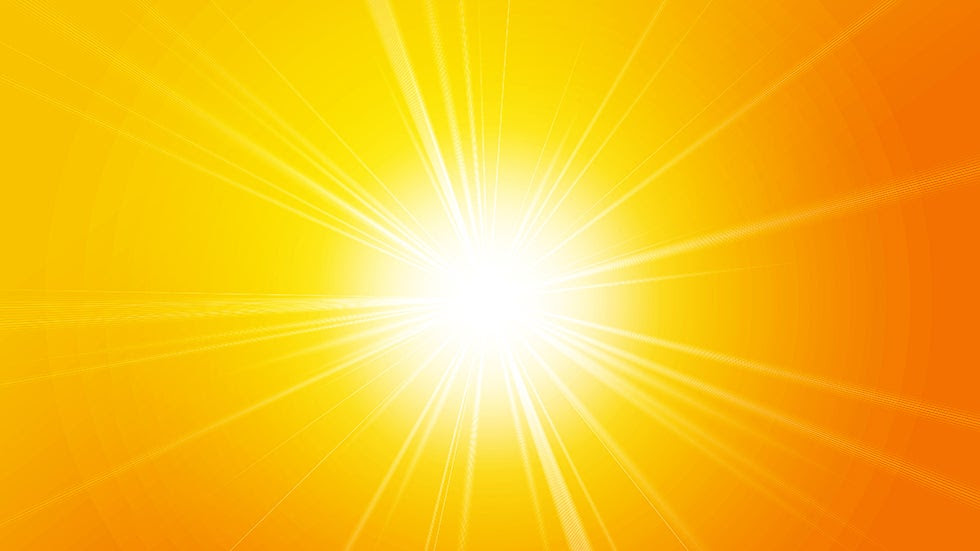 This week in June 1994, the Southwest was experiencing a historic heat wave. El Paso, Texas, saw eight consecutive days of record high temperatures. It hit 114 degrees, the highest temperature on record for the city, on June 30. The west Texas city of Monahans tied the state's all-time heat record with a 120-degree reading on June 28.

The next day, Arizona would see its all-time hottest temperature of 128 degrees at Lake Havasu. Nevada also set its all-time heat record that day with a 125-degree reading at Laughlin.

Some of the larger towns and cities that broke their all-time heat records include Albuquerque, New Mexico, with 107 (June 26); Roswell, New Mexico, with 114 (June 27); Midland, Texas, with 116 (June 27); and Lubbock, Texas, with 114 (June 27).