Good Morning. It might be out of season to be talking ghosts and zombies this far from Halloween, but we could soon see a rebirth of Tropical Storm Cindy. The National Hurricane Center is monitoring the storm's ghost for redevelopment, and although Cindy has been more tricks than treats, it doesn't look to be a U.S. threat. You can read more about it here.
Weather In Focus
(Photo by ARIF ALI/AFP via Getty Images)
Children pick vegetables from water at a flooded market after heavy rainfall struck Lahore, Pakistan, yesterday. The pre-monsoon rains battered the area Sunday through Monday and are expected to continue until Friday.
What We're Tracking
Excessive heat watches, warnings and advisories remain in effect across much of the South. What you should know.
This is how Tropical Storm Cindy's "ghost" could come back.
Severe thunderstorms will threaten parts of the central U.S. into midweek. Here's where winds greater than 75 mph are possible.
This Caught My Eye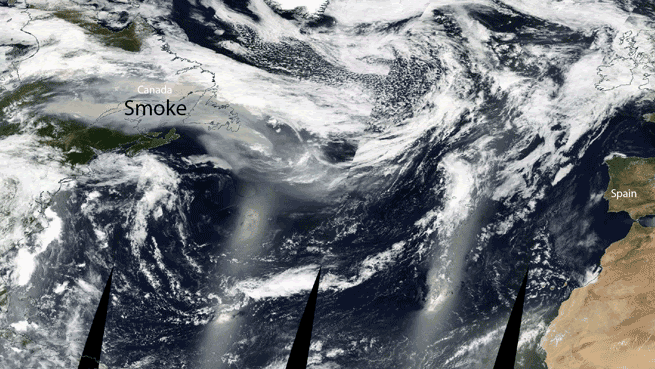 Smoke from Canadian wildfires reaches Europe.(NASA)
We've talked for weeks about wildfire smoke coming into the U.S. from Canada, but it can travel much longer distances.

On Monday, satellite imagery showed thick smoke aloft near the coast of Spain. This batch of smoke located in the upper atmosphere left eastern Canada last Friday and tracked across the North Atlantic over the weekend.

There's a simple answer to why this smoke reached western Europe – the jet stream. This narrow ribbon of strong winds thousands of miles above us transported the smoke from west to east, as depicted in the satellite animation above covering Friday to Monday.

Upper-level smoke like this isn't usually an air quality concern, but it can create hazy skies and vivid sunrises and sunsets.
Trending
 Here's how the moon will help July's celestial events come into view.
 This angler knew it was time to fish someplace else when an alligator climbed out of the pond and lunged at him.
 Expect higher prices after the weather was not kind to peaches in this state.
Weather Words
'Heat Lightning'
A lightning strike is seen during a thunderstorm near Einbeck, central Germany, Thursday, June 22, 2023. (Julian Stratenschulte/dpa via AP)
This is a weather word you might have heard before, but what you might not know is that it's a bit of a myth.

Many of us have seen flashes of lightning in the distance during a summer evening without any rain or claps of thunder. This is how the term "heat lightning" came about since there is no apparent evidence a thunderstorm is nearby.

What you are really seeing is lightning from distant thunderstorms, sometimes from tens of miles away. But they can be much closer since in most cases you won't hear thunder from a storm that's just 10 to 15 miles away.

The Earth's curvature, higher terrain and trees can prevent you from seeing the actual lightning bolt. However, the light reflects off of clouds, which is why you can see that flash in the sky after dark, according to NOAA.