Good Morning. As I write this, it has been steadily raining at my house for a few days. And, as we all know thanks to B.J. Thomas, I'll never stop the rain by complaining. But I don't really want to complain. This rain is great for my heirloom tomato plants. In a few weeks, I'll be so thankful for it when I put several thick slices of a Cherokee Purple on a sandwich with a slather of Duke's Mayonnaise.
Weather In Focus
(Simon Brewer/Juston Drake via SCV)
Storm chasers Simon Brewer and Juston Drake captured video of twin tornadoes forming in a storm near Akron, Colorado, on Wednesday.
What We're Tracking
Cindy, another rare June deep tropics tropical storm, formed overnight and is gradually strengthening. Meanwhile, Bret's trailing bands continue to dump rain on parts of the Windward Islands.
More severe thunderstorms will rake the Plains from Wyoming to Texas, and that threat will spread to the Midwest this weekend.
Record heat will expand out of Texas into other parts of the South into next week.
This Caught My Eye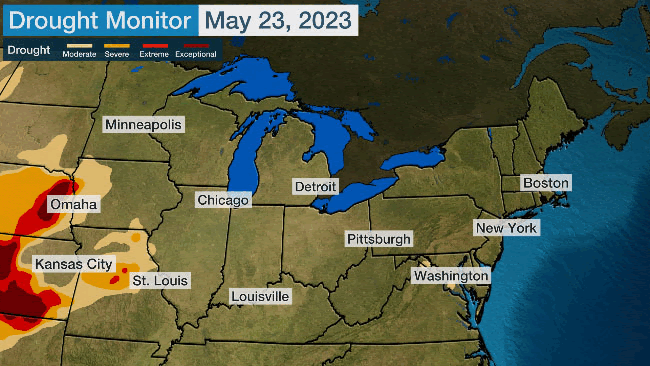 The Drought Monitor analysis showing the rapid development of a flash drought in the Midwest and Northeast from May 23 through June 20, 2023. (Data: NDMC/USDA/NOAA)
Parts of the country could really use rain right now. But they may not be the areas you're thinking of.

After a pummeling of atmospheric river storms last winter and spring, short-term drought has been alleviated in California and the Southwest. Recent soaking rain and thunderstorms have snuffed out the drought in the High Plains.

Instead, it's the Midwest and Northeast that needs a good drenching.

As the animation above shows, an extended spell of drier weather has allowed drought to spread so quickly through the Midwest and Northeast that it's being called a "flash drought." The most recent 30-day stretch ending Wednesday was the driest May 21 to June 21 period on record in parts of Illinois, Michigan, Minnesota and Pennsylvania.

Some showers will dampen the Northeast the next few days, and another system will wring out some showers and thunderstorms in parts of the thirsty Midwest into the weekend.

However, NOAA's latest seasonal drought outlook released last week suggests the drought could either stay in place or spread in the Midwest through the summer. Sometimes drought can feed off itself, with less moisture in the air due to parched ground and vegetation.

A recent study also suggests these flash droughts could become more common due to climate change.

So, make sure your lawn and garden gets the water it needs in the Midwest and Northeast this summer, but follow any water restrictions that may be implemented. Mother Nature may not provide much help.
Trending
Weather Words
'Meteotsunami'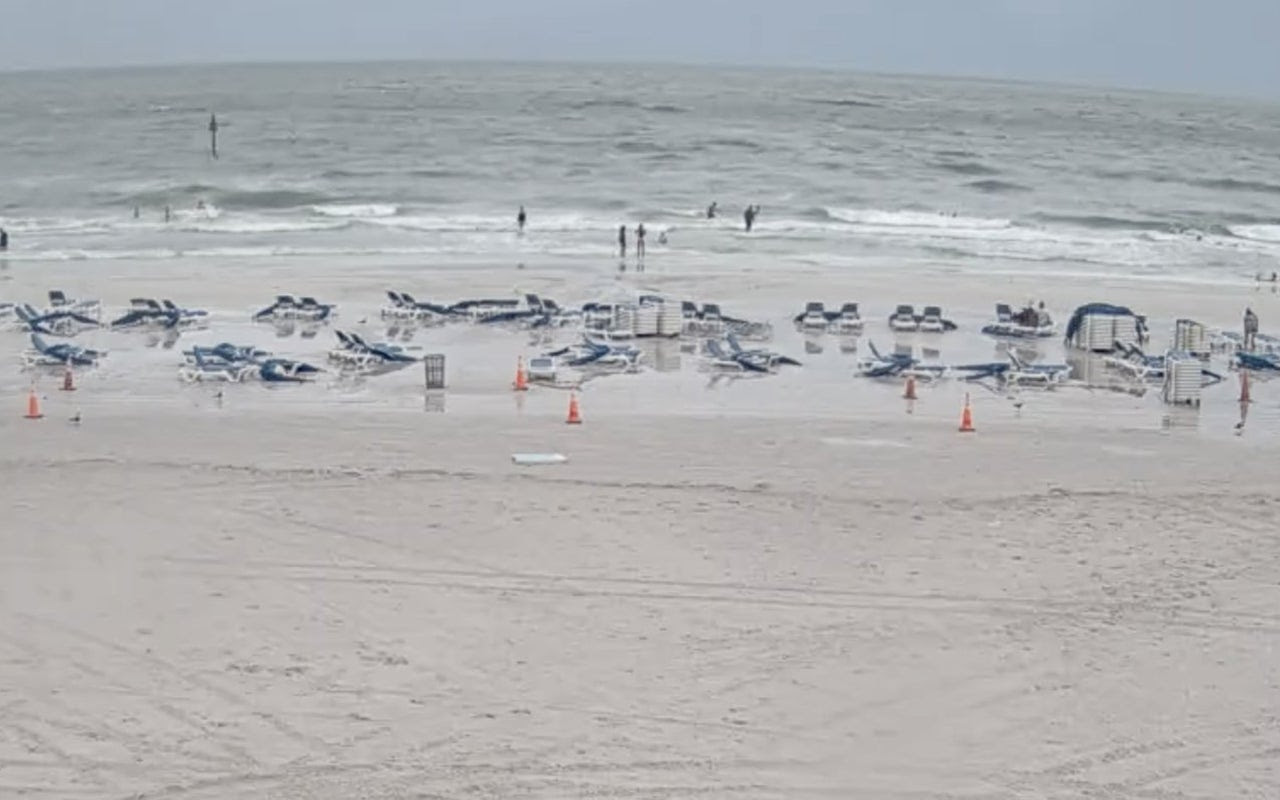 (Wyndham Grand)
A meteotsunami struck Clearwater Beach this week. But don't worry. It wasn't as bad as you might imagine.

Unlike the towering oceanic waves triggered primarily by seismic activity, meteotsunamis are generated by meteorological conditions. Air-pressure disturbances, the kind linked to fast-moving weather events like severe thunderstorms and squalls, drive meteotsunamis. The storm generates a wave that pushes toward the shore. The wave can become dangerous as it reaches shallow water because it slows down and increases in height and intensity. Meteotsunamis have been observed to reach heights of 6 feet or more. The East Coast, Gulf of Mexico and Great Lakes have conditions that are most conducive to dangerous meteotsunamis.

On June 13, 2013, meteotsunamis hit the New Jersey and southern Massachusetts coasts. In Barnegat Inlet, New Jersey, three people were hurt when a 6-foot wave swept them off a jetty and into the water.

In April 2018, a meteotsunami surged across Lake Michigan and damaged homes and boat docks in the beach town of Ludington, Michigan.

The meteotsunami that hit Clearwater Beach on Wednesday was just over 2.5 feet, and it mainly pushed a bunch of beach chairs around.
#OTD
1586: Sir Francis Drake Encounters A Tempest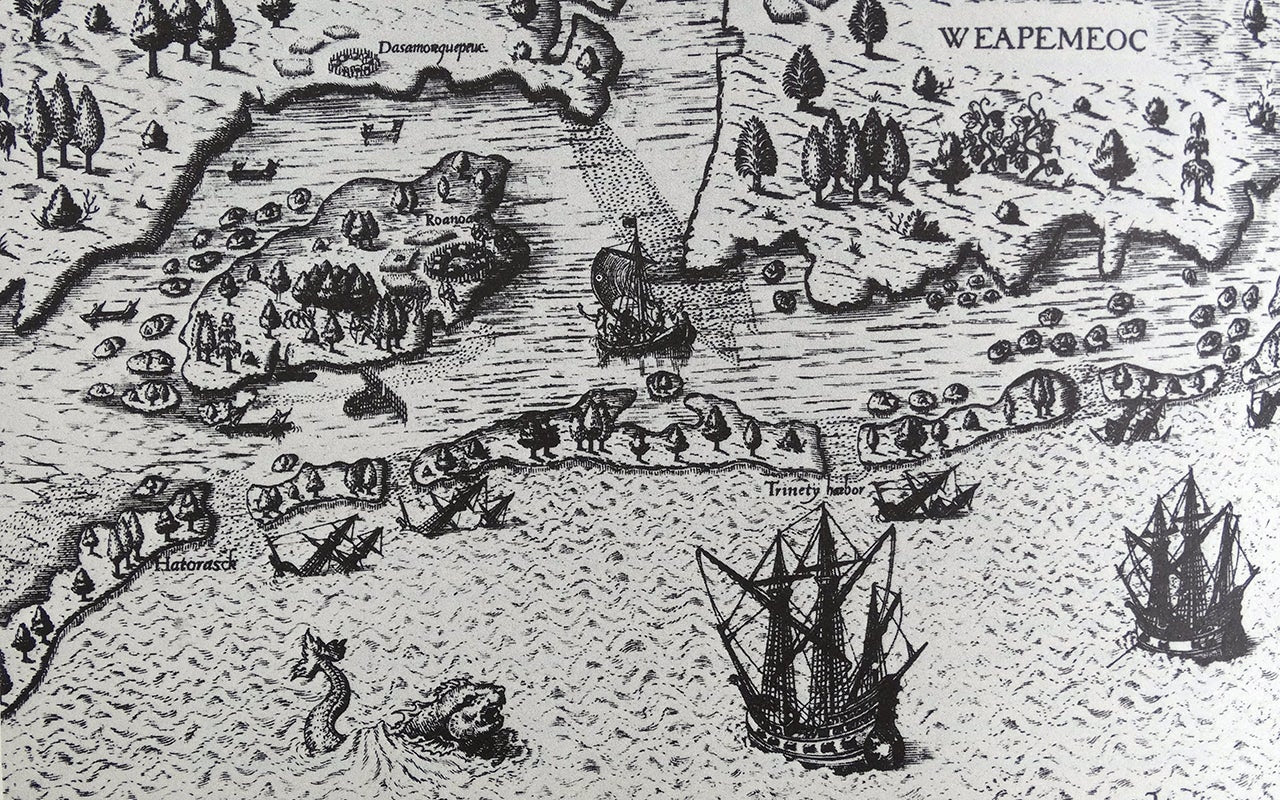 An illustration of Roanoke Island. (Photo by: Universal History Archive/Universal Images Group via Getty Images)
After raiding Spanish colonies in the Caribbean through the spring and burning the settlement in St. Augustine in present-day Florida, Sir Francis Drake continued sailing up the East Coast on his return to England.

On this date 437 years ago, his fleet arrived near Roanoke Island, in what is now North Carolina, at the colony established the year before by Sir Walter Raleigh. There, Drake was greeted by a storm described as "extraordinary." It lasted three days and put his fleet of 23 ships in great danger. The Primrose broke its 250-pound anchor. Hail the size of eggs pelted the colony. Waterspouts also threatened the sailors. The settlers, who were running out of food, joined Drake aboard his ships and abandoned the settlement.