'She just jumped right in': Former Sooners star Mackenzie Donihoo leads Tennessee to WCWS semifinals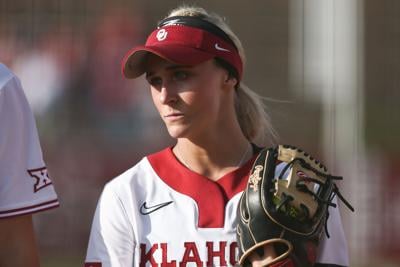 Nothing was ordinary about this game, however. Not only did Donihoo's Volunteers have a chance to move one game closer to the championship series with a win, but they were facing her former team — No. 1 OU — a school 32 miles from her hometown and one she helped lead to the 2021 title behind three home runs in the WCWS.
It's common in today's sporting landscape with the transfer portal for players to face their former teams. However, Donihoo's exit was an unconventional one. She's seemingly fit in at Tennessee, though, as the Volunteers are two wins away from a finals berth likely against the Sooners, a quest beginning Monday night against No. 3 Florida State at 7 p.m. on ESPN.
"Her transition was really seamless," Tennessee coach Karen Weekly said during WCWS media day on May 31. "She just jumped right in and I felt like with her … there wasn't really a period of time where anything was awkward. … When people come on your field and you can tell from day one they're just here to get after it and they have the same goals you have, it makes it easy."
Donihoo started 18 games for the Sooners in 2022 before Gasso mysteriously announced she was taking a leave of absence on April 19 and then said she wouldn't take the field again on May 11. Donihoo entered the portal on May 16 and released a statement in a since deleted Instagram post the following day which read: "Many of you have heard, and many of you have reached out, about the fact that I'm no longer part of OU softball. So much has been said, and I would love to be able to fully share my story to set the record straight. Someday I will. But that time is not now."
There seemed to be no love lost between former teammates Saturday during OU's five-inning 9-0 shutout of Tennessee as Sooners catcher Kinzie Hansen, who played alongside Donihoo in Norman, was excited to see her doing well.
"She's a gritty player," Hansen said following the Sooners' win on Saturday. "She did some big things for us a couple years ago. I'm just to see her happy and successful over there and just doing well. I know it's pretty cool just to see her having success. It's really good to see her, in her career, have that."
Donihoo's prior success in Oklahoma City hasn't carried over yet, as she's a mere 1 for 6 at the plate with no home runs during the WCWS.
However, much like her time with OU, her impact is felt beyond the stat sheet. As Sooner fans grew to know, "Lou" plays fiery and isn't afraid to let anyone know what she's thinking at any given moment.
"She's one of the people that makes up the heartbeat of our team," said Volunteers outfielder Kiki Milloy, the nation's home run leader. "She has so much fire, so much passion and just playing beside her, I think she's just made this team so much better and so much more competitive because every time she steps on into the box or every time she's on the field, you're never not going to hear her. She always has something to say and it just makes us all better."
Known for her stellar defensive play as well as her power at the plate, Donihoo leapt in the air for a diving catch, colliding with Tennessee outfielder Rylie West in Sunday's 3-1 win over Oklahoma State in an elimination game.
West has also witnessed an increase in energy since Donihoo arrived in Knoxville.
"She's a firecracker," West said. "From day one, she's been loud, she's taught and it starts in practice. She's a competitor in practice and she's made us better in practice and you guys just get to see it on the field."
Once a fan favorite in Norman, Donihoo has now become beloved by Vols fans. While she doesn't lead the team in every statistical category, she's caught the attention of diehards with her athleticism and vigor both at the plate and in the field.
Tim Path, a Tennessee superfan, who painted his face orange and white and made the three-hour drive from his home in Dallas to Oklahoma City to watch his Vols play on Saturday, has been impressed with the senior transfer.
"She's helped," Path, who also sported an orange and white wig, told the OU Daily at the WCWS. "I mean, you can't you can't start on a team like this and not be a contributor. And it's more than just the statistics, the numbers, it's the leadership in the dugout, it's the camaraderie. It's the good personality, that kind of thing you bring to it.
Path is also hopeful about Donihoo and Tennessee's chances if they meet the Sooners again in the WCWS finals.
"They will maybe know some of her weaknesses," Path said. "But then again, she's gonna know some of theirs."
Sylvia Billingsley, who made the over 12-hour trek from Knoxville to Oklahoma City, has also enjoyed watching the former OU star in Tennessee Orange.
"She has something to show (OU)," Billingsley told the Daily. "She went to the right spot. She's done well and we're glad to have her."
Donihoo helped lead the Volunteers to the WCWS, a place they hadn't been since 2015. Weekly entered last offseason looking for a player to give the Volunteers an edge to them.
While Donihoo's exit remains a puzzle, the former Sooner said she "would love to fully share" her story to "set the record straight" regarding her departure from OU. Perhaps after her collegiate playing days are done. For now, the once beloved figure in crimson and cream is aiming to get another shot at her former team.
"She's just a spark plug," Weekly said. "My goal last year, looking in the transfer portal was really one thing: competitive fire. … She brings a lot of spark to our practices, she's always talking. Pitchers just love her because right there behind at shortstop they can hear her voice, just encouraging them all the time. So she's been a big boost."